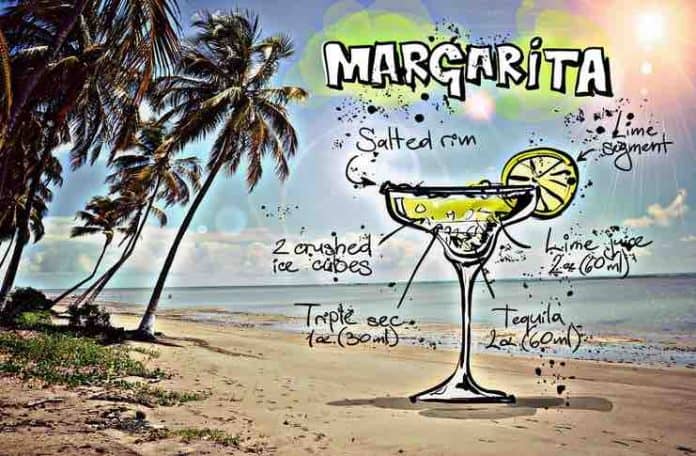 Want to make the most delicious and fun margarita you have ever tasted? Here's the perfect margarita recipe you will ever want, with some tips to help along.
As the days get hotter, we say goodbye to our hot beverages and say hello to our refreshing, chilled drinks. Warm weather screams fun in the sun with some cocktails – and right on the top of that cocktail list is the famous Margarita!
Margaritas are a necessity – or at least I think they are! A person who is good at making margaritas is already a winner in life – no explanation is needed. This popular cocktail is very easy to make and doesn't take too many ingredients, but you can end up with something that tastes quite disgusting if you do it wrong.
No need to worry; there is a super simple recipe you can follow to make the most delicious margaritas ever. Here are a few things you will need to make that dream cocktail.
Things You Need For The Perfect Margarita
You don't need too many ingredients to make the perfect margarita as you need with other summer cocktails like Bloody Mary. A few simple ingredients are enough to make your classic margarita.
Let's talk about the three mains; Tequila, Orange Liqueur, and the star player, lime juice. For Tequila, you don't need the most expensive tequila out there. Just go for something in the mid-range that tastes good to you.
For your orange liqueur, choose a known name like Triple Sec or something you like. Opt for freshly-squeezed lime juice if you can. You would need ice cubes and if you are making it for a party, get yourself a clear ice maker.
The Margarita Recipe!
Get a margarita glass. Margaritas on any other glasses are not margaritas – trust me on this!. Start off with salting the rim of the glass. To make the salt stick, rub a cut piece of lime along the edge, then dip it into salt.

In a cocktail maker, add tequila, orange liqueur, lime juice, and some ice cubes. If you don't want your margarita to taste too acidic, let your freshly squeezed lime juice sit for a few hours to take the acidic edge off.

Close the lid and shake it hard. Don't stir; stirring doesn't mix the ingredients well. You need the ingredients to mix well.

After tasting, you can choose to sweeten it with some syrup or simply strain and serve it on the rocks in that glorious margarita glass.
10 Tips On Making Your Margarita Better
1. Get The Portions Right
You want all your margarita ingredients to go into the cocktail maker in the right amount. A good rule of thumb is using equal parts of tequila, orange liqueur, and lime juice. You can use a shot glass to estimate your portions if you are making a single glass.
You can also try a ratio of 3:2:1 as with the traditional recipe, but for a more intensely alcoholic drink, try four parts of tequila, three parts of orange liqueur, and two parts of lime juice.
2. Don't Use Agave Syrup.
Agave syrup has gained fame in recent years for being the healthier option for syrups. But, if you want your margarita to taste better, don't use agave syrup.
You might think of using agave syrup to make your margarita "healthier," but you forget that tequila and orange liqueur already have a ton of calories in them – and adding syrup will only make it worse. 
Remember that traditional margarita doesn't use agave syrup. Either drink it unsweetened or just use a simple sugar syrup you can make at home. You can use cane sugar or brown sugar for a more distinct taste.
3. Make Frozen Margarita
Frozen margaritas are a delight on hot sultry summer days. It's even easier to make than regular margaritas! Simply add all your ingredients and ice cubes to your blender and let it do all the work.
Blend until it comes to a smoothie consistency, or you can choose to make it even slushier. As this method dilutes the flavor with crushed ice, you may want to adjust the quantities to make the margaritas taste stronger.
4. Create A Pre-Mix For Parties
Unless you are hiring a bartender for your parties, you know exactly how tiring it is when you have to keep mixing cocktails all night long for your guests. Pre-mix your margarita concoction and refrigerate it in an airtight glass container. Leave the ice cubes out and add them only when serving.
5. Make Blue Margarita
If you want a cocktail that looks refreshingly blue, use Blue Curaçao liqueur instead of orange liqueur. Blue Curaçao is an orange liqueur that comes in a beautiful blue hue. You get a cocktail that looks oceanic blue, making it the perfect margarita for pool parties and beach parties!
6. Make Fruit Margaritas
If you want your margarita to taste a little different, don't shy away from using fresh fruits. But, make sure the fruit mix goes well together. You can use strawberries, watermelon, peaches, or my favorite – mango!
You can blend them in or slice them up and add them to the mix. You can also use other fruit liqueurs instead of orange. These will give you Margaritas with different fruity flavors like the melon margarita or peach margarita.
7. Use Flavored Margarita Salts
You will be surprised that the salt you use to rim the glasses can change the taste of your margarita. You can find many flavored and colored salts in the market. Use them to salt your margarita glass rim, to switch up your drink!  Something about tequila and salt that is just magical!
8. Refrigerate Your Tequila
You want your margarita cold, so you add a ton of ice. However, the downside is that the ice melts and waters down the margarita and its bold taste. Instead, try refrigerating your tequila for a few hours before making the drink. The idea is to make the other liquids colder so that you need less ice. You can do the same to your orange liqueur.  You can stick the alcohol in the freezer for a couple of hours to fully chill the tequila!
9. Know Your Herbs
It is not unheard of to use a sprig of mint to top off your margarita. Mint goes well with the margarita concoction. You can also use basil, thyme, cilantro, etc. These other herbs only add the slightest hint of flavor and go especially well with margaritas that are less sweet. Keep the food you are serving in mind when pairing margaritas with herbs.  Also, be sure to ask your guests for their choice of herbs as some people hate herbs in their drinks.
10. Use Large Ice Cubes
You want your margaritas to stay refreshingly cool, but you don't want them to become too watered down. Instead of using too many small ice cubes, use two or three large ones. They will melt slower and keep your drink cool for longer without making it too diluted.
Final Thoughts
The perfect margarita is the easiest drink to make if you know what to do. Don't shy away from experimenting and try out various ingredient portions to understand what kind of mix you prefer. You may even end up making your own signature margarita with its own distinct flavor profile. 
After all, the best-tasting margarita is always the one that you love drinking.  So, cheers to the summer and all the joys of margaritas under the sun!
Want to read more of our posts? Although summer is still a bit far, you can start practicing your summertime party cocktails.