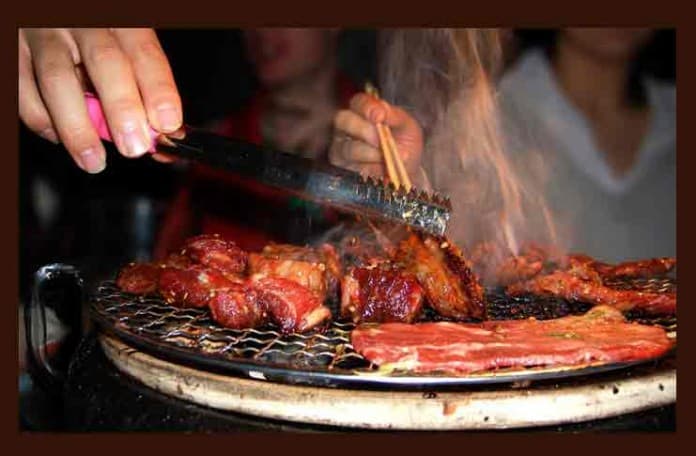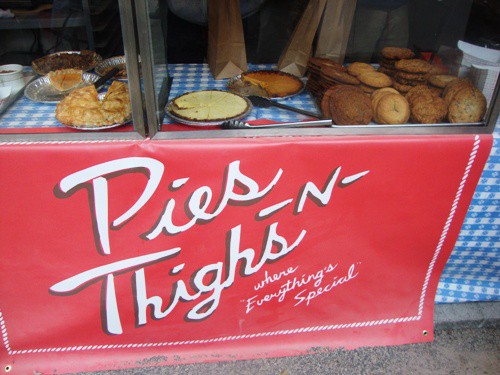 I wanted to do a little holiday shopping on the way home after work last week, so I stopped by the Columbus Circle Holiday Market.  There were a lot of the same booths and vendors as the Union Square Holiday Market that I checked out last weekend with one big exception – there were about half a dozen vendors selling food from some wonderful New York restaurants such as Fatty Cue, Crif Dogs, Cascabel Taqueria and Pies -N- Thighs.
In the spirit of the holidays, Today's Lunch is a ham biscuit ($7) and sweet potato pie ($3) from Pies -N- Thighs.  I don't usually get dessert with lunch, but I couldn't pass up sweet potato pie!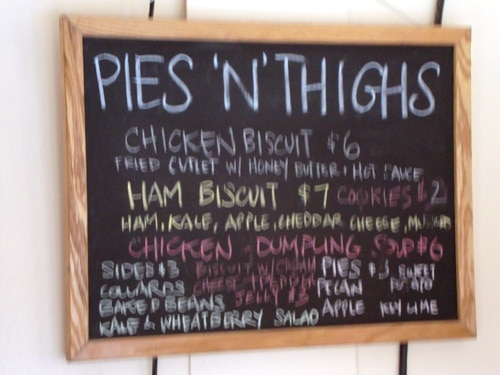 It took a few minutes for them to get it together because they deep fry the biscuits while you wait – but when I got back to the office – a wondrous spectacle awaited.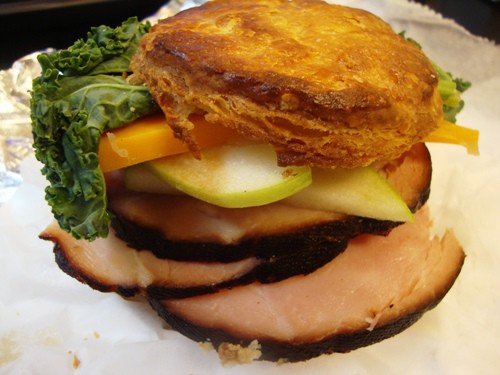 There were 3 pieces of baked ham, a thick slice of cheddar cheese, a few thin slices of apples, a piece of fresh kale on top and mustard – all on a freshly deep-fried Southern biscuit.  What a great sandwich for lunch! Perfect for getting in the holiday spirit.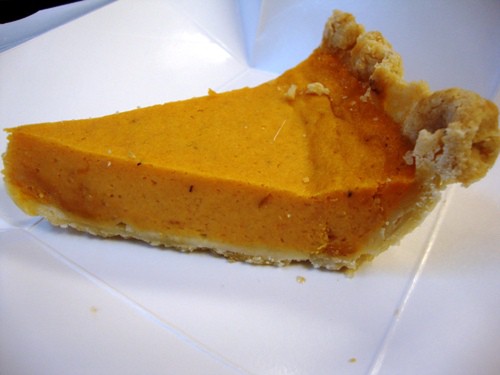 And to finish to job, sweet potato pie!  The creamy pureed sweet potatoes were good, but the spices really nailed it – the nutmeg and clove were obvious and really added to the sweet potato filling.  The crust was nice, but not especially memorable.  The crust on the apple pie looked amazing though!  Maybe another day.
Pies -N- Thighs has moved around Brooklyn a bit in the past few years, and they are now at 166 South 4th St (at Driggs St) in Williamsburg, where they serve breakfast, lunch & dinner.  I don't get out to Williamsburg much, so this was a welcome addition to my lunch routine, even if it is temporary.
If you're in the Columbus Circle area, the Holiday Market is a great option for lunch (or dinner) for the next few weeks.  They are open daily from 10am-8pm until December 24th.
I'll definitely be trying other places over the next two weeks, and may even bring home dinner one night.