Planning to throw a barbecue party? It always sounds like tons of fun, and it should be – as long as you carry out a few important planning tips beforehand. Follow our tips below and you and your guests will have a great time, and some sweet memories.
Choose the Guests and Date
Your Guests are usually the most important aspect of your party. You're throwing this barbecue party for them (unless you're a selfish dude throwing a party mainly for yourself), so don't forget to make an organised Guest List. You don't want to forget anyone important (this can mean trouble!). After completing the list, you'll need to choose a date and time that works out for most of your guests (mainly the important ones). This can be tricky and you might need to move the date a few times, but if you provide your guests enough time in advance to prepare and make that date free for your party – then it should work out fine.
Ensure the Weather is Good and Prepare a Plan B
Before sending the invites to your guests – make sure to check the weather for that time of year. Since you (as well as the best weather forecasters) can't really predict how good the weather will be during your barbecue party, you should try and set the date for a time with the highest chances of good weather, but have a Plan B as well.
Plan B in case of rain: If the forecast predicts scattered showers, you can still salvage your barbecue party plan. All you'll need is to prepare some outdoor shelter. In case your deck or patio has a gazebo, set the party table just beneath it. Alternatively, you can set up some tarps or party tents in your party location. Another option is to use your garage: Raise the garage doors, take your cars out, clear the space and set the party tables and chairs inside.
If non of the above works out – you can still avoid cancelling your barbecue party. Instead – you can just change the time of the party. In this case you are counting on the fact that the rain won't last all day long. You'll need to monitor the weather forecast and see what time of day is predicted to be rain-free.
Prepare Your Meat and be Creative
A barbecue party is naturally incomplete without meat. Plan well for this part and make a list of the meats you wish to serve at your party. Think of your guest list when you do this, as maybe there are guys and gals who might not like a certain type of meat. You'll need to buy several different types of meat, starting with the most common: Chicken, Hot Dogs, Hamburgers, Steaks and Sausages. However – try to be creative in your selection. Include other delicious barbecue dishes that will WOW your guests, like Lamb Meatballs, Tofu Skewers, Grilled Oysters, or Dungeness crab legs. A good list of yummy dishes can spice up your barbecue party, and ensure everyone leaves with a happy tummy.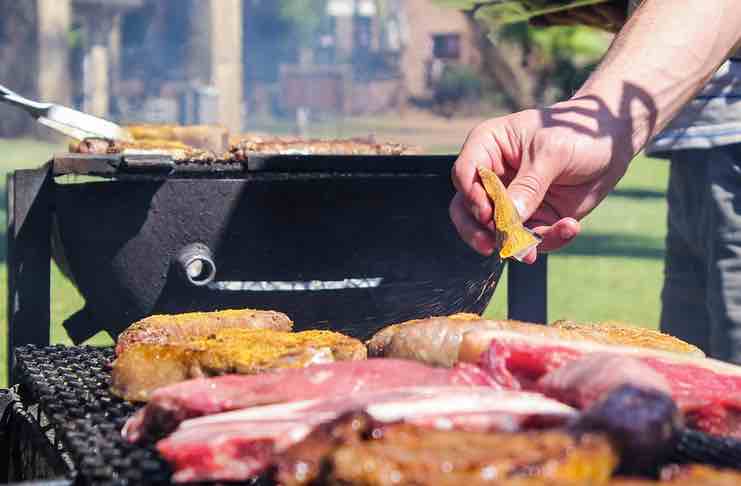 Don't Neglect Your Side Dishes
For a classic style BBQ party, stay at the base and serve the traditional dishes, like Potato salad, coleslaw, corncobs, baked beans and baked potatoes. Don't forget to prepare your herbs with the classics: pickles, onions, ketchup, and mustard. As with the meats above – if you wish to WOW your guests you can prepare a few more exotic side dishes like Spicy Smoked Sweet-Potato Salad, Middle Eastern Roast Carrot salad, Cucumber Kimchi, Hummus, or Lemon and Mint Marinated courgettes.
Don't Forget Your Chips and Dips
Who doesn't like biting on some chips and dips while the meat is grilling outside? Chips and dips are almost certainly the two easiest things you'll need to prepare. Most of your guests will definitely enjoy some fries with a good dipping sauce. The best thing about this – is that it won't require any effort whatsoever on your side. Just remember to buy it in the supermarket.
Prepare some Party Decor
If it's an important BBQ party with VIP guests like your big boss or potential business partners – then you may want to think about buying decorations for your party. The type of decor will depend on the style of your party, and you can get it at every local party equipment store, or – on Amazon, of course. If you're green like me, you should also consider buying decorations that can be kept and reused, such as reusable tablecloths.
Remember the Day Before Tasks
Put up a BIG reminder for the day before your barbecue party. You'll want to be sure that you thaw, merge and marinate the meat you are preparing, the day before. Marinate the meat so that it can pick up the marinade until it's time for grilling. On the day before, you can also prepare as many starters as you can. Be efficient!
Get Up Early on the Day of Your Barbecue Party
You'll probably be so excited that you won't need an alarm, but do make sure to wake up early on the day of your BBQ party. Make sure all your preparation tasks are carried out early, so that you have enough time to concentrate on your guests, instead of preparing food or hanging decorations while the guests are arriving. That can be embarrassing…
Well, I hope these tips will help you prepare the perfect barbecue party. If you decide after all to hire a professional catering company – you can check out our Food Truck catering options. Good luck and thanks for reading!
Fallon Chan is a food and lifestyle photographer and blogger.