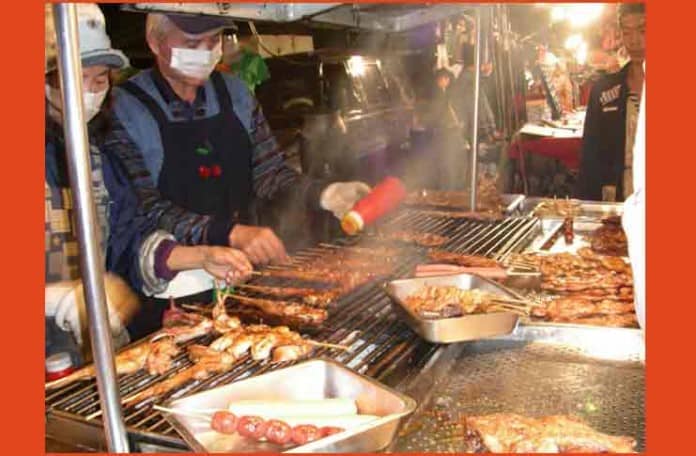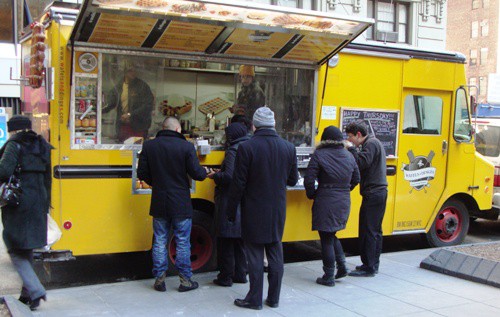 I knew right away what Today's Lunch would be when I saw this tweet from Wafels & Dinges: "As promised. Corn wafel w chili, topped w cheddar, cilantro and sour cream. Through the end of the week and then gone."
I love cornbread, and a cornbread wafel with chili, cheese and sour cream was something I just had to try.
Today's Lunch is Chili Con Corne (their name, not mine) from Wafels & Dinges.  It cost $7.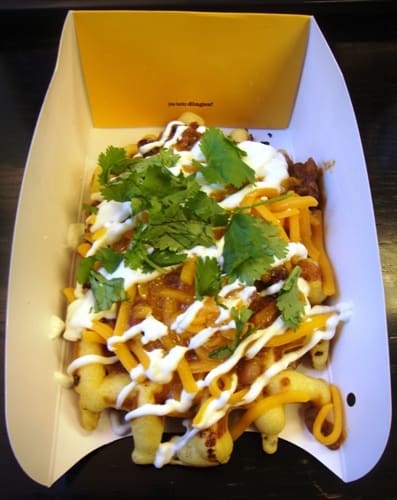 The cornbread wafel comes out pretty similar in look to a liege wafel, with an irregular shape and browning on some areas – but it tastes like cornbread.  Actually, it's not as dry and grainy as some cornbread, which is even better.
The chili had beef, pinto beans and small pieces of bell pepper in it, and was nice and tangy.  The beef consisted of pieces of beef, not shredded beef.  I usually prefer this, but there was a little chewiness to the beef.  Not a lot, but I couldn't call it tender either.  Nevertheless, the chili was delicious.
The toppings really added to this dish, especially the sour cream and shredded cheddar cheese.  You can't have chili without cheese and sour cream.  The cilantro added a little too, but not as much as the other two toppings.
Today's Lunch was excellent.  Wafels & Dinges said this is the last day for Chili Con Corne, but this dish is definitely worthy of permanent placement on the menu alongside the pulled pork wafel.
With a 2nd truck being added to the W&D fleet soon, an expanded savory menu would be great.  If enough of us keep asking, they will have to add this dish to the permanent menu, or at least make it a regular daily special.