For some, there is really nothing like the taste of barbecued food. They love that incomparable taste and aroma that BBQ provides, and make it a regular part of their weekly meal cycle while at home.
However, while out on the road it's a lot more difficult to find quality restaurants that provide quality Grill style food. While a lot try, not many of them get it cooked to perfection, the way you like it when you are at home.
New York city is known for its outstanding options in terms of restaurants, so finding a top-notch Grill place shouldn't seem like it would be that much of a challenge. After all, it is a city of eight-something million people, so you would think that there would be some people there that would really know how to make outstanding grill.
Fortunately, there are some amazing choices in the Big Apple, allowing you to have the tastiest of cuisine no matter what it is that your taste buds are looking for. If you're wanting to know what our 10 Best Grill restaurants in New York City are, here's a list you can't afford to miss out on…
Hometown Bar-b-que
With a name like Hometown you should be able to count on the fact of it being pretty good, and this truly is one of the best. There are two things that you can count on when you enter this restaurant, and that is that the smokehouse taste will leave you mouthwatering, and the savory barbecue sauce will leave your fingers quite dirty. This restaurant is the collaboration between two of the finest in the industry of restaurant tour Christopher Miller and his partner, the pit master Billy Durney. Both are exceptional at what they do, and this is why you get an outstanding mixture of barbecue blends at one of the finest restaurants in the city. Whether you like lamb, ribs, chicken, steak, fish, or any other kind of grilled food, you are truly going to be glad you made a stop here.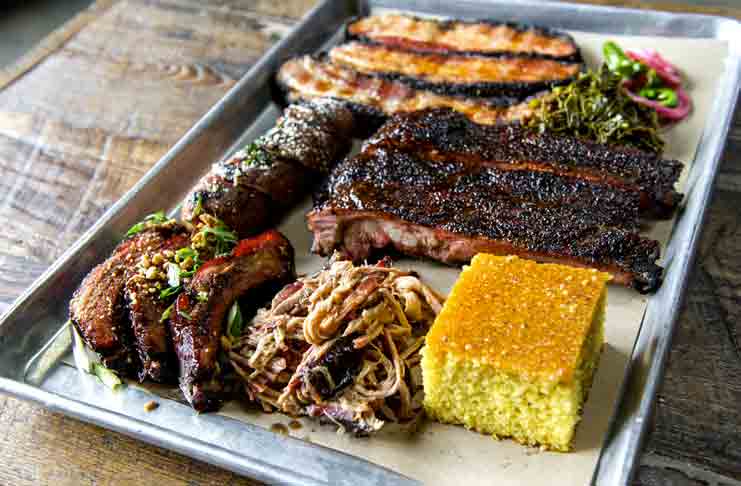 St. Anselm
If you are looking for a Grill restaurant that specializes in the most succulent steaks you will ever have, then here is the choice for you. This is one of the most widely renowned restaurants in the country, offering steak that is beyond words. Whether you are looking for the New York strip or the Tomahawk ribeye, the cuts are fantastic and cooked to perfection and they really understand what seasoning a steak looks like. Best of all, the prices are incredibly reasonable, as the New York strip cost less than $20. That's a price that simply can't be beat for the incredible taste of this food. Add to it that the side dishes are mouthwatering and really add to the main entrée, and you know this is one place you need to stop.
Mighty Quinn's
This is considered to be one of the finest barbecue establishments in the country. Hugh Mangum, the chef behind this incredible cuisine, has created six stores across the area. He has truly created an amazing blend of seasoning salt and sauces that make for the most fantastic of tastes, whether you are enjoying beef ribs or brisket. You will find that the meat will melt in your mouth and leave you begging for more. Truly fantastic.
Fette Sau
Joe Carroll started this restaurant, turning an old auto shop into one of the most fantastic rowhouses you will ever visit. The restaurant smokes their meat to perfection, using Kamado style grills that not only allow the flavor to sink in and immerse themselves in the meat, but also ensure that it is juicy and succulent. Add to it the fact that they offer an amazing array of side dishes, including German potato salad and onion studded spuds and it is easy to see why this would need to be a stop for any barbecue enthusiast.
Fletcher's Brooklyn Barbecue
If anyone tells you that Brooklyn doesn't know what barbecue is all about, they're kidding themselves. This is a neighborhood restaurant that seats just 50 people at a time, and offers you fast food service with five-star food. It's truly amazing how incredible their pork and baked beans are, plus they offer an assortment of other meats, local beers, even bourbon if you so desire. A fantastic place that will satisfy the appetite of any barbecue connoisseur.
Arrogant Swine
With a name like that, it at least has to peak your curiosity enough to take a look. This is the restaurant creation of at Mitchell, the North Carolina transplant who came back to New York City to start this fantastic barbecue place. It's the kind of restaurant you'll love if you're a casual person who wants fantastic barbecue, as they serve a number of different imported and domestic beers, and their pork ribs are truly breathtaking.
Dinosaur Bar-B-Que
If you're looking for a neighborhood feel to a restaurant, which offers incredible portions that are unbelievably tasty, then this is the stop for you. There pork ribs are truly pulled off the bone style, and they offer briskets, chicken, and other meats cooked to perfection. You'll love the sides that they have as well, including their fried green tomatoes which are drizzled over with their ranch dressing. Truly nothing like it in terms of taste.
Mable's Smokehouse and Banquet Hall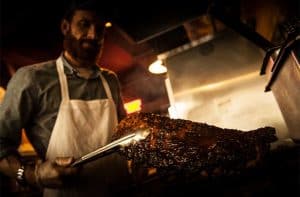 If you want to feel like you are part of the family, then Mabel's is the place for you. This is the artistic creation of Jeff Lutonsky and his beautiful wife Meghan Love, who came from Oklahoma to start this fantastic restaurant. They truly know how to make barbecue, plus their macaroni served in a bean stew is something that cannot be described. Fantastic taste, great ambience, and a feel like you are truly sitting at home for dinner.
Hill Country
The former Texans started this restaurant, and it is one that has virtually any kind of meat you desire cooked to perfection. Much of their smoked cuisine has been roasting for at least 15 hours, and will give you that Texas taste that only Lone Star residents had been able to enjoy and tell this establishment reached the Big Apple. Season to perfection and cooked as if in heaven, you'll love visiting here.
The Smoke Joint
If smoked meat is truly what you love, then here's the place for you. This is another establishment that offers you fast food service with foods that fit five-star tastes. You can sit down and enjoy a nice meal here, or grab to go and make yourself the envy of everyone around you wherever you go. Truly amazing the taste of this food.
As you can see, New York City has the perfect set of restaurants for any person hankering for a barbecue meal created by a true artist. You simply can't afford to miss out on this. And of course if you're on the move you can check out one of food truck options, like the Mexicue Truck…
And if you have your own list of 10 Best Grill Restaurants in New York City – please do share it with us!