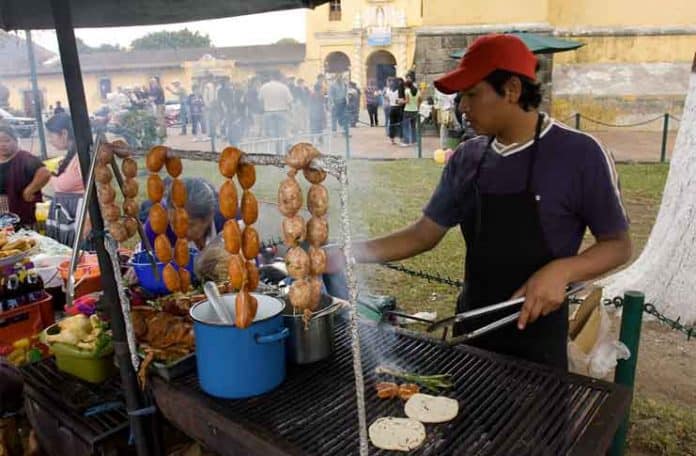 If you are thinking how to boost your food business this year, then you should definitely focus on getting more attention from the millions of growling stomachs out there, despite the hard competition.
Taste is not everything; you have to keep in mind some factors that can brand your business among the local levels, and possibly breakthrough internationaly.
Here is some insight an basic tips that can help you promote your food business.
Street Food Giveaways
You probably already know this. People always want something for free. In other words, a free taste or a small sample of what you have to offer.
It's wise nowadays to set up your own small 'street food' campaign for this, where you can offer customers a free sample and get their comments. They'll appreciate it for sure, and if they love the taste – they'll come back for more.
Many restaurants have been doing this for years, promoting their best deals on the streets in front of their place. However, you should be very careful in preparing the samples because this is probably the most important time in which you will draw customer's attention to your food presentation, service, and not to mention the taste.
Most importantly for those who are selling any meat, keeping them in a mobile freezer will help you steer clear of any unwanted temperature situations. Keeping these food safety temperatures on the right levels should be one of your first priorities.
Social Media Contests
Building a fan base on social media is no different here than in any other business. You need to create your fan page on Facebook or any other social media channel.
After building it up, start by creating an exciting contest every month or so, for example: ask people to name the next unique dish you create, or you can just do a LIKE & SHARE contest by putting up a great picture of one of your dishes, and whoever likes and shares your image will be eligible for a prize. Keep in mind that the prizes should not be too expensive; you don't want that to bite you down the road. Find some basic food gifts that look very nice but cost you nothing.
Word Of Mouth
Your customers are the best marketers, but they have so much on their mind these days. With their heads in their smartphones most of the time, they might remember your brand and food, but with all the competition around – they might not always remember you when it's time for lunch or dinner.
To be on your customers mind as often as possible and make them talk about at work as they decide where to eat today, try to come out with special (and different) discount offers every single week. You can give different discount values, on different dishes according to day, etc. You can also set a referral system on social media, or a cost-effective rate for students.
Loyalty or membership cards are also very effective and can do wonders to any food business. Promote your loyalty card and tell people that they will get maximum leverage from this card after they have billed at a specific amount you set for card eligibility. And of course – if they manage to add new friends of theirs to the loyalty program they will get a big bonus!
Local Events
Participate in local events. Start by following the calendar of local events in your area (and possibly beyond). When you spot a few upcoming events that are cool and relevant, try and reserve a good space around the stage area.
During the event, you can sell your food dishes at a higher rate than usual. Why? Because when people are attending an event, they usually don't want to compare prices when the particular event is their focal attention.
Relationships with Your Customer
This is what we call the backbone of every business.
You need to develop good relationships with your customers, if you really want them to become repeating customers that come and eat at your place at least once a week (preferably much more!).
For sound relationships, you better hire a smiley and friendly staff. One long-faced waiter can ruin your business. On the other hand, when a waiter is friendly, a charming smile can convert the worst days into the best ones ever.
If you have staff that needs some training on that, you can also hire an expert who can educate your staff on dealing with customers.