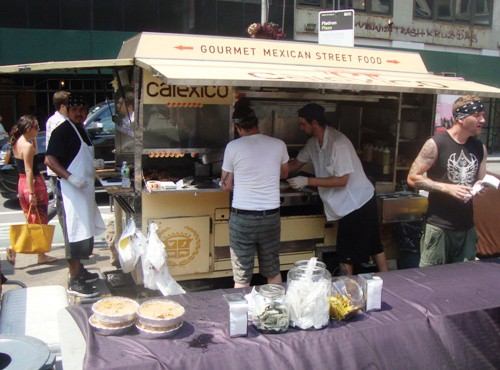 Feel like Pulled Beef Brisket? One of the best and most reliable street food vendors in the city is Calexico Carne Asada, winners of the 2008 Vendy Cup. Four years on, they are still one of the tastiest and most consistent street carts around.
Once again, tweeting a daily special got my attention. This time it was pulled beef brisket with rajas, and it was available at both their carts.
The pulled beef brisket was available in tacos, burritos, quesadillas, or a "naked" burrito. We liked the sound of a "naked" burrito, and got that for $9.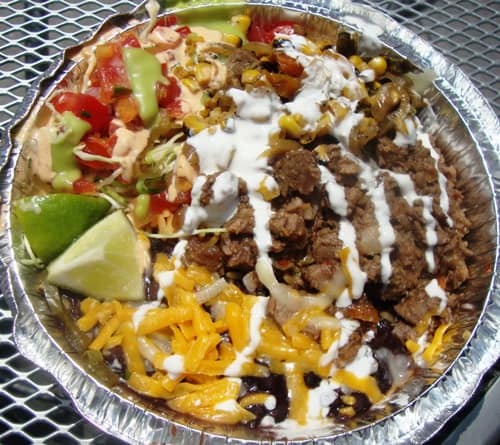 A "naked" burrito is basically a rice bowl with all the ingredients of a burrito except a tortilla. There was delicious, marinated beef brisket, black beans, shredded cheddar cheese, lettuce, tomato and 3 sauces.
The white sauce was crema, then there was a green guacamole sauce, and finally, Calexico's patented pink "crack" sauce. Each one added something different, with their crack sauce (kind of like chipotle mayo) bringing some heat.
The rajas were excellent too. This was a warm salad of corn, poblano peppers, onions and Mexican herbs and spices.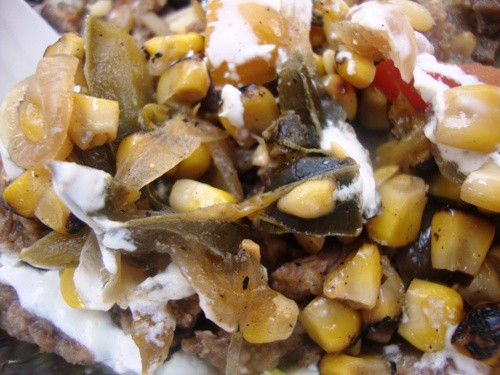 While everything at Calexico is good, the grilled, marinated pulled beef brisket deserves a special mention.
In addition to two restaurants in Brooklyn, Calexico Carne Asada has two carts, one on Prince & Wooster and one on Worth Square, which is on Broadway between 24th & 25th St.
Even though the two Calexico carts are in the same location every day, you can find out about daily specials on their Twitter here or on our Mobile Munchies Twitter feed. They also tweet if one or both of the carts will not be out due to mechanical difficulties or the weather.
Once again, Twitter provided us with the info to find a great lunch from one of the best street vendors in New York.