January 2nd, 2013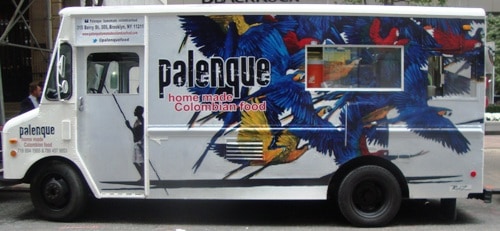 We recently stopped by Palenque to drop off some food truck calendars, where they are the featured food truck for the month for May 2013. How can we visit Palenque without getting lunch? We can't, so come along with us on the ride.
In past visits, we've concentrated on beef arepas, so to try something new, we went with the chicken arepa lunch special. The lunch special is either beef or chicken on a corn arepa, mashed red beans, hogao, and the regular toppings for $9.
By the way, if you're a vegetarian, there are a number of good options at Palenque. The menu includes portobello mushrooms, seitan and 2 different types of vegetarian chorizo.
Oh yeah, we got dessert too. We weren't sure what arequipe con queso was, but it cost only $2 and was listed on the menu under Sweets. Dessert turned out to be a wonderful surprise.