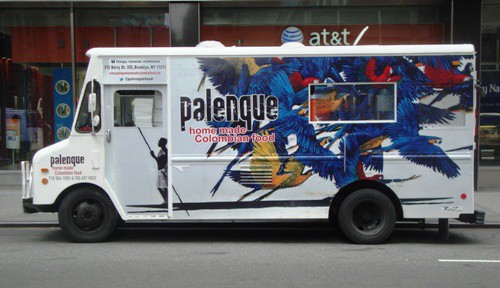 One of the more interesting new food trucks to come out last fall was Palenque.  They took off a couple of months during the winter, and returned to the NYC streets last week.
Palenque serves homemade Colombian food, with the main dish being arepas – but these might not the arepas you expect.   I'm familiar with Venezuelan-style arepas, which are in the sandwich family.  Colombian-style arepas are more like pizzas – open-faced with toppings (protein, cheese, arugula, sauces).
Palenque's menu has 4 different types of arepas bases and 9 different types of toppings, including several vegan options.  I ordered beef arepas on the traditional corn base, which cost $8.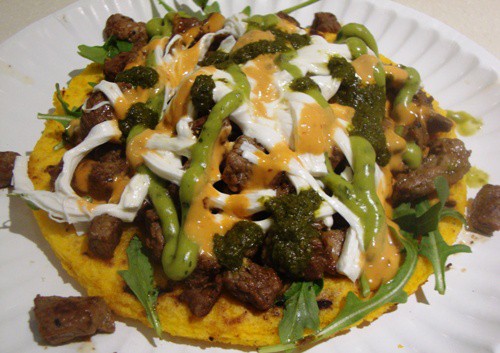 Each arepa, which is about 8 inches across, comes with arugula, cheese, chipotle mayo, avocado and cilantro sauces.  You can also get a chopped tomato and green onion topping called hogao for $1 extra, which I would recommend if you like tomatoes.
The meat was tasty, tender pieces of marinated beef.  I was happy with both the quality and quantity of the beef.  The mild cheese was reminiscent of string cheese in taste and texture.
There were 3 sauces topping the arepa – chipotle mayo added zing, the cilantro sauce added an herbiness, and the avocado added a cool creaminess.
The corn arepa was hard for about 1/4 inch around the edge, but once you got past the outer ring, it was softer.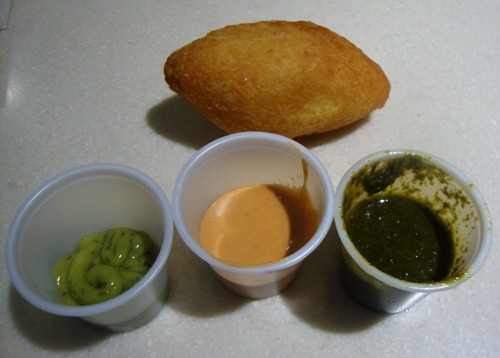 I also ordered an empanada for $2.  The menu said beef or cheese, but they only had cheese this day.
Unlike empanadas that are  triangular, this was shaped like a football.  Inside the breading was the same cheese that topped the arepa, although it was a bit gooier after being deep-fried inside the breading.  They gave me small container of each sauce, and I thought the herby cilantro sauce was really nice with the bready empanada.
Palenque travels around to different neighborhoods for both lunch and dinner.  You may find them in midtown, by NYU, in Williamsburg, or other places.  Follow them on twitter here for exact locations.
Addendum: I went back to Palenque again last night to speak with Nena, the owner, about something.  I wasn't going to get any food, but she told me about the daily special – ajiaco – which is a traditional Colombian soup.  I brought an order home for $4.
This was a rich, thick chicken, potato and corn soup that you could almost stand up the spoon in.  It had a few herbs, but was a mild soup, perfect for a cold winter night or if you have a cold.  I don't know how often Palenque will have ajiaco, but if you see it and are in the mood for a nice thick chicken and potato soup, this fits the bill.
You can follow Palenque on twitter here or on our Mobile Munchies twitter feed here.