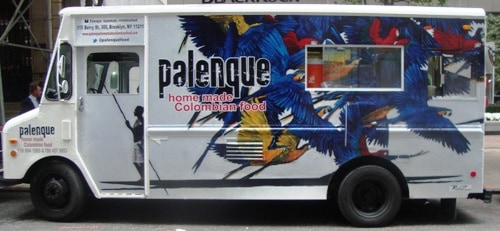 We recently stopped by Palenque to drop off some food truck calendars, where they are the featured food truck for the month for May 2013. How can we visit Palenque without getting lunch? We can't, so come along with us on the ride.
In past visits, we've concentrated on beef arepas, so to try something new, we went with the chicken arepa lunch special. The lunch special is either beef or chicken on a corn arepa, mashed red beans, hogao, and the regular toppings for $9.
By the way, if you're a vegetarian, there are a number of good options at Palenque. The menu includes portobello mushrooms, seitan and 2 different types of vegetarian chorizo.
Oh yeah, we got dessert too. We weren't sure what arequipe con queso was, but it cost only $2 and was listed on the menu under Sweets. Dessert turned out to be a wonderful surprise.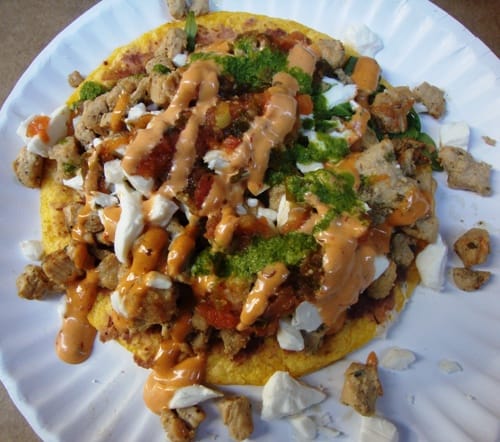 If you like one-dish meals, Palenque's Colombian-style arepas fit the bill nicely. There are 4 different arepa bases available, but we've always been partial to corn, the traditional type.
The corn arepa is thicker than a tortilla, with a crispy exterior and a soft interior. This thickness makes it a good foundation on which to build the rest of the arepa, and there was plenty of stuff piled on top.
They started with a thin layer of mashed red beans on the arepa, then added lots of marinated white meat chicken pieces, organic arugula, hogao and Oaxaca cheese.
Hogao is a tasty mixture of tomatoes, scallions and olive oil that usually costs $1 extra as a topping, but is included in the lunch special.
To finish things off, they add two sauces, chipotle mayo and cilantro salsa.
With all the stuff on top, it's not the easiest dish to eat, so we'll share our strategy with you. We use a fork to eat much of the chicken and cheese. When it gets down to a manageable level, we pick up the arepa, fold it in half, and eat it like a big taco. Yum!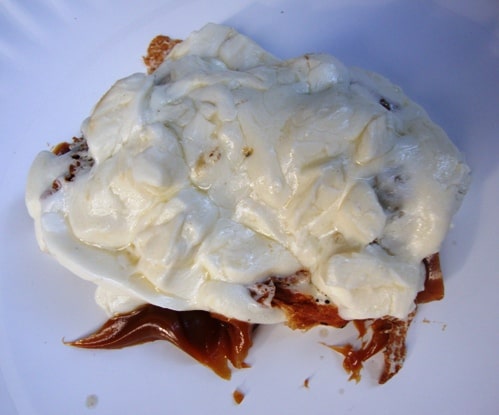 Arequipe con queso was a mound of pure caramel topped by melted Oaxaca cheese. The cheese was very mild, kind of like to mozzarella without any salt.
As we said, underneath was a creamy glob of pure caramel that was awesome. It had a great flavor, and was thick and similar to peanut butter, in that the top and bottom of your mouth stuck together when eating. The delicious taste of the caramel also lingered on my tongue long after eating.
You can follow Palenque on twitter here or on our Mobile Munchies Twitter feed. They make the rounds of different areas, so that's your best way of finding them. When you do, you will be in for an enjoyable meal.