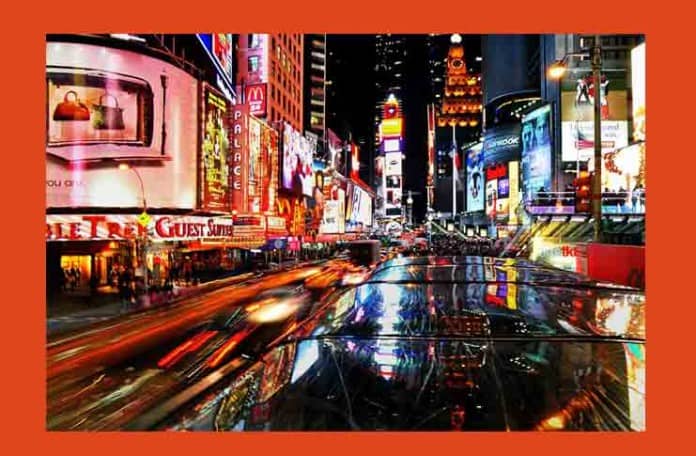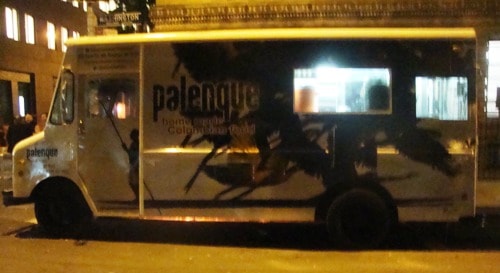 When I was walking home through the Village last night, there was a group of about 10 NYU students around a new food truck on Washington Square South that I had never seen before called Palenque.  The sign on the side of the truck said Home Made Colombian Food, with paintings of macaws.
The woman at the window named "nena" told me they have been around for about a month, and they have been trying different areas for lunch and dinner to see what works best.
The menu was mainly arepas, but there were 4 different types of arepa bases, and about 8 different types of toppings.  I had to bring home dinner for 3, so we all got to try a few different things, including dessert.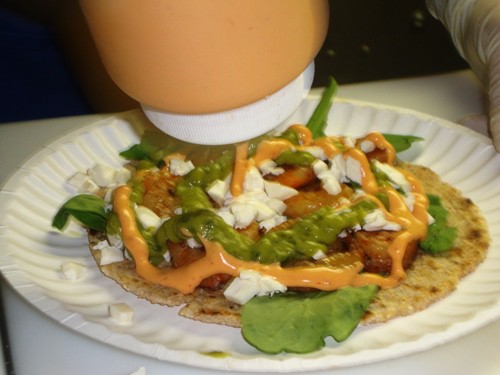 Each arepa, which is about 8 inches across, comes with arugula, cheese, chipotle mayo, guacamole and cilantro sauce.  You can also get a chopped tomato and green onion topping called hogao for $1 extra, which I only got on the portobello mushroom arepa.
These were not like the Venezuelan arepas I had at Shachi's, which were in the sandwich family.  These were more like Colombian pizzas, open-faced with several toppings (meat, cheese, arugula).
The first dish ordered was shrimp on a brown rice & sesame arepa.  At $9, it was the most expensive item on the menu, but there were 8 nice-sized grilled shrimp on the arepa.
The shrimp were juicy, the chipotle mayo added zing, and the cilantro sauce and guacamole gave the arepa some creamy herbiness.  Let's not forget about the cheese, which was mild and similar to string cheese in taste and texture.  The brown rice & sesame arepa was on the hard side, but everything on top of it was delicious.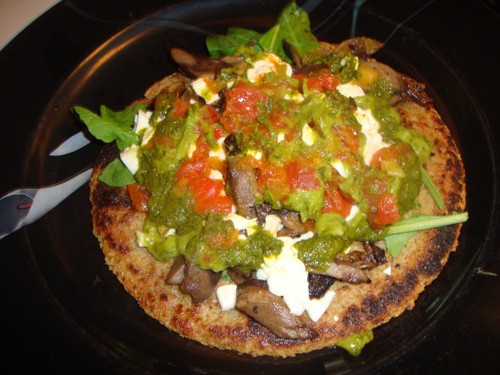 Next up was portobello mushroom on a quinoa arepa ($7).  The mushrooms were thick and still firm after cooking, and were very tasty.  There was plenty of cheese, and the sauces were a great complement to the mushrooms and cheese  The quinoa arepa also provided a better base than the brown rice & sesame arepa, which was too hard.
The last arepa was chicken on a traditional corn arepa ($7).  The chicken was cut into bite-sized pieces, and it tasted like it was marinated in chicken broth and some herbs. The corn arepa was soft, but towards the end of the meal, it started to crumble a bit.  No problem since they provided forks with the meal.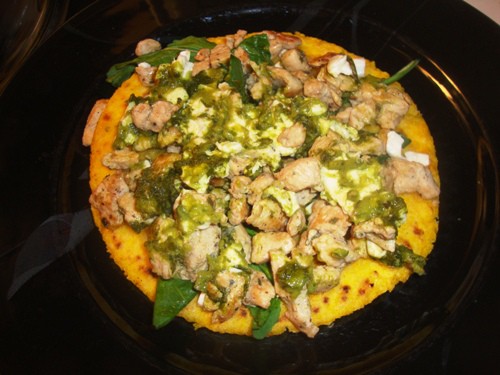 Although I didn't get any of them, there were a bunch of vegan options for toppings such as seitan, an Italian non-spicy chorizo and a spicy chipotle chorizo.  Yes, these were the vegan choices.
We also wanted to try a dessert, so I ordered obleas ($2).  These were thin wafers with fresh caramel sauce placed on top of one, then the other thin wafer was put on top.  The wafers were fairly plain tasting, but the caramel was delicious, with a coconut undertone.  This was a tasty dessert for $2.
From what I can tell, Palenque is a Spanish-based Creole language spoken in parts of coastal Colombia.  Palenque was also a Mayan city in Southern Mexico, but since the truck and its proprietors are Colombian, I have to assume the former is what the truck was named after.
Whatever Palenque means, based on the group of people around the truck when I walked by, and the food I brought home, it looks like they will be around for quite a while.
You can follow Palenque on twitter here, but we have also added them to our Mobile Munchies twitter feed, and will be adding them to our directory over the weekend.