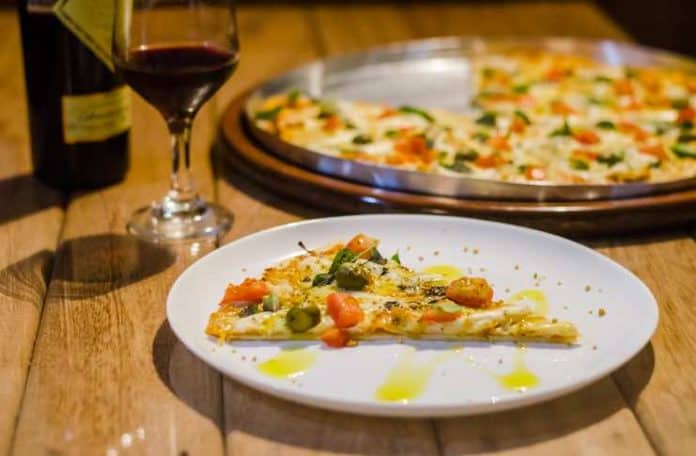 Pizza and wine, just as eggs and bacon, toast and butter, or cream and cookies, just can't live without one another. Nowadays, we have as many toppings for our favorite pizzas as there are varieties of wine. That's when things become a little tricky if you want to pair your pizza with some fine-tasting wine. 
According to an article published on BBC, Sangiovese is a red wine variety that best pairs with scrumptious slices of pepperoni pizza, whether at home or in a restaurant. And there are many more Pizza-Wine pairs that you should discover. Here is a handy guide to help you pick your wine and favorite pizza:
1. Pinot Noir 
If you love white pizza topped with cheese, then you'd better have it with a glass of red wine. Pinot Noir is your best bet in this regard because the wine complements the creaminess of a white cheezy pizza in two unique ways. The fine touch, nuanced, and subtlety taste of a light red wine will not overpower the taste of your pizza as Shiraz might do. Again, Pinot Noir comes with its earthy and herbaceous notes lending well when paired with mushrooms and green herbs, dried as well as fresh, frequently used in pizzas. 
2. Blend of Grenache, Mourvèdre, and Syrah
This red wine mix is the perfect match with Tomato cheese-topped pizzas. The variety of this wine with its acidity complements the tomato sauce while providing the right quantity of tannins for cleansing your palate as well as providing structure to every sip. 
Whether it is Syrah, Mourvèdre or Grenache wines, when matched with your pizza create a balanced, subtle, and mouthwatering combination. Grenache includes raspberry, candied fruit, as well as cinnamon flavors, and Syrah incorporates plum, savory black olive, and notes of blueberry to the combination. Mourvèdre is similar in flavor as Syrah but adds a huge measure of color, tannin, as well as structure to the wine.
3. Dry Rose 
Dry Rose is best combined with light-tasting pizzas such as Margherita. It's a great complement to the subtle-flavored basil with a little extra hold compared to white wine, to manage the acidity of the pizza sauce. Rose wines made from red grapes will taste really good with your Margherita pizza. 
Dry Rose varies considerably in taste, color, and style, based on the kind of base grape and wine manufacturer's preference. Luckily, rose wine has the common flavors of rose petals, strawberry, zest of citrus, and honeydew melon, all pair well with the subtle taste of Margherita pizza.
4. Chardonnay 
If you love to savor the taste of cheese-dripping, creamy pizzas, then Chardonnay is your best bet. It's a flavorful white wine that provides the body or structure to balance the density of a creamy pizza. Cream-oriented sauces used in pizzas lift the usual creamy notes of this white wine. The creamy taste of Chardonnay is not because of oaking but due to the malolactic fermentation responsible for rendering creamy and buttery flavors. Enjoy a glass of Chardonnay with your creamy pizza and enjoy the notes of pineapple, passion fruit, lemon, pear, and peach, for a wholesome meal. 
Final thoughts 
Try these wine and pizza combinations at your next party with your friends or family at home or in a restaurant. Happy dining! 
And if you're looking for a good Wine festival in NYC – check out this post.