Chef Tu David Phu created this food experience after the inspiration of the Hawker style eating in Singapore. He is a first generation Vietnamese-American with a rich culinary background. An alumni of highly regarded kitchens (such as: Daniel, Acquerello and Chez Panisse).
Chef spoke about how after a decade of working in Michelin star restaurants, working side by side his mom, aunties and sister was where he began to immerse himself in the practices, ingredients, techniques, and flavors of Vietnamese cuisines.  Revisiting his favorite childhood dishes through the memory of taste, he started to cook the cuisine of his Mothers' generations-old wisdom handed down grassroots-style. An advocate to recognize the talents of more female chef's, who are unmatched by these Michelin Star Chefs. Most recently, Chef Phu was a featured contestant on Bravo's Top Chef Season 15. One of my favorites.
CHC is a Traveling Pop-up Series celebrating Asia's favorite dining institution, the "Hawker Centre." The event is one of the most anticipated dinner series, featuring the nation's top emerging chefs. It promised to be a fun night full of great eats and killer drinks.
Chef Tu David Phu of Chefs Hawker Centre and the Asian Food Mafia (chefs Chris Cheung, Medwin Pang, Ed and Lien Lin and Christine Lau) team up to celebrate the evolution of Asian cuisine through modern techniques and the art of BBQ. 9 courses and drinks each night of choice. An epic tasting menu featuring dishes like "Lop Cherng Crusted Trout" and "BBQ Chicken Stuffed Eel". It all takes place at Bricolage, Brooklyn's premiere Vietnamese gastropub.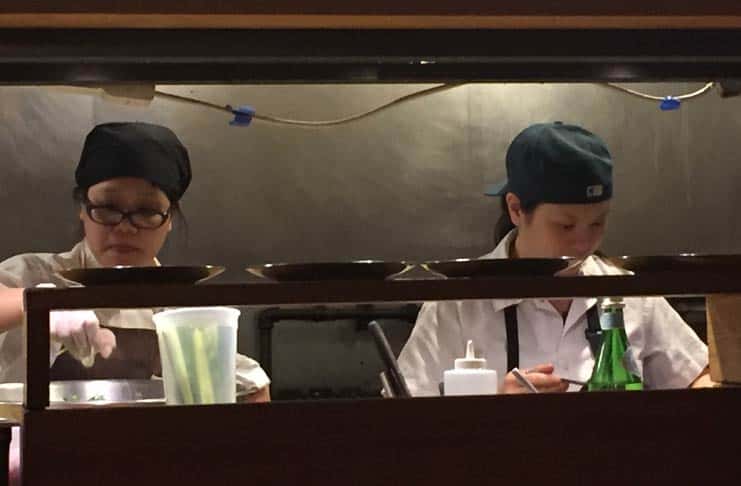 Chris Cheung of East Wind Snack Shop
Edward and Lien Lin of Bricolage
Medwin Pang of Hunger Pang
Christine Lau is a consultant chef
Tu David Phu of Chefs Hawker Centre
Day One
Beverage pairings Modern Asian
Beets by Dre – Mizu Lemongrass Sochu, Beet shrub, rhubarb amaro, soda
Bohigas X Xarel.lo 2016 (Catalunya)
Olive the Thyme – Scotch, Antica Torino Vermouth., Amaro Abano, Bitters
We began on Wednesday with Chef Medwin Pang of Hunger Pangs in Park Slope and his Stinky Tofu Caesar Salad. Tofu melted in your mouth with a light dressing to brighten your palate.
Another of our favorites was Chef Tu David Phu and the "Goi Khoai Tay" – Sweet Potato Tartare. I particularly love sweet potato's so I was especially excited about this dish. Already I felt as if I was home, but no home I knew. Just like a warm hug.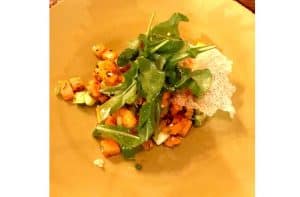 Hot and Sour Silken Tofu followed. This was prepared with love by Chef Christine Lau.
Chef Lau dazzled with my pick for the Super Star dish and there were many, with her Lap Cheong Crusted Trout. Prepared to perfection. Light and buttery with salty crispy skin sitting in a plate licking wish there were seconds kind of sauce.
Chef Medwin Pang also gave us, in his words Broccoli & Beef. This was grass fed beef cooked to a mouth watering rare. Sticky rice and fresh broccoli. Quite a step above or 10 above your local take out joint.
9 courses of playful, heartwarming dishes.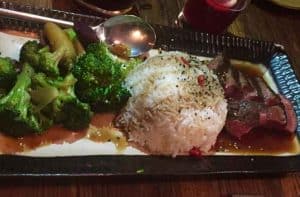 But wait…there's more.
Day Two
Pairings for the Asian BBQ
Boulevardier – Bourbon, Campari, Sweet Vermouth
Other Half "Forever Ever" Session IPA
Ground Effect Cabernet Sauvignon 2014 (Santa Ynez, CA)
Chef Lien and Ed Lin created a beautiful plate of Chrysanthemum, lotus fermented bean curd salad. Chef Lien wanted to start us with something light with all the heavy BBQ we would be getting. Yes Please.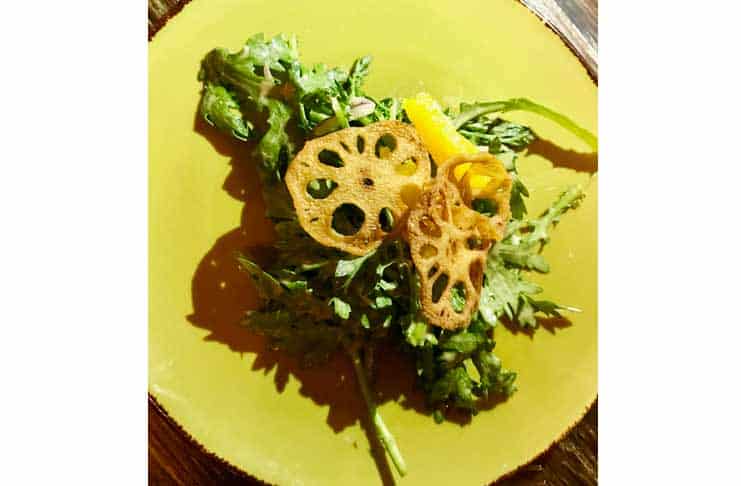 Nothing prepared me for the 2nd course. Jerk Avocado. As our table mate stated with enthusiasm. " I love when Avocado's are treated like meat". I do too ! Avocado's are a perfect food. Jerk Avocado isn't necessarily pretty but it was the tastiest combination of spicy with a kick and smoothness of classic blues singer. It makes you feel good down to your soul.
A Spring Roll Platter is always fun. With chef Christine Lau doing the Black bean Prawn & Crispy Pork Belly. Bo Nuong la Lot by Chef Lien and Ed Lin.
Braised Pig Tail & Sticky rice – Chef Chris Cheung. A surprise dish I would never think of being so tasty.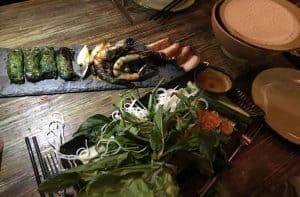 Happy Valley Filet Mignon "Un-Shaken Beef" – by Chef Lien and Ed Lien
Beef that was so tender and beautifully prepared. The Filet melted in your mouth with flavors that kept giving with each bite.
Only to be topped by the Cumin Lamb Tsukune.
Finale by Chef Chris Cheung – Lychee tart. Ending all 9 courses delivered and crescendo of the perfect evening.
"the best food I've personally eaten in my life were with my hands, squatting in the Hawker Centre of Asia" – Tu David Phu
Chef & Founder
Upcoming Pop-up can be found https://www.chefshawkercentre.com/
These food experiences are also right here in Brooklyn https://www.asianfoodmafia.com/
Living and loving in NYC, food has been a passion of hers. East Coast to West, Faith's goal is to explore and learn with the contribution of other like-minded foodies. Faith Rein has written for 2Girlsfromabar@blogspot.com. Youtube channel – faith.rein, love food love faith. You can find her @: Faith.rein/facebook (always looking to add friends) / faith rein@twitter / faith.rein@instagram / faith.rein@gmail.com