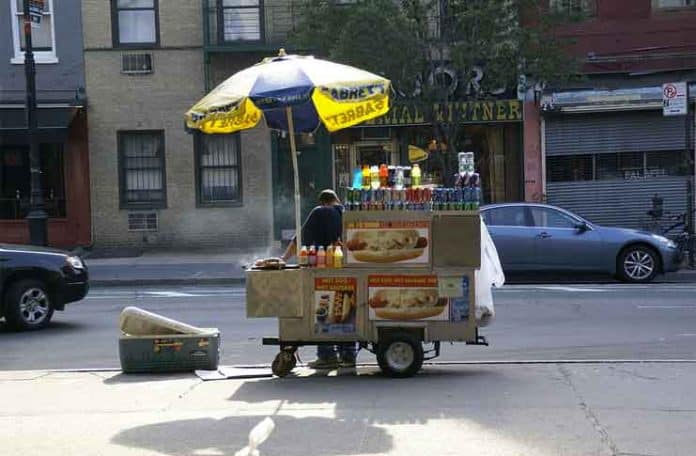 Insider's Guide to the Best Food in NYC
Traveling to New York soon? Don't miss out on all the amazing food the Big Apple has to offer! From hot dog stands in the street to the highest class Italian restaurant, the possibilities for delicious, authentic New York cuisine are endless. With this in mind, we have compiled a list to ensure you know which foods to try and where in New York they can be found. Without further ado, here are Top View NYC's top choices for New York cuisine.
Hot Dogs
The best part of New York cuisine is the fact that it's available 24/7, and hot dogs are no exception. An all-beef frank in a bun dressed with ketchup, mustard and relish… need we say more? Few foods evoke imagery of New York more than a hot dog, and if a classic dog is what you desire, try Katz's Delicatessen or Coney Island's iconic Nathan's Famous Hot Dogs. For our money, we recommend trying a hot dog from a street vendor!
Pizza
Forget about Chicago deep dish – New York's most famous food is king! Pizza can be found in all five boroughs, and you can count on every pie being thin, crispy and delicious. Pile on the cheese, pepperoni and any other topping you wish at a classic pizzeria such as Patsy's or John's.
Bagels
Leave the microwaveable bagels in the freezer – you simply haven't had a real one unless it came from New York. Go for the tried and true cream cheese smeared on a white bagel, or for something a little different, try a cold-smoked lox bagel with schmear. If you ask us, the best choices to get a New York bagel are Absolute Bagels on Broadway or The Bagel Hole on 7th Ave.
Cheesecake
It doesn't get much better than a slice of heavenly New York cheesecake. Always decadent and velvety, this New York classic is sure to satisfy your sweet tooth. Our choices for the best cheesecake in town include the acclaimed Eileen's Special Cheesecake as well as Dominique Ansel Bakery.
Italian Food
With a history as rich as New York itself, Italian food is something you absolutely must try if you're visiting New York. Spaghetti and meatballs, lasagna, chicken marsala and so much more can be found in many New York ristorantes, the best of which are located in Little Italy (of course). If you find yourself walking through streets reminiscent of "the old country," be sure to give Benito One or Il Cortile a try for a classic Italian meal that's sure to please.
So there you have it: a mouth-watering list of authentic New York cuisine that will make you want to stay in the city that never sleeps for good! Brought to you by TopViewNYC.com, these foods and the restaurants listed are a great start in getting to know authentic New York cuisine. Enjoy!