Well, BoCaphe (originally spelled Bòcàphê)  has aesthetic, I admit as we finally locate the restaurant. It's springtime, a little humid and a little breezy, and we grab seats outside. The bright green and yellow chairs give way to taller barstools and custom-made tables in the back. We glance around and quietly note that there are no Vietnamese customers. The wait staff is largely Caucasian and female. Still, we are determined. And hungry.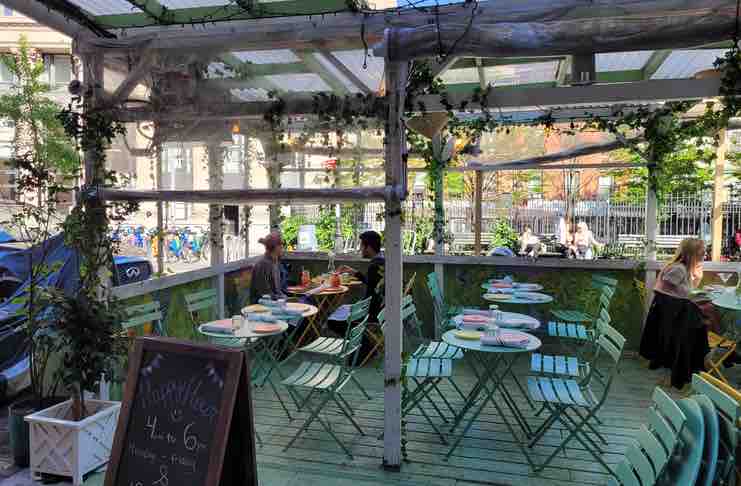 The Beverages at BoCaphe 
I'm not a beer person, but my companion orders a Saigon beer and has no complaints. I look for the most ostentatious cocktail, something called a Mr. Purple, and order this. It is very ginger forward, and I get zero hints of the purple yam aside from the color of the drink itself. The lemon is refreshing but the drink would have benefited from a more intense fruit flavor; it is watery to begin with and only worsens as the ice melts. 
The Blueberry Field smoothie isn't available, so I opt for the Pink Tree smoothie instead. Like the cocktail, it's watery and mostly tastes like strawberry juice. Not a terrible thing, but too thin and icy to be considered a smoothie.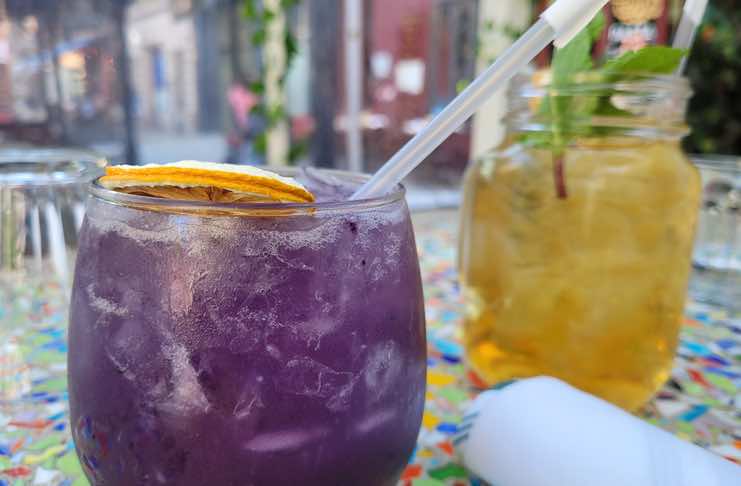 The jasmine iced tea is actually lovely, extremely floral and is served, a bit confusingly, with a large mint sprig. It tastes like springtime, and I automatically begin craving a dessert to complement the faintly sweet and highly fragrant tea. 
The Vietnamese Coffee: "It's so good, that I order another"
The Vietnamese coffee arrives last and immediately puts all the other beverages to shame. It's a single-serve pour-over, with sweetened condensed milk at the bottom. The coffee is strong and has hints of smoke and chocolate; it's marvelous and is only made better with the addition of condensed milk (although, to be frank, adding sweetened condensed milk to most things will make them taste better). It's so good, that I order another, and fully live to regret my life choices. 
The Appetizers at BoCaphe 
We toggle back and forth for some time trying to decide what to start with; I want to try the ceviche crispy rice but have an inkling that it actually is possible for a human to consume too much rice, and the shishito peppers are nixed for being "too standard." 
We eventually order the Vietnamese crepe, which is supposed to be this gloriously bubbly, eggy, crispy crepe stuffed with a plethora of tasty goodies. What we receive is decidedly not bubbly or crispy, but a bit greasy and soggy. The filling is fine, shrimp and sprouts, but the entire situation is bland and somewhat forgettable.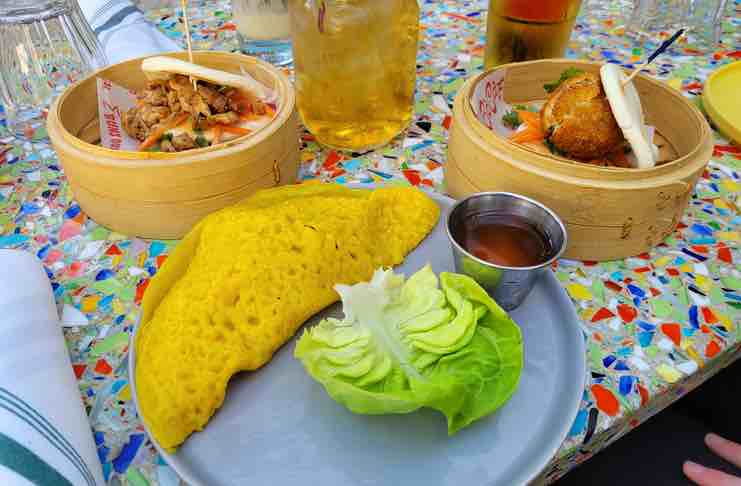 The bao buns are not forgettable. The bao itself, which in its ideal state is a puffy and pillowy cloud that happily absorbs the delicious sauce of whatever it is stuffed with, is instead stale and unyielding to the touch. The shiitake and cheese filling is a deep-fried croquet, and is not bad alone. 
The mushroom flavor is rich and slightly overwhelmed by the choice of cheese (goat) but is creamy and has a good mouthfeel. However, it seems vastly out of place in a bao. The chicken satay is less pleasant, distinctly dry and lacking the expected intense, barbecued char. Altogether not a promising start, but in the name of exploration, we persevere. 
The Mains at BoCaphe
After the underwhelming appetizers, I am not sure what to expect out of the main courses. I'm pleasantly surprised to see the spicy crispy chicken banh mi on a gloriously crusty French demi baguette, with a generous portion of taro chips.
Does it taste like the banh mi that I expect, with deeply marinated meat so juicy that it floods the surrounding bread, offset only by the freshest and crunchiest of cucumbers, julienned carrots, and daikon? No. But it's not bad. The chicken is obviously white meat, and the dryness lingers even after I've adequately sauced up my sandwich. But the flavor is pleasant, the sauce is creamy and whets the appetite, and the bread is just as chewy and crispy as it looks.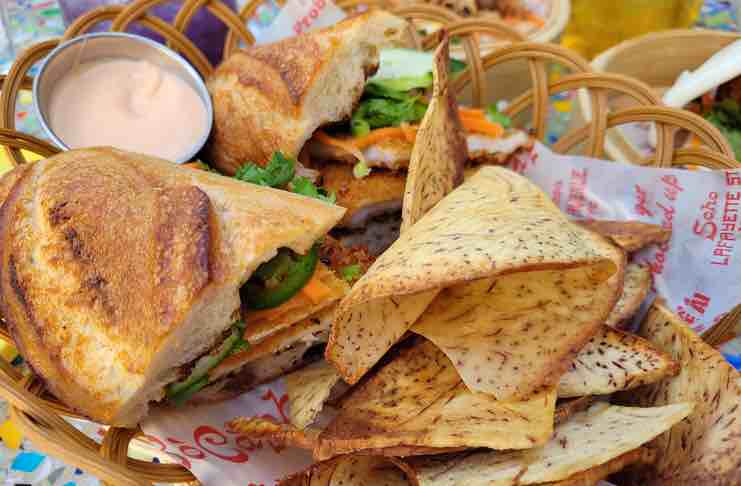 The taro chips are a hit or miss; they're a bit inconsistently sliced and the thicker ones are a bit soggy. The perfectly sliced, paper-thin chips, however, are masterful and perfectly salted. 
I am genuinely confused with the beef and lemongrass bò bún. It looks quite appetizing, but, similarly to the restaurant at large, lacks thought or quality behind it. The noodles aren't the typical bò bún noodle, instead of thicker and round in circumference. 
The beef, while nicely marinated, is surprisingly dry. It is garnished only with cilantro and a sparse amount of peanuts, despite the menu stating it comes with a spring roll. The nuóc cham sauce is the best part of the entire dish, lending welcome moisture, umami, and brightness to both the noodles and the crispy chicken banh mi. Although we finish the sandwich, neither my companion nor I have any desire to go back in for a second helping of the noodles.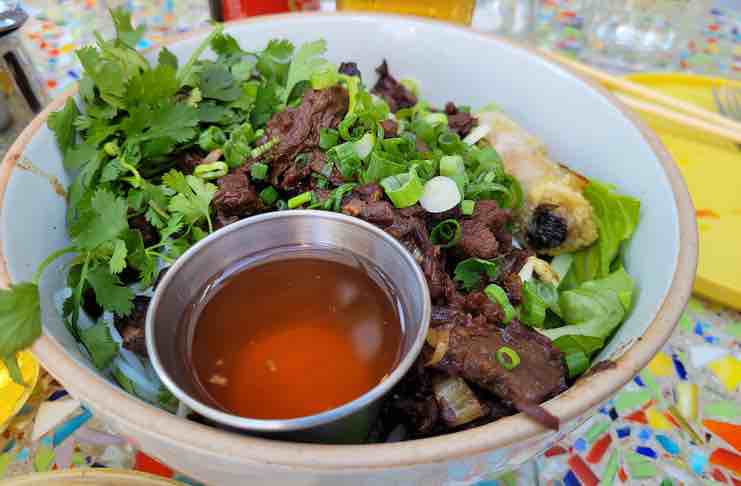 The Dessert 
I desperately want to try the Open Sesame, but it's not available. Apparently, they have given us outdated menus. Instead, we order a sweet roll and the vegan chocolate cake upon recommendation. 
The sweet roll is a deep-fried dessert spring roll, with a rice paper skin that doesn't get quite as crispy or crunchy as its wheat/gluten-containing cousin. But it is stuffed with Nutella, bananas, strawberries, and peanuts, so it's really not bad. The menu states there is mango coulis, but we only receive a mixed berry coulis (another menu change, perhaps?). The dish is absolutely not the best, nor does it brim with curiosity or creativity, but it will nonetheless satisfy anyone with a sweet tooth. 
The vegan chocolate cake has good texture but is so obviously depending on coconut milk or cream that the rich chocolate flavor gets lost. It is still decadent, but not for anyone who is craving a slice of intense chocolate. The yuzu lemon sorbet is sad and watery, lacking the acidity and general solidity of a good sorbet.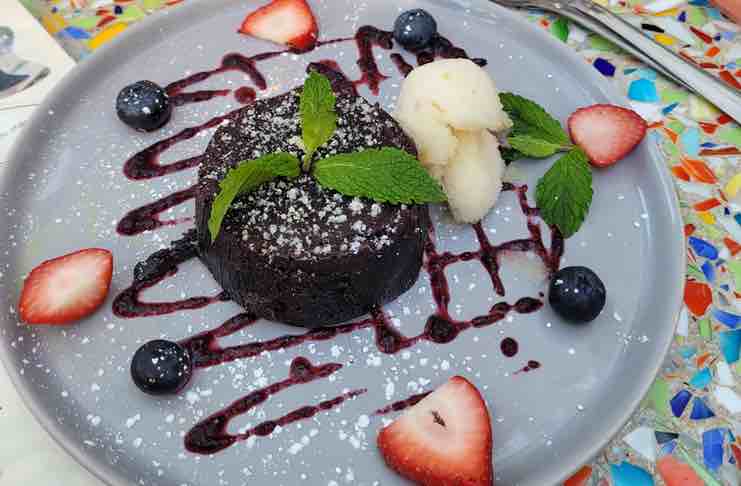 It melts into an unappetizing puddle in a matter of minutes. The dish would have been better if the coconut cream were used to make ice cream rather than sorbet, and instead, have a truly luscious chocolatey cake. I have enjoyed delicious vegan desserts. This, tragically, was not one of them. 
CLOSING THOUGHTS
It's a brunch place, an Instagrammable place, an expensive place. But it is not a place I would go to for authenticity. While technically edible, BoCaphe is serving some of the least genuine Vietnamese food I have experienced.
My companion and I wholeheartedly agree that we would prefer a run-down, rickety hole in the wall delivering delicious, intensely flavored, culturally authentic food than a place that seems to care more about appearance than taste. This is, however, only my opinion after a singular visit. I do not discourage anyone from trying it for themselves, or from making their own conclusions. Perhaps you will find something I did not. 
THREE BEST BITES
The taro chips were thin enough to get superbly crispy and light. 

The spicy crispy chicken banh mi, when dunked in both the creamy sauce it came with, as well as the nuóc cham sauce. 

The Vietnamese coffee. 
BATHROOM CORNER
Not-so-great lighting is offset by a working sink, good water pressure, and readily available soap, toilet paper, and paper towels.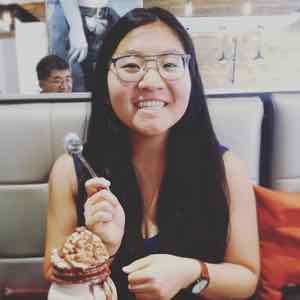 Katherine Chin was raised in upstate New York and grew up with the mindset that good food can, and does, exist anywhere. Now living and working around Manhattan, she spends most of her breakfasts pondering what she'll eat for dinner. She advocates for food that tastes good, and believes that sharing is caring – the best food is often eaten together. You can find her either walking or eating anywhere in Manhattan, when she's not planning her next food-centric adventure.