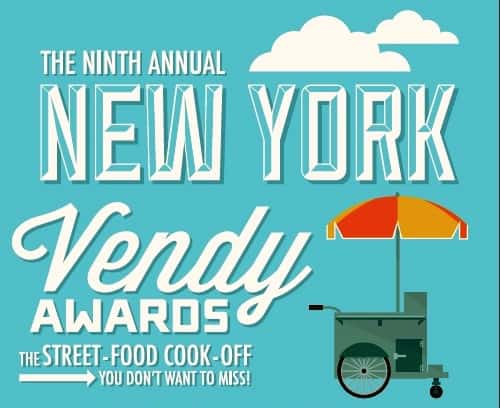 This Saturday (9/7) is our favorite day of the year, the Vendy Awards. Street vendors pull out all the stops to come up with their best, most creative dishes to serve the thousands of people (and judges) attending the event.
We have a preview of some of the special dishes competitors will be serving.
There is also a new Vendy category this year that we haven't previously told you about. It's literally a mess!
Click through for the details, and if you want to go to the Vendys, tickets are still available here.
From Rookie of the Year Finalist Mamak: Mamak's Messy Ramly Burger: 100% beef patty on sesame bun, topped with shredded cabbage, carrot, cucumber, mayo, white cheddar, fried egg, and sweet-chili ketchup sauce.
From Best Dessert Finalist Oddfellows Ice Cream Co.: Peanut Butter & Jelly Ice Cream: Peanut butter ice cream base with pieces of grape jelly folded in.
From Best of NJ Finalist Tony Baloney's Mustache Mobile: Tikka Pizza: Homemade tikka masala pie with homemade paneer cheese and fresh cilantro.
From Best Market Vendor Bon Chovie's: Fried anchovy shots with smoked paprika mayo served either heads on or head off.
From Vendy Cup Finalist Chipper Truck: Taco Chips: Ground meat and cheese over fries with a homemade pink sauce.
A new category this year is the "Messy Yet Tasty" Award, sponsored by Tide to Go®. This Award will be given to the truck with the most mouthwatering messy fare, whether they are competing for the Vendy Cup, Rookie of the Year, Best Dessert or anyother category.
The "Messy Yet Tasty" Award will be voted on by the attendees at the Vendy Awards, who will also determine every category winner except the Vendy Cup.
If you want to help determine the Vendy Award Winners in every category except the Vendy Cup, tickets are still available here.