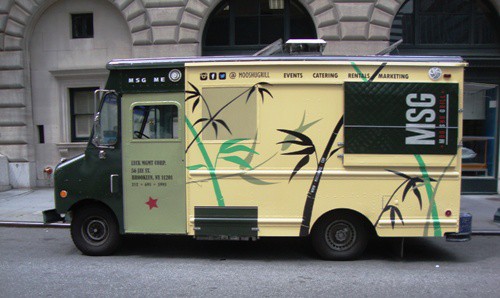 About a month ago, we had a First Look at the Moo Shu Grill. During that visit, we tried their 5-Spice Pork and Basil Chicken "moo shus", with a side order of lo mein.
We recently went back to try the rest of the menu items, which were XO Steak and Pan-Fried Tofu. Moo shus are $4 each or 3 for $9.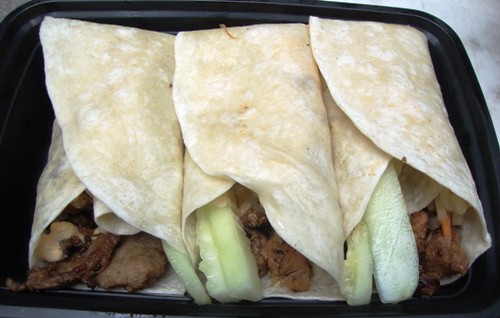 Each moo shu wrap includes cucumber spears, pickled carrots & daikon, and a chili mayo sauce.
The wrapper itself is what they call "pancakes" when ordering moo shu in a Chinese restaurant. They are more flexible than a flour tortilla, but still quite thin.
Biting into the first one, the carrots and daikon were not too sharp or vinegary, unlike many pickled items. In fact they were a bit on the sweet side.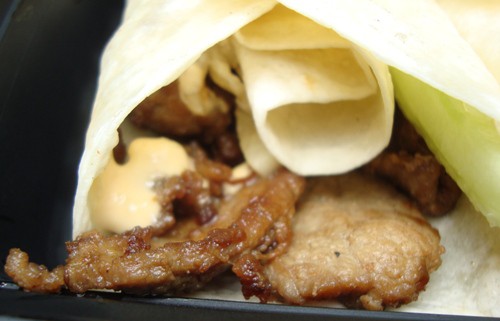 The steak was described as XO Steak on the menu. The steak was sliced thin and tender enough, but it could have used more of a marinade or rub for a stronger flavor. We didn't really notice any XO sauce.
We had the 5-Spice Pork once before. At that time, we said it had the same issues just mentioned on the steak, not enough spices. They must have listened to our advice, because this time, there was much more of the 5 spice taste that we really enjoy.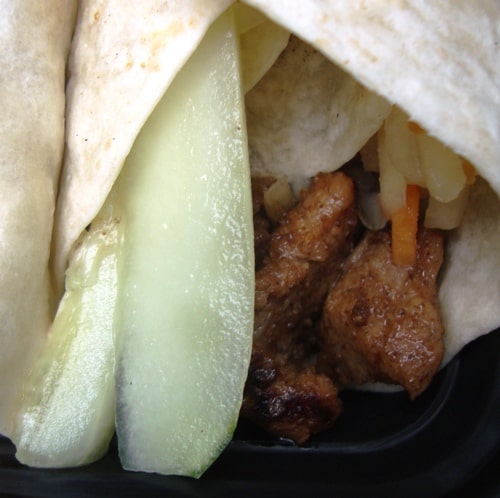 The final mooshu was supposed to be tofu, be we ended up with Taiwanese Basil Chicken instead.
Once again, they need a heavier hand with the herbs and spices. We didn't get much of a basil flavor.
You can find Mooshu Grill on twitter here or on our  Mobile Munchies twitter feed. Just look for the food truck with a big MSG on the side.
They are still working out a few kinks, but Moo Shu Grill is a light, refreshing lunch for the dog days of summer.
Lately they've had a Peking Duck moo shu as a special. We're definitely curious about that one.