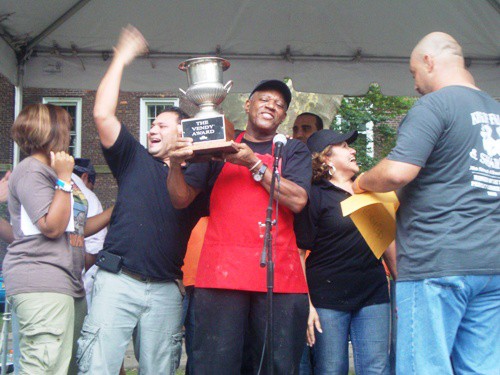 Who's your Favorite Street Vendor? Our High Holy Day, the 9th annual Vendy Awards, will take place this year on Saturday, September 7th.
Click through to find out how to nominate your favorite street vendor, how to buy Early Bird tickets, the 6 categories vendors will be competing in, and where the Vendys will be held. (Hint: not Governor's Island.)
­­­­
In a change of venue, the event will be held this year at Industry City in Sunset Park, Brooklyn.
New York's best street chefs will once again compete for the coveted Vendy Cup, along with Rookie of the Year, Best Dessert, Heroic Vendor of the Year, Best of New Jersey, and the popular People's Taste Award.
Nominations for vendors are being accepted now, so make sure to nominate your favorite sidewalk chef online at http://streetvendor.org/vendys/nominations/.
A limited number of Early Bird tickets are available for $85. You can get them here: nycvendys2013.eventbrite.com.
Follow the Vendy Awards on twitter at @vendyawards, or on facebook at Facebook.com/VendyAwards.