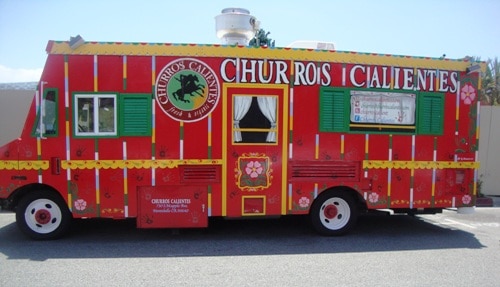 There are a lot of great savory food trucks out there, but there are just as many great dessert trucks. You generally don't need as many ingredients or as much equipment for dessert as you need for lunch or dinner.
The Churros Calientes Truck is bright and colorful, but has that homey feel. It's almost like a Mexican version of the Old Traditional Polish Cuisine Truck, with pictures of windows with shutters and curtains.
Our friend got two big, overstuffed empanadas, but we were looking for dessert.
That meant a Churro Grande for $5. There are 7 different toppings and fillings to choose from. One goes on top and one goes into the middle of the churro. We got a chocolate filling with dulce de leche on top, but there was also nutella, sweet condensed milk, guava, and a few other options on the menu.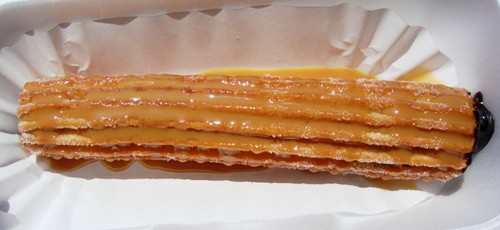 It took a few minutes for them to prepare it to our specifications, but only 3-4 minutes, and it came out piping hot.
The churro was about 10″ long, was coated with sugar, had dulce de leche on top, and chocolate sauce oozing out the sides. We cut the churro in half to share with my friend, which made it ooze out even more.
This was a delicious dessert. The churro was crispy, even with the dulce de leche softening things a little, but the inside was still soft. That probably had to do with the gooey chocolate sauce in the middle.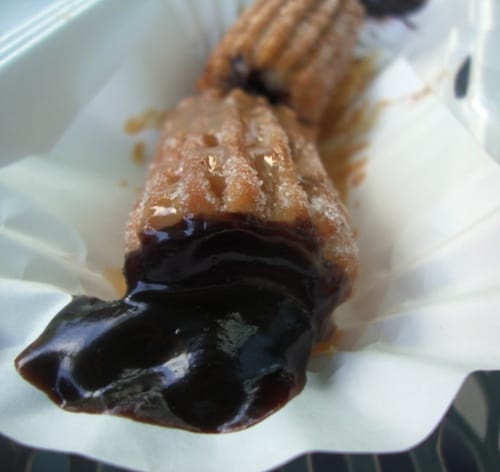 The Churro Grande was big and rich, and half was plenty. If you have someone to share it with, half of one should be enough. If not, enjoy!
The Churros Calientes Truck can be located on twitter here and their website is here.
Our friend, who is an American of Mexican descent, said the empanadas were excellent too.