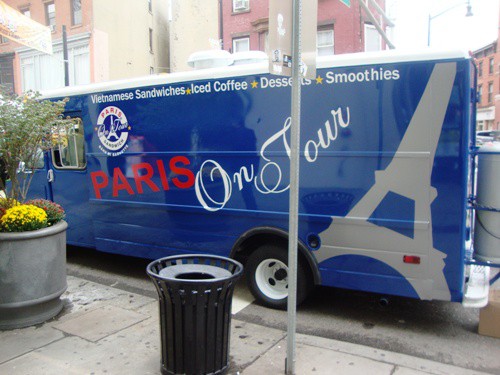 We recently received an email from our friends at Food Freaks Grilled Cheese, who are working on bringing their cart back into the city. Can't wait for that!
In the meantime, they had some news for us about a new food truck they know called Paris Sandwich Truck.
We actually ran across the Paris Sandwich Truck at last summer's All About Downtown Festival in Jersey City, but we didn't have a chance to try them that day. We heard last year that they served in Jersey City, but Food Freaks told us they are now in the city.
You know what that means – banh mi!
Paris Sandwich has two stores in Chinatown, serving Vietnamese dishes, banh mi sandwiches and more. They are the 1st banh mi truck in NYC, although there is a Banh Mi Cart in the Financial District.
You can find the Paris Sandwich Truck on twitter here or on our Mobile Munchies twitter feed.  Their website is here, and below is a photo of the truck's menu that we took at last summer's All About Downtown Festival.  It's possible prices may have gone up since then.