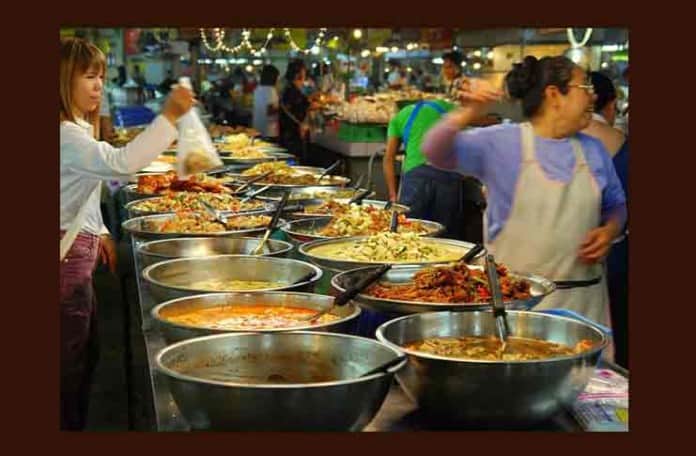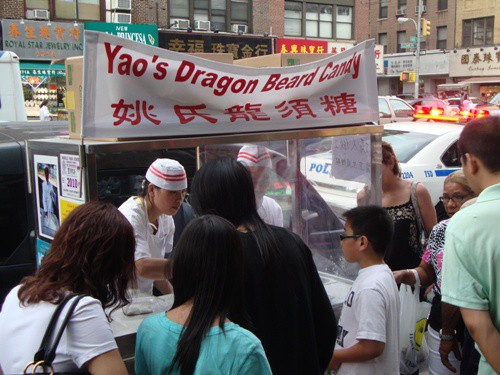 Today was a beautiful day outside, so I headed down to Chinatown to check out one of the Vendy Award Dessert Finalists I was not familiar with – Yao's Dragon Beard Candy.  They are on the south side of Canal St between Mott St & Elizabeth St every day from 11-7, as long as it's not raining.  As you can see from the picture above, candy always draws a crowd, especially kids.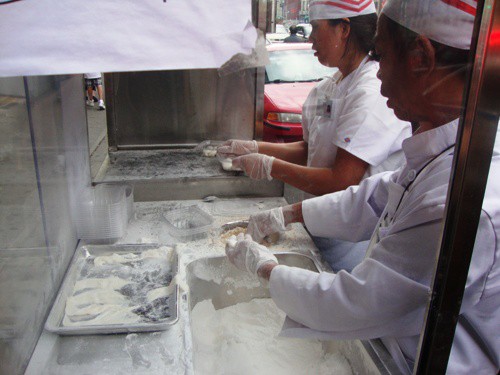 There were two people working the cart, an older man and a woman that might have been his daughter.  They have a huge bin of powdered sugar on the cart, and sell containers with 6 pieces of candy for $3.
I never had dragon beard candy, so let me explain what it was in case you haven't either.  The outside was very delicate and lacy, and sort of melted in your mouth – but inside was like nougat with peanuts and coconut folded into in the center.
It's a bit of a schizophrenic candy experience, but if you like peanuts and coconut, you should enjoy dragon beard candy.  The coconut was pretty mild, with the predominant flavors being peanut and the lacy candy coating.
After putting 3 containers of Yao's dragon beard candy in my bag, we continued walking west down Canal St and came across Ling's Sweet Mini Cakes, also on the south side of Canal St, just west of Mulberry St.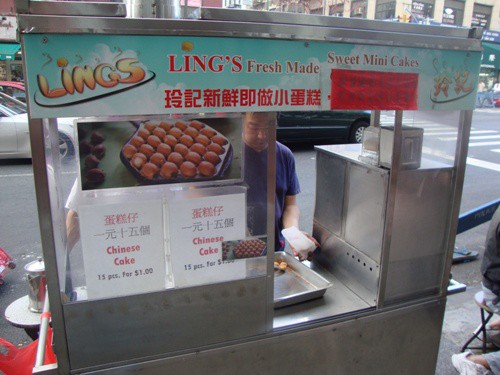 Sweet mini cakes are a little better known than dragon beard candy, so I won't go into too much detail.  Suffice it to say the name is descriptive enough, with a sweet batter that is baked into a bite-sized mini cake.  The outside is slightly crisp and the inside is soft and sweet.  And you get 15 for $1.  Pretty sweet deal, and a pretty sweet day we had in Chinatown!