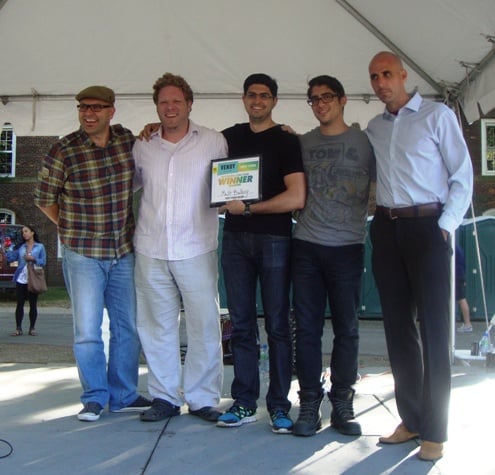 Nobody knew what to expect in the Best Dessert category. Five of the six finalists were frozen desserts, and while the day started off cool and breezy, it did get warm as the day progressed. Looks like weather would not be a deciding factor.
The Vendy's decision to start a new category for Best Market Vendor was a good idea, but it also bled into the Best Dessert category, as two of the Best Dessert finalists were market vendors.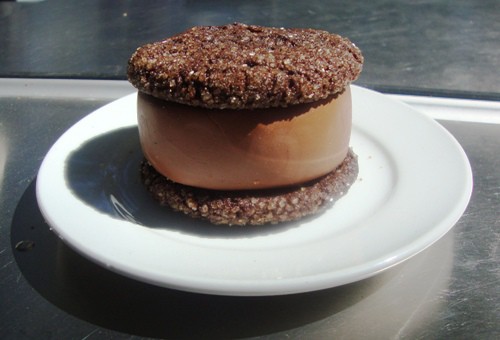 Melt Bakery came with an assortment of their goodies, shrunk down a bit in size to allow for serving so many people.
There were five different ice cream sandwiches with great cookies, such as red velvet cookies with cream cheese ice cream and green tea ice cream with gingerdoodle cookies.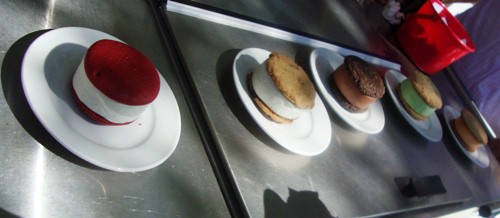 Our favorite was Morticia, not only because we've always loved The Addams Family (especially Morticia), but because the chocolate had that deep, dark taste. It didn't hurt that the cookies were sugared too.
UPDATE – We head from Melt Bakery, and they told us they were nominated for the Melt Bakery cart on the High Line, not as a market vendor.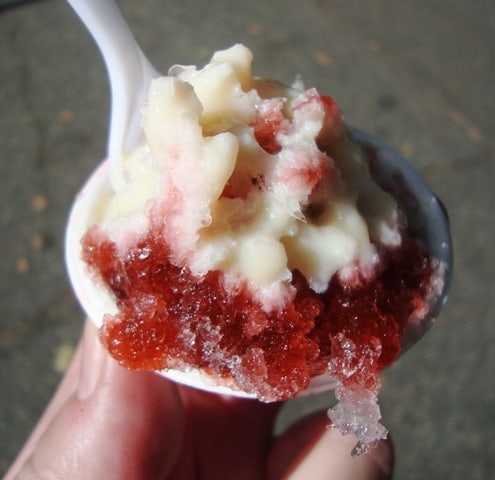 The other market vendor in the Best Dessert category was Imperial Woodpecker Sno-Balls. While there were similarities to last year's winner, Wooly's Ice, this was New Orleans-style shaved ice.
Under the ice were Creole Crack(ers), and there were Big Easy-centric flavors like Mardi Gras King Cake and Sweet Lou's Nectar Cream. We really enjoyed the blackberry, with a condensed milk topping.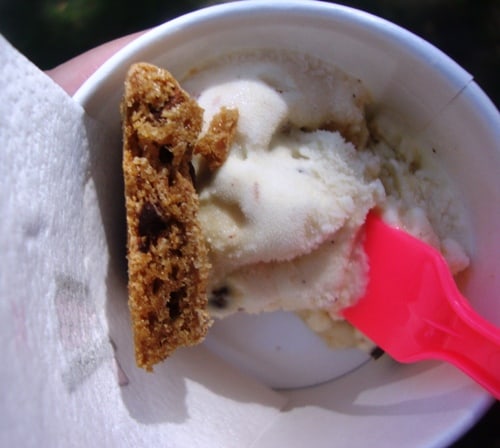 Coolhaus teamed up with Bushmill's Irish Whiskey to come up with a couple of new flavors for the Vendys. They created Bushmills Hot Toddy Ice Cream with Maple Flapjack Cookies and Bushmill's Candied Bacon Ice Cream with Chocolate Chip Cookies. Coolhaus also had their signature Dirty Mint Chip Ice Cream with Double Chocolate Cookies.
While Coolhaus' ice cream and cookies was very good, we think it was a strategic mistake serving their treats in a cup instead of in sandwich form. Ice cream sammies got them to the Vendys, and that is what they should have served.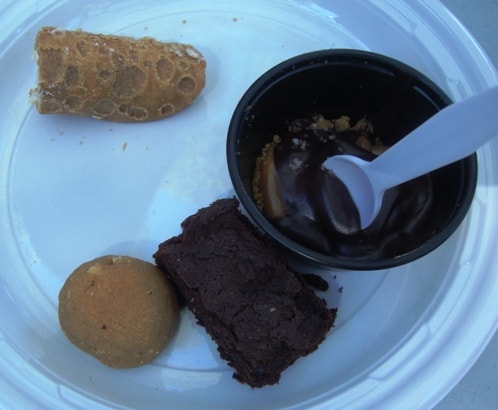 This is probably our worst photo of the day, but La Bella Torte had a great assortment of desserts. In a small cup was chocolate salted caramel pie, which we loved.
A small cannoli, peanut butter cookies and flourless chocolate torte were really good too. Finally, La Bella Torte had frozen hot chocolate in shot glasses, and I must say, we downed a couple of those babies.
Excellent job Joe and AnnMarie. We enjoyed the variety of your desserts very much.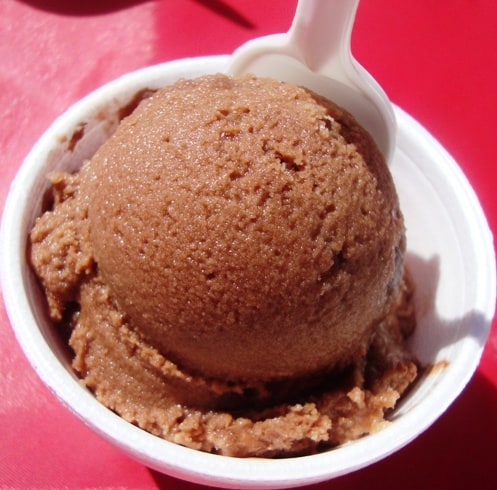 Andy's Italian Ices came with a huge selection of Italian water ices, creme ices, and even a few sugar free flavors. There had to be 20 different choices on the menu.
We particularly enjoyed the chocolate ices with small chocolate covered pretzel balls. You can't see them in the photo, but they were in the middle of the ices, and gave the ices a sweet and salty flavor.
All the Best Dessert Finalists were worthy of winning, but the people who attended voted Melt Bakery as Best Dessert of the 2012 Vendy Awards. Congratulations to everyone who worked so hard to serve us such great desserts. Excellent jobs all.