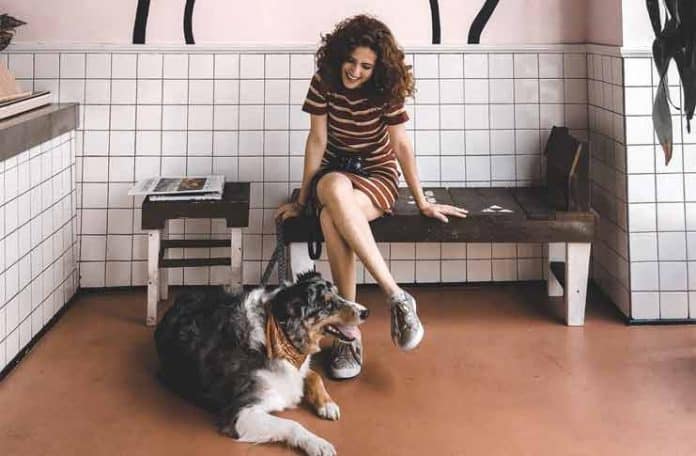 If you are looking for the best places to have a swell time, dining with your furry friend, here you have a great list. You might want to check out one of these exotic places, for an experience you and doggy would love.
However, before we get into the list, we would like to discuss how you and your furry little friend can get around New York City. Each state has its own laws governing pets being allowed on mass transit systems. In New York City, residents or visitors can take advantage of the Metropolitan Transportation Authority buses, ( MTA ) as the laws establishing the MTA allows passengers to board the buses with their dogs. The only thing is that you are expected to put your dog in a crate on an MTA bus and ensure the dog doesn't become a nuisance to other passengers. If you are visiting New York or have just recently moved there, it's a good idea to learn about the MTA rules for dogs in New York City so that you can familiarize yourself with all the dos and don'ts. This is important so that you and your loyal buddy don't run into any problems while trying to navigate through the concrete jungles of New York. The same thing applies to the subway as the same law that governs the MTA governs the subways. Now that we have tackled your dilemma on how to get around with your dog, we can now discuss the amazing places you should consider taking your furry friend in the New York City area.
Lic bar (
Long Island City, NY)
Lic bar has served the Long Island City for such a long time, it is over a century old, and has always been known to welcome dogs both indoors and on the patio. It has a breezy atmosphere around it that makes it a relaxing neighborhood bar. Events like readings, trivia, concerts, and live music often hold in the cool brick-walled space.
Shake Shack (Madison Ave & E 23rd St
.
New York)
Shake Shack is located in Madison Square Park; it is one of NewYork City's best dog parks. Not only do you get to treat yourself to a Shake Shack delicacy, but special dog biscuits are also available. There, your dog is sure of a special treat. The space is just perfect for a day in the park with your furry friend.
d.b.a (41 1st Avenue
New York)
d.b.a is known for over a 100 unique brews of beer and a variety of whiskey. The good thing is while going for a drink; you can hang out with your dog too in the spacious patio behind or even indoors if you like.
Lucky Dog (303 Bedford Ave
Brooklyn, NY)
Just as its name implies, Lucky Dog On is a jolly dog-friendly environment located in Williamsburg. They offer an array of beers and various cocktails, and you can go indoor with your dog for a drink or stay outdoors, where your dog can relax in the airy patio.
Pig Peach (
Union St Brooklyn, NY 11231)
The ever-lively bar and barbecue joint is a go-to if you are thinking of having a pleasant time with your furry friend. They offer a variety of beer, cocktails, and frosé, and the barbecue never comes short of your expectations. 
Brooklyn Cider House (1100 Flushing Ave., Brooklyn)
Searching for the right place for a breathtaking dining experience in the Bushwick area? Look no further. Brooklyn Cider House is the people's favorite bar and restaurant with a beautiful patio behind. Their menu includes varieties of drink and food à la carte, and here is what makes it a better experience than usual; you can bring your dog to dinner.
Lavender Lake (383 Carroll St., Brooklyn)
This cool bar has an extensive back patio that welcomes your pet. One more reason why you want to hang out at Lavendar Lake is that it offers you delicious food, from Nachos to chickpea hummus, fried calamari, or house salads, you are sure of a delightful meal and a variety of drinks.
Five Leaves (18 Bedford Ave Brooklyn, NY 11222)
Experience with your furry friend at Five Leaves is worth it. Who doesn't just love the outdoor scenery at this boisterous restaurant situated in Greenpoint? The beautiful restaurant is open to diners all day long. They offer you sizzling Australian-themed dishes like home-made ricottas, risottos of ducks confit and roasted pumpkin, seasonal soups, burgers, to mention but a few; it also gives you a chance to dine with your pet.
Boat Basin Caféon W. (79th St. At Hudson River)
A perfect get together at sunset will be best in this restaurant.  It has a beautiful ocean view, as it overlooks the Hudson River. The relaxing atmosphere around it makes it the perfect get-away, not just for you but for your pet too. Your dog would love all the space it has to run around in the open air. They offer good food and drinks, as well as live music for your entertainment.
Café Clover (10 Downing St)
Think of Café Clover as the perfect place for a weekend outing with your dog if you are in West Village. The restaurant offers healthy foods made with organic ingredients straight from the farm. On their menu, you have a variety of dishes like chilaquiles, poached eggs, waffle tots, avocado toasts, and lots of drinks to accompany your meal; and yes, you get to dine with your doggy too.
Cook Shop (156 10th Ave New York, NY 10011)
Since the 1800s, Cook Shop has remained a Chelsea neighborhood choice restaurant. The restaurant remains dedicated to offering customers healthy foods made with seasonal and locally produced ingredients. Their menu includes whole-grain porridges for breakfast, salads and buttermilk chicken wings for lunch, and roasted cauliflower for dinner. An array of drinks is available too. The outdoors has a broad sidewalk for your pet, so if you are opting for the outdoors, your furry pet can come along.
These options above are not just amazing, they meet various needs, from dietary to scenery. All you have to do is choose the one that best suits you. Or try them all out and see which one you like the most. New York really does have everything for everyone, even for your trusted pooch.