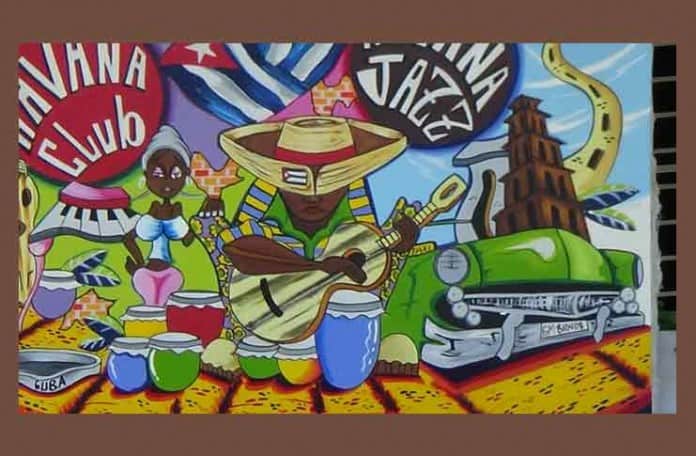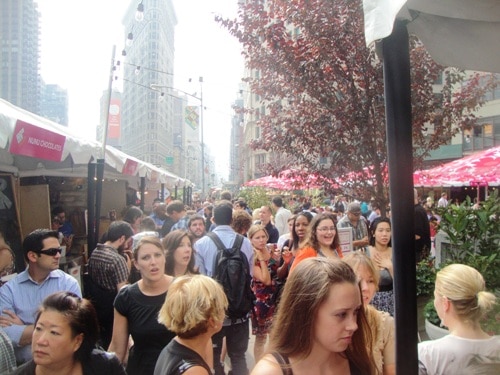 Another beautiful day for Madison Square Eats, and it was crowded as hell!
I was going to get a burger from Bar Suzette, but as I was approaching the end of the line, the guy behind the counter shouted out that it would be at least a 20 minute wait for a cheeseburger.  Time to find another place for lunch.
The line at Cannibal Beer -N- Butcher was only a few people long, and the menu said they were the new baby brother of Resto, a pretty well-regarded restaurant, so I decided to give them a try.
The menu had 3 food items – Pig's Head Cuban, Sloppy Lamb and Tuna Sandwich, which were each $10. There were also 4 craft beers on the menu that looked excellent, but I couldn't today.
I had trouble deciding between the Pig's Head Cuban and the Sloppy Lamb, and went for the Cuban.  With names like the first two, does anyone actually get the tuna sandwich? They need a snazzier name for that one. How about Charlie's Anglers.  Nah!
The guy working put the sandwich on a press and put all his weight into squashing that baby down.  The sandwich flattened out quite a bit, and also got a little toasted in the process.
When I opened the sandwich and looked inside, there were thinly sliced pickles, Swiss cheese, ham and roasted pork.  I didn't see any mustard though.
I closed the sandwich back up and took a bite.  It tasted like a Cuban, with pickles and pork being the dominant tastes.  The pork had a nice roasty flavor, with a few charred, crunchy pieces adding some extra flavor.
There wasn't a lot of pork visually when I opened the sandwich, but it had plenty of flavor, and the ham and Swiss cheese added some taste tangents.
I also ran across some of the jellied stuff you get with certain types of meat and gefilte fish.  I forget what you call that stuff, but I guess they really did use pork from a pig's head.
Today's Lunch of a Pig's Head Cuban from Cannibal Beer -N- Butcher was pretty good.  I would have liked some mustard and a little more pork in the sandwich.  The pork it did have was tasty though.
The guy behind me ordered a Sloppy Lamb, which was a Sloppy Joe using ground lamb. That would have been a good choice too.