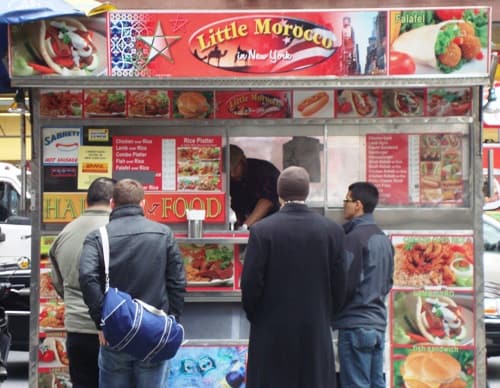 Just like with my recent visit to Kabab Express, I had not been to the Little Morocco cart on the NE corner of 39th St & 7th Ave in about a year.  They are one of the few carts that has fish over rice, which is what initially caught my attention.  They also had a short line and steady stream of what appeared to be regulars coming up to the cart.
It's been a while since I had a chicken and lamb over rice platter, and since that's what most people seemed to order, I did the same thing.
Today's Lunch is a combo platter over rice ($5) from Little Morocco.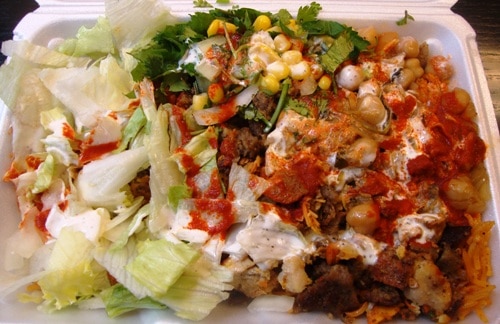 He put a huge amount of rice into the container, some grilled chicken and gyro meat, and a bunch of different veggies.  As for sauce, I asked for white and hot, figuring that someone from Morocco would know how to make a good, spicy harissa sauce.
I headed back to the office and opened up the container.  In addition to the meats and rice, there were chickpeas, corn, onions, cilantro, and there would have been tomato if I didn't ask for no tomato.
The chicken was nice and tasty.  As for the gyro meat, you know while you're eating it that you shouldn't, but it's one of those guilty pleasures.  I don't have it too often, but once in a while, it's enjoyable.
The assortment of veggies assuaged my guilt a bit.  Chickpeas and corn (and a small salad) won't make up for the gyro meat or white sauce, but every little bit helps.  These veggies also added some variety to the usual halal cart meals of meat and rice.
The white sauce was a fairly standard mayo-based sauce, but the hot sauce was a nice, hot harissa.  Don't get it unless you want some serious heat.
The rice was orange from the spices, but it was very good.  They certainly know how to make good rice.
Today's Lunch at Little Morocco was one of the better halal cart meals around, and at $5, it was a good price for lunch.  It doesn't rise to the level of Bistro Truck or Comme Ci, Comme Ça, which are both owned and manned by Moroccan chefs, but it is one of the better halal carts around.