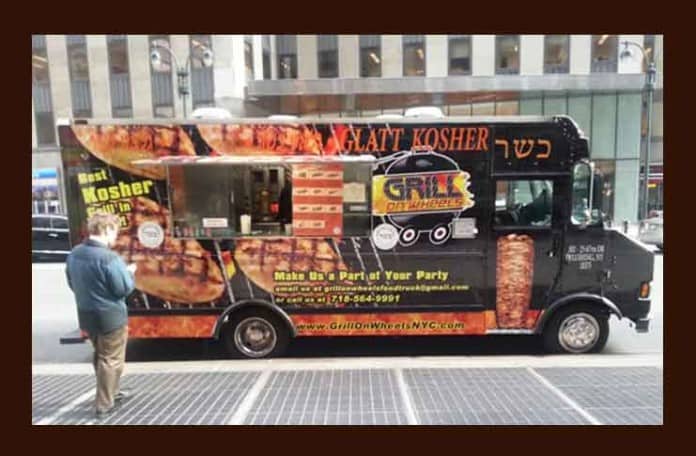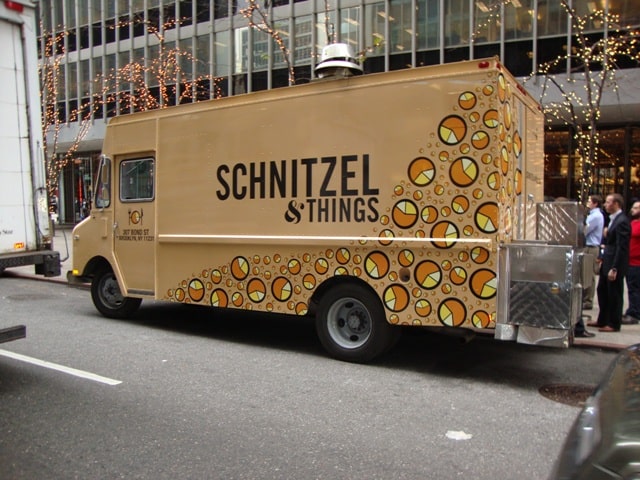 A bunch of the trucks are not out today due to the weather, mechanical problems, or private events.  All the trucks below are out though.
Schnitzel & Things is throwing a Grand Opening Party for their new store on April 12th. Tickets are available here from Gilt City. We got our ticket already.
With all this changeability going on, make sure to visit the Mobile Munchies twitter feed before heading out.
schnitznthings Hi guys! Truck @ 52nd & lex @ 11:30-2:00. Store @ 723 3rd ave @ 11:30-8:00. Schnitz before the weekend:) new @GiltCityNYC deal up now!:)
TaimMobile
51st btwn Park and Madison today with harissa falafel !
RickshawTruck
FRiday April 1, Trucks at Rock Center: 50+6av, Murray Hill: 32+Park and also Soho: Hudson+Houston.
ETRAVAGANZA
Happy friday!!choose your meat;cajun chicken,skirt steak or chorizo papas BURRITOS,with chipotle sauc
souvlakitruck
Let's try this again, shall we? 21st & 6th. Lunch window open til 3pm.
cakeandshake
Have you ever had our savory cakes?Try CINI!Crispy risotto Cake with smoked turkey,peas,mozzarella and parmesan cheese.You will love it!
bigdsgrub
4/1 (Fri) TGIF! We're on 18th Street & 5th avenue today from 11 to 3pm! Call your order in 646-543-2443 (BIGD)
EddiesPizzaNY
Hudson and King Today. We have Eggplant Parm, Hawaiian Pizza and more….call ahead your order 917-439-7522
KimchiTruck Good morning! Another cold rainy day in NYC. But let's look at the positive, it's FRIDAY & we're on 46th & Lex. lunch 11:30-2:30. C U soon.
waffletruck Frivolous Fridays! The waffle truck is on 52nd btw 6 & 7 av till 4.30 pm. The carts are out too! Goesting is on 49 & 3rd till 4.30 pm Bierbeek is on 8th av btw 7 & 8. Ask us what date it is today for 1 free dinges!
fritesnmeats
Lunch today @ water&broad burger of the week THE ITALIAN JOB preorder 9172929226. Get a taste of our delicious cinnamon rice pudding for dessert:)
SweeteryNYC
Hudson St. After a brief TV appearance we are back. This weather can't keep us away from you two days in a row. Hudson & King until 4p