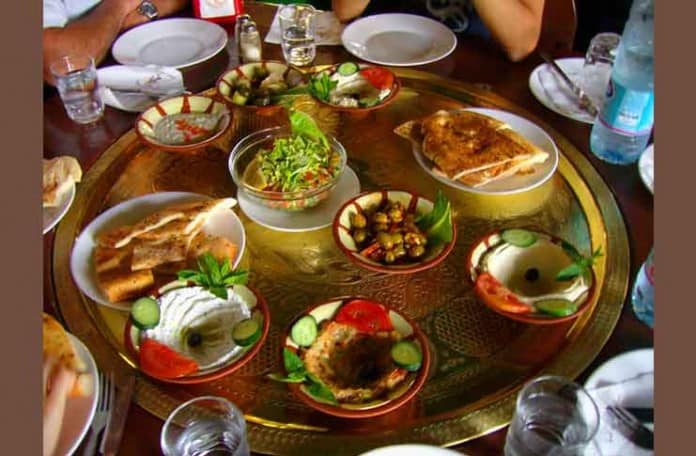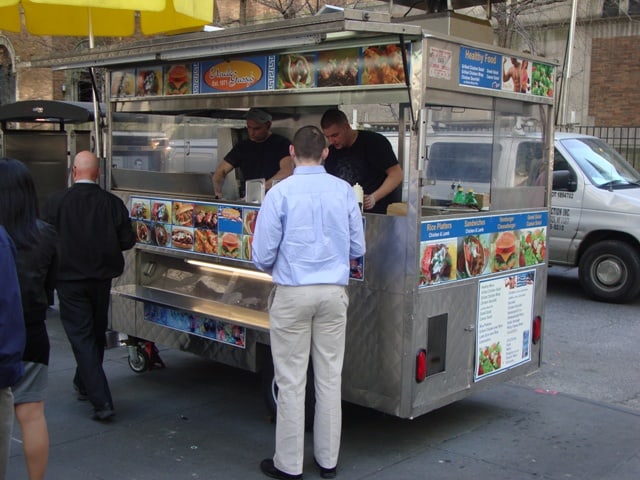 There's usually a line for Uncle Gussy's cart on the NE corner of 51st St and Park Ave, which is generally a good sign when looking for street food.  Another clue is the actual sign on the front of Uncle Gussy's, which says Est. 1971.  You don't stay in business for 39 years on the streets of New York by serving crappy food.  And I heard they have a pretty good white sauce, which I wanted to check out.
Behind the Uncle Gussy's logo on their sign were a Greek flag and an American flag.  Greek-Americans have been involved in the food industry in New York for as long as I can remember.  Nearly all the diners and coffee shops in the New York metropolitan area are Greek-owned.  They may not win culinary awards, but almost always serve good, solid food.
Today's Lunch was a grilled chicken on pita sandwich ($4) with cooked onions, lettuce, white sauce and hot sauce.  I could have had tomato, but declined.  They asked if I wanted hot-hot sauce or mild-hot sauce, which was appreciated.  Anyone who follows this website knows the answer – hot-hot sauce.  As with the best food carts, the chicken was recently cooked and chopped up only after I ordered.  Another good sign.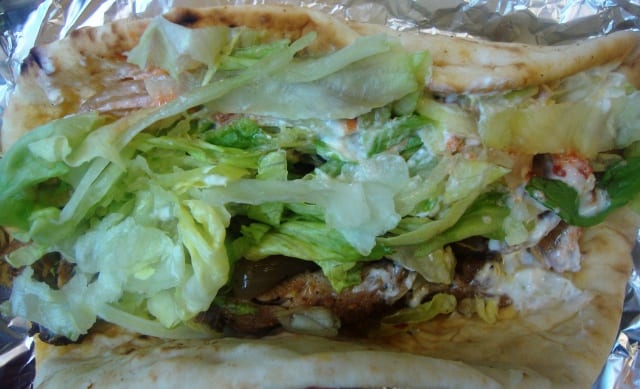 Back at the office, it looked and smelled great.  Upon taking my first bite, the chicken, onions, lettuce, white sauce and hot sauce were a wonderful mouthful.  The white sauce was a tzaziki sauce, and it was made with yogurt, not mayo.  This makes for a much better white sauce.  It's thicker, not as sweet, and definitely healthier.  A good tzaziki sauce is always welcome.
The hot sauce was very nice too.  It was not the hottest I've had, but it was certainly hotter than most of the hot sauces out there.  The sandwich did get a little salty towards the end of the sandwich, but not enough to ruin the meal.  Someone who likes salt probably wouldn't even have noticed.
Today's Lunch gets an 8 out of 10.  There was plenty of chicken, the hot sauce was hot, the white sauce was better than most places, and it was an excellent value at $4.  If value is more important to you, add another half point.  This was a good, solid sandwich, and I didn't walk around stuffed all afternoon.  I'm going to have to get more pita sandwiches for lunch.  They're easier on both the wallet and the waistline.