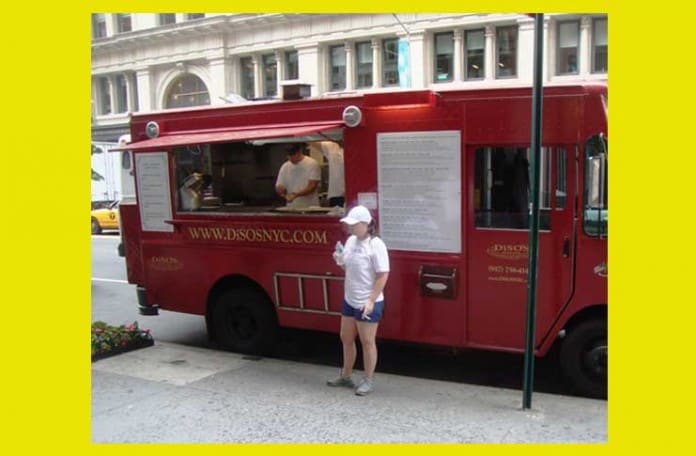 Yet another beautiful day today.  Schnitzel & Things is having trouble finding a space around 54th & Lex, and NYC Cravings is not out today.  We had to get this out early today, and not everyone has checked in yet, so please check the pink Mobile Munchies twitter feed on our homepage for the most up-to-date information.
1 new tweet. RickshawTruck – Dumpling monday madness! Serving in dumbo at front & washington also serving downtown at greenwich & barclay 11 till 3! 2 minutes ago via txt
fritesnmeats – Hey FiDi! Get ur week off right w/some fabulous Burger Love! W're on Broad & Water. Taking preorders until 1130. 917.292.9226. See ya soon!
CupcakeStop – 46th bet. 5 & 6th NOW w/ 12 FLAVORS!! 12:30-2:30pm 500 FREE Strawberry minis, code word "dressbarn"
nyccravings – WILL NOT be operating today.
waffletruck – Let's just pretend it's beautiful day with Wafels on Broadway & 114th. Oh wait, it actually is! Free dinges for your best celebrity joke.
StreetSweets – Gd moring. St Sw will b on 5Av btw 23 & 22 St from 8:30 until 3:30 then off to 9Av & 59St We look forwd 2 seeing all of our Flatiron friends
New Jersey Food Trucks
thekrave – 4/12 Schedule – Lunch #1: 12:00-2:00, Hudson & Essex, Inside Liberty Towers Gourmet Lunch #2: 12:00-2:15,… http://tumblr.com/xl18j0u02