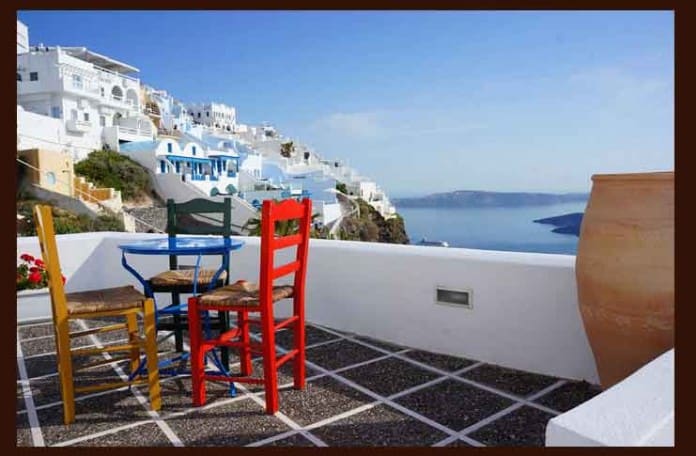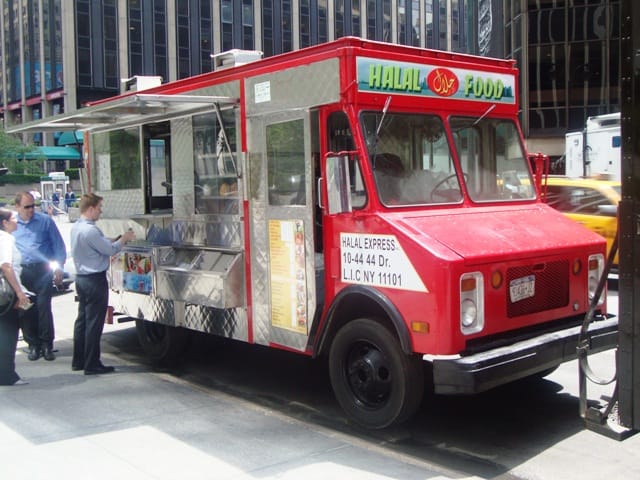 The options for good street food in the Penn Station/Herald Square area seem to be improving.  We have reviewed El Camioncito on 31st & 7th and Express Power Lunch on 33rd & Broadway.
Today we walked by two food trucks parked on 33rd St between 7th & 8th Ave – Gyro King, which looked like a fairly new truck without a line and SBS Indian Express, an older, red truck with a line.  We went for the truck with the line.  It only says SBS Indian Express in small letters on the back of the truck.  On the side it said Halal Express and on the the front it said Halal Food.
Contrary to their name, which is only on the back of the truck, this truck did not serve Indian food, but had a fairly standard street food menu – chicken over rice, gyros, falafel, cheese steaks, etc.  Today's Lunch is a chicken gyro sans tomato, with white sauce and hot sauce ($4).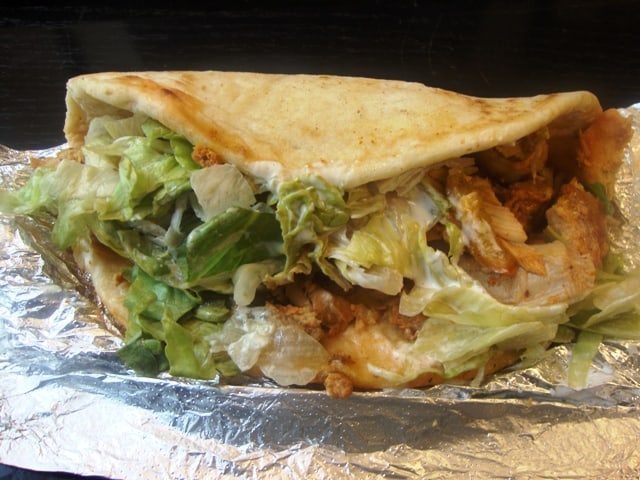 This gyro had a fairly similar construct to Express Power Lunch, where the chicken was stewed, not grilled.  This gave the chicken a nice saucy, stewed flavor, almost like a light chicken cacciatore.  It also kept the meat nice and moist, which by the way was white meat only – a plus in our book.  There were also a few onions and red and green peppers mixed in with the chicken and lettuce, which was stuffed pretty full into the pita.
One difference was the chicken was in mostly large chunks rather than being shredded.  IMHO, this makes for a more satsfying bite.  The hot sauce was not as hot as some of the more fiery hot sauces out there – but it did give the gyro some extra zing.
Today's Lunch gets a 9 out of 10.  This was one of the tastier chicken gyros out there, and I'll be back to this truck again.  Stewed chicken is much moister than grilled chicken.
Once again, go for the street food vendor with the line, not the one with the nicer looking truck.  I will try Gyro King at some point, but would bet SBS Indian Express is better.