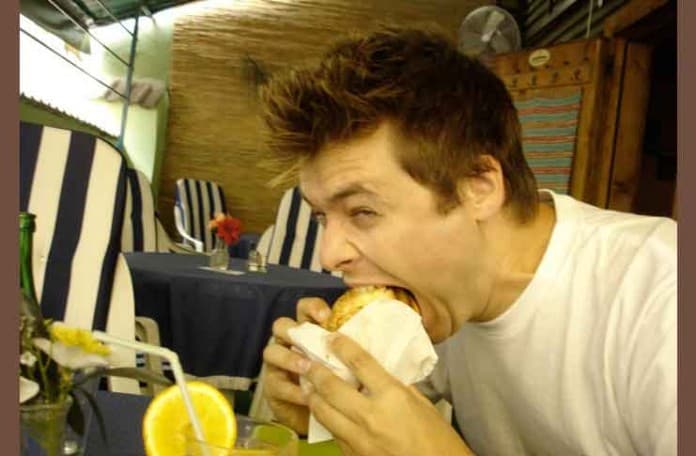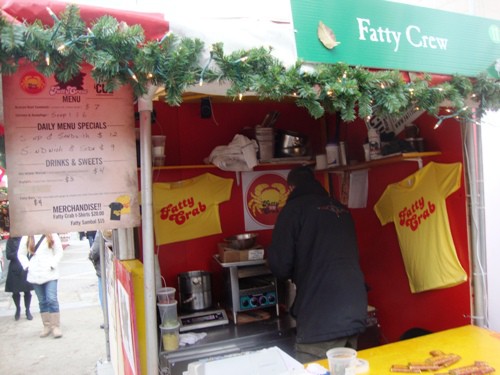 After having a wonderful lunch from Pies -N- Thighs at the Columbus Circle Holiday Market, I went back again for Today's Lunch, which is a braised beef sandwich ($7) from Fatty Crew, the people behind Fatty Crab and Fatty Cue.
Since the sandwich looked a little on the small side, I also got a cinnamon raisin pretzel from Sigmund Pretzelshop ($3).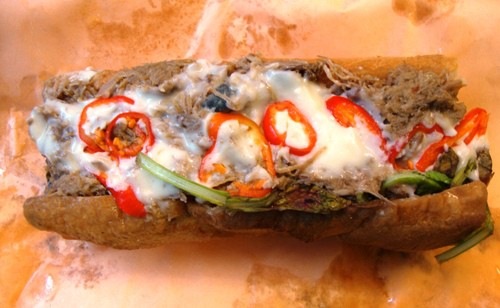 Very tender beef was shredded and topped with red chilies, mustard greens and a cheesy aioli sauce.  It was a bit messy just getting it out of the paper wrapper, but the smell was interesting.  It had a vinegary bbq aroma, but also smelled of cheese – which pretty much what it tasted like – a slightly vinegary barbecued beef (but not with bbq sauce) with a creamy, cheesy topping.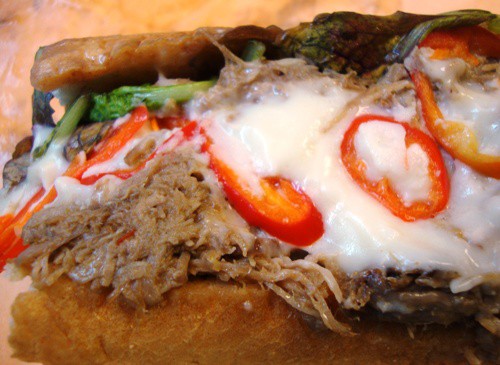 The red chilies added some heat, and the greens added a little texture.  Unfortunately, the bread got pretty soggy from the beef, which still had too much liquid in it.  Overall, a tasty but messy sandwich.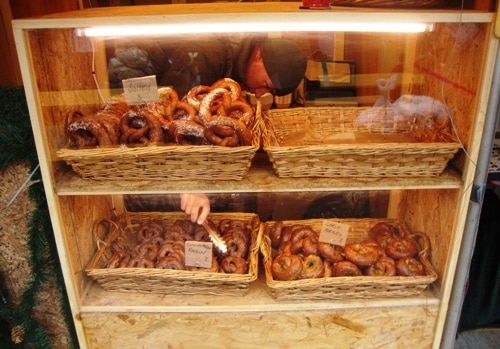 I had never tried Sigmund Pretzelshop, which has a store at 29 Avenue B and is in all the holiday markets around town.
They had 3 or 4 different pretzel flavors such as regular salted, feta olive and garlic parsley, but they were out of truffle cheese – and I was thinking dessert anyway – so I got a cinnamon raisin pretzel.
There was a little sugar sprinkled on top, and they heated the pretzel up before giving it to me.  It was a nice, thick pretzel with a dark brown color.  The pretzel was soft, a little chewy, and delicious.
$3 for a pretzel is a little high, but the quality of the pretzel was also pretty high (and it is probably even more enjoyable if you are high too!)
There are still a couple of places I want to try at the Columbus Circle Holiday Market, namely Cascabel Taqueria and the German bratwurst stand.  After Hallo Berlin closed in midtown with the death of its owner, you can't get a good wurst on the street anymore – although there are plenty of good places to get a taco on the street these days.