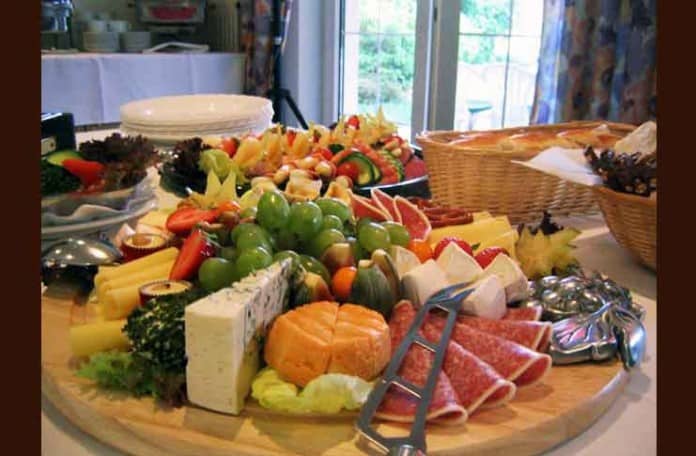 Today's Lunch is the Fifth Avenue Combo from Hallo Berlin Express at 744 Ninth Ave between West 50th and 51st Street.  Hallo Berlin Express is significantly closer to me than the original Hallo Berlin food cart, which was the first Vendy Award Winner back in 2005, but has a more extensive than the cart.
The Fifth Avenue Combo ($10) was chosen because I wanted to try 2 different wurst in one visit.  After all that's been written about Berlin's obsession with currywurst, I had to try one of those.  The 2nd choice was bauernwurst, a beef and pork sausage that is on the lighter side, since the currywurst was expected to be heavily flavored.
After the wursts were finished being grilled, they were put into a "wurst slicer", which was like a bread slicer, but smaller and used for wurst.  They placed each wurst in the machine, pulled the lever, and it was sliced.  The wurst was then put into a platter, the curry sauce and powder put on the currywurst, and the platter was topped with home fries, sauerkraut, onion and red cabbage.  (Good thing I have my own office.)
The currywurst was the darker sausage, and I was expecting a heavy curry flavor, but it was not even close to overpowering.  It was a bit spicy, but not heavy at all.  I'm not sure why millions of Berliners are fanatical about currywurst when there are plenty of bratwurst, weisswurst, bauernwurst and knockwurst to go around, but I guess it's something different from their usual routine, and spicier than their usual fare.  I certainly did enjoy the lingering spiciness afterward.
The bauernwurst was very good, kind of like a cross between knockwurst and bratwurst.  It was spiced a bit differently than the bauernwurst I've had at Lederhosen, a German restaurant in the West Village that we really enjoy, but very good nonetheless.  (BTW, Lederhosen has one of the best German draft beer selections around.)  In my opinion, the bauernwurst was good in the platter, but would have been great in a bun with the sauerkraut and onions.  I tried a few pieces with the onion and sauerkraut, and it was definitely better than the bauernwurst alone.
With 2 wurst and all the toppings, Today's Lunch was pretty filling, but very enjoyable, too.