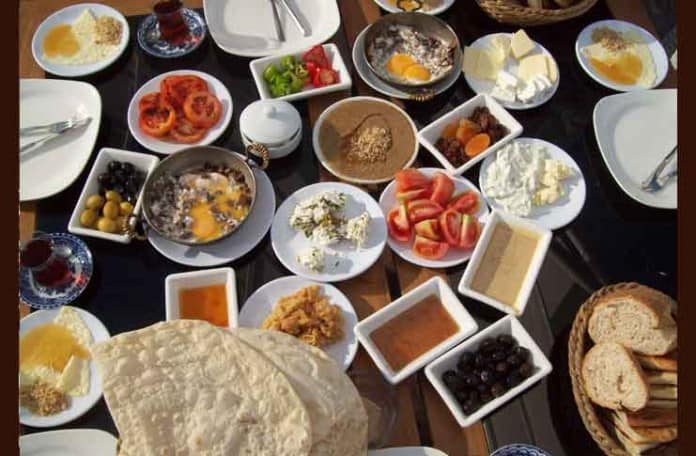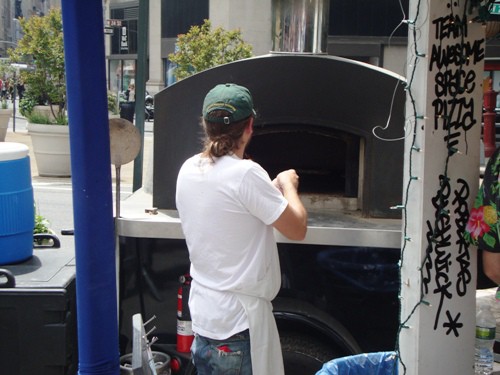 Note: This was a lunch I had last week, but did not have a chance to post until today.
When I stopped by Madison Square Park Eats the day before it opened, I saw the guys at Roberta's testing out an outdoor brick-oven pizza.  It looked pretty cool, but what made me re-double my efforts to get there was a comment from Shanna, a NYSF reader who wrote:
"Roberta's Pizza is amazing! If you go around lunch time, you should be prepared to wait because they make the pizzas to order and put them in the oven when you order them. It tends to get backed up from 12 – 2 so beware but it's definitely worth the wait!"
OK Shanna, Today's Lunch is a direct result of your comment – a Bee Sting Pizza ($9) from Roberta's at Madison Square Park Eats.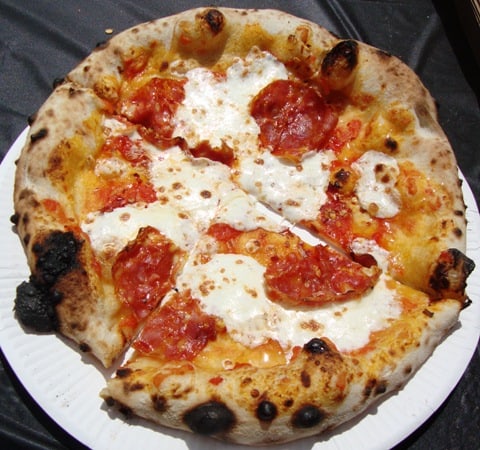 I figured with the bad weather, the wait would be tolerable, and I was right.  The pizza was freshly baked while I waited, but the wasn't more than 15 minutes.  The pizza came out piping hot and steamy, and boy did it look great!
Let me explain what a Bee Sting Pizza is.  It has fresh mozzarella, tomato, and spicy sopressata – and then they drizzle it with honey.  Wow!
I took a bite, and it was as amazing as it looked!  The crust was light and very thin, with some nice char around the edges.
On top of the crust, the sopressata was very spicy, which was only slightly tempered by the honey and mozzarella.  The Bee Sting Pizza was mostly spicy, with only a touch of sweet.
I think it's pretty funny with all the spicy street food I eat, one of the spiciest dishes I've had so far this year was a pizza.  But if you don't like spicy food, they have two other pizzas that looked just as good that aren't spicy – a Margherita pizza and one with mushrooms, speck (think proscuitto) and onions.
Thank you Shanna for the great suggestion. Today's Lunch was excellent.  Definitely give Roberta's a shot for lunch (or dinner). You won't be sorry.