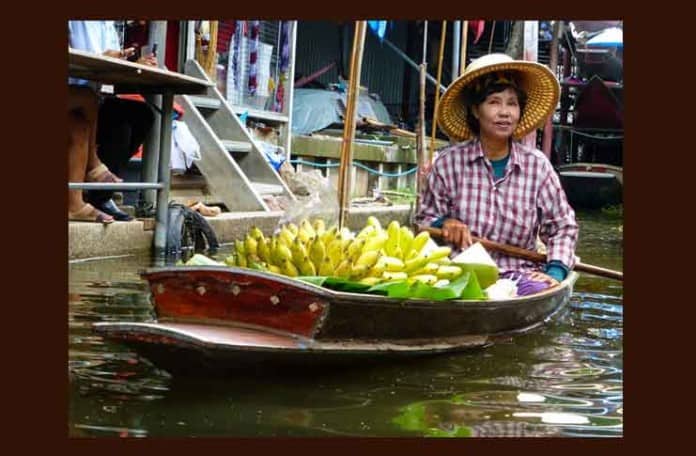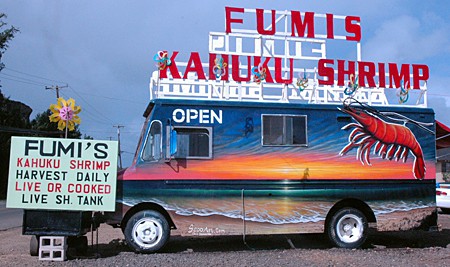 We're a long way from Hawaii, so you may not know that delicious shrimp trucks have been populating the North Shore of Oahu for quite some time – well before the current food truck craze.
Shrimp plates are usually served with two scoops of rice, and sometimes macaroni salad, a green salad, pineapple slices, and/or a lemon slice. Plain unadorned shrimp is available, but the most popular shrimp plates have garlic, lemon butter, hot and spicy, sweet and spicy, or a soy-based sauce.
The prices are about $10-15 per plate. The shrimp served at these trucks is tasty, but it is also unpeeled and very messy to eat. Be sure pick up plenty of napkins. Some of the shrimp truck locations have covered picnic tables with Hawaiian music playing. [Hawaii For Visitors]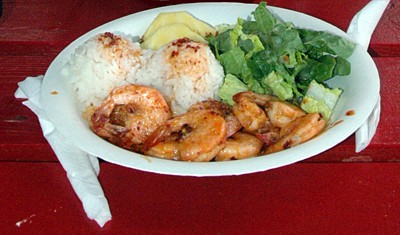 Now an authentic Thai food truck called Opal Thai has opened on the North Shore, too.  They have entrees like garlic pepper shrimp, roasted chili shrimp, and sauteed eggplant and string beans, as well as chicken, vegetables, rice, noodles and curry.  Just be aware they are closed on Mondays & Tuesdays.
For take out and catering from Opal Thai call (808) 381-8091.