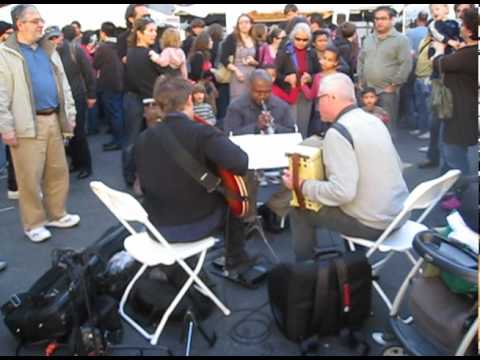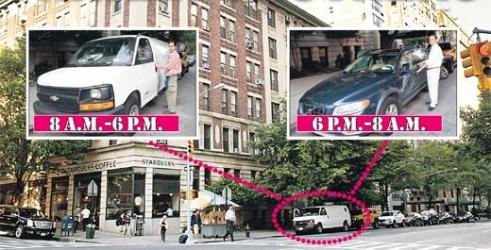 Not everyone thinks street vendors are a public nuisance, even in a tony residential area like the Upper East Side.
The NY Post recently had an article about a pediatrician and food cart vendor who have been saving a parking spot for each other on East 96th St for two years.
The Post reports that when Dr. Doug Waite pulls his Volvo out of the spot at 8 am, Sait Kumtas pulls his van in.  At 6 pm, Dr. Waite honks three times and Kumtas relinquishes the spot.
It's the unlikeliest friendship on the Upper East Side, a bond forged by that greatest of New York desires — a parking spot.  The curbside time share is a win-win for the odd couple, who have little in common beyond a mutual wish to hoard one of Manhattan's most coveted resources — free on-street parking.
The seamless transition from Volvo to van started organically about two years ago, after the duo accidentally performed the parking-spot trade.
"He was my customer," said Kumtas, who has worked the Upper East Side corner for more than seven years. "I knew him, and we would say hello."
Kumtas, who moved to New York City from Turkey 16 years ago, decided to make their parking partnership official. Waite was more than willing, and they exchanged phone numbers so they could text or call if one was running late.
As for twice-a-week alternate-side parking, Kumtas is the point man, temporarily moving the van until the street sweepers have passed.
The ingenious partnership hits a road bump only if one of the partners forgets to alert the other that he's out of town.
"Once, we were up in Maine to visit my son in school and I got a call on my cellphone from Sait, wondering where I was," recalled Waite, who hadn't informed his parking partner.
Over the past two years, the relationship has grown beyond discussing the logistics of parallel parking.
When Kumtas' niece graduated from nursing school, Waite offered a helping hand, placing a call to Mount Sinai Hospital and talking up the Kumtas family to the head of the nursing division.
"It's worked well for both of us," said Waite. "It's something that I do that's nice for him — and it's good for me." [NY Post]