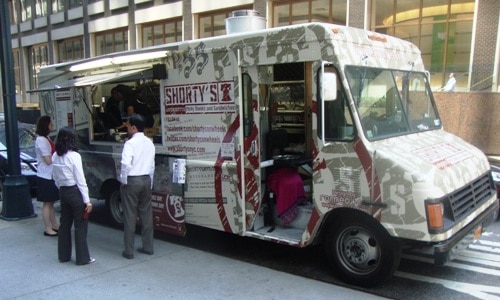 A while back we told you about Shorty's, a Philly-centric sports bar with two locations here in NYC that was opening a food truck called Shorty's On Wheels.  During our First Look, we had a delicious Italian roast pork special sandwich.  For our second visit, we had to try a classic Philly cheesesteak.
The truck has been on and off the street for the past couple of weeks getting their act together, but we caught up with them last week on 47th St & Park Ave.  A classic Philly cheesesteak was $9 and we added mushrooms for $.75.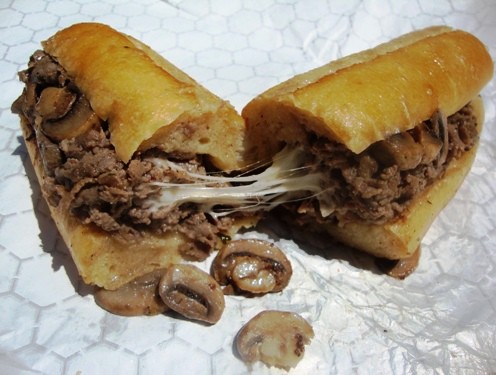 As we mentioned during our first visit, Shorty's actually bakes fresh bread right on the truck.  Yes, there's actually a bread oven on board!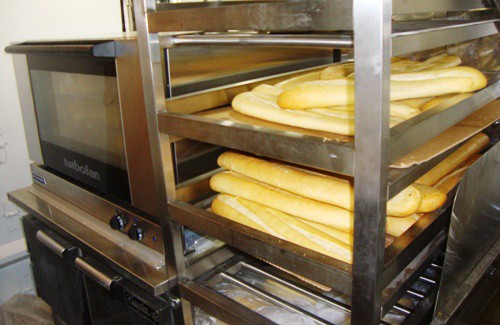 Unfortunately, the bread oven sucks a lot of juice from the generator, and within the first couple of minutes we were there, the generator and all electricity on the truck went down twice.  They brought it back up quickly, but the first outage happened right as I ordered, and my order didn't go into the system.
I told them my order, but without the automated ordering system, I ended up with the wrong cheese type.  Everything else was correct, so let's chalk this up to a new truck "working out the kinks".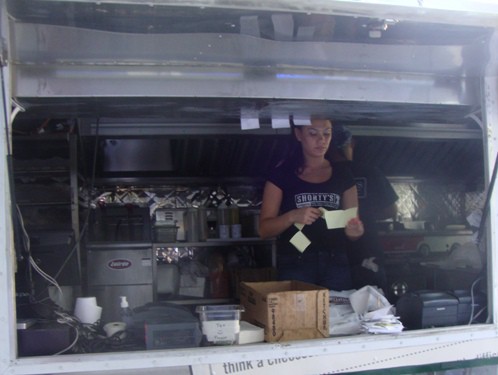 When I say the wrong cheese, that means provolone instead of cheese whiz, which isn't really a problem.  I actually prefer provolone, but wanted to try cheese whiz for that authentic Philly cheesesteak experience.  I know provolone is authentic too, but the only way I would eat "wiz" is on a top-notch cheesesteak.
Opening up the sandwich, it was very hot and steamy, and I had to be careful not to burn my mouth.
Pulling apart the two halves, the provolone stretched nicely, and I wondered why I ordered wiz in the first place.  The sandwich was loaded with thinly-sliced beef, plenty of cheese, and I'm really glad I ordered the mushrooms.  They added an earthiness to the sandwich.
The bread was as good as you would expect from a freshly-baked loaf.  It was soft, but held everything together just fine.  Evan told me they bake fresh bread at least once an hour.
Shorty's On Wheels is the real deal!  Their cheesesteak sandwich is as authentic and delicious as it gets – and there's lots more I want to try on the menu.  Evan told me they eventually want to do breakfast too, with egg and broccoli rabe sandwiches and things like that.
The sandwiches are in the $9-11 range, which is towards the high side for a food truck, but the sandwiches are large, the food is fresh, and I was very satisfied by the end of the meal.  Two people with smaller appetites than mine (meaning normal appetites) could probably split one of these sandwiches and an order of fries and be very happy afterwards.
You can follow Shorty's on twitter here or on our Mobile Munchies twitter feed.  They are not on the street daily yet, but keep an eye out, and when they are, definitely give them a try.
If you want a little bit of inside information, Evan also told me they are opening a little hole-in-the -wall takeout shop around 31st & Lex for pickups & deliveries.  They just signed the lease and it won't be open for about 2 months, but I already love the name – Lil' Shorty's.