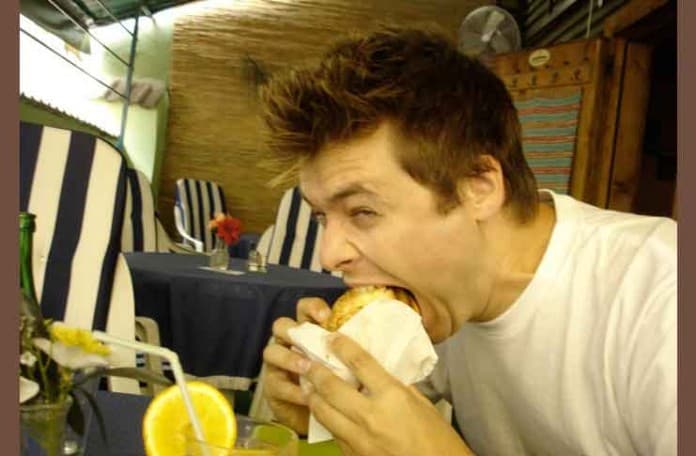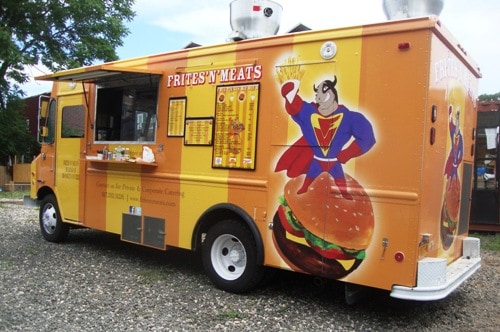 Frites 'N' Meats has a Burger of the Week that I haven't tried yet – The Texan.
The Texan burger is an outgrowth of their work with Maker's Mark bourbon.  Even though the most famous bourbons come from Kentucky (Maker's Mark, Jim Beam) and Tennessee (Jack Daniels), they named this burger The Texan.  Go figure.
Whether it's from Texas, Tennessee, Kentucky or New York, I still wanted to try this burger.  Today's Lunch is The Texan from Frites 'N' Meats ($9.50).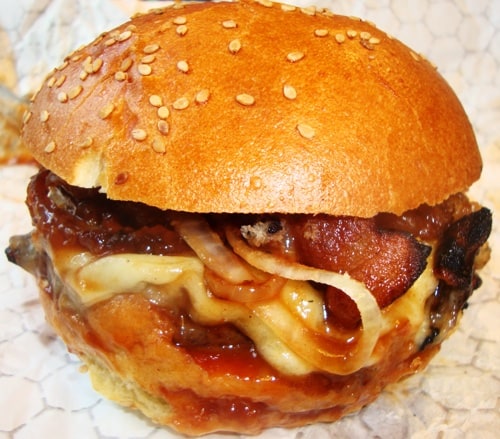 The Texan is an Angus beef patty with provolone cheese, lightly battered onions, applewood smoked bacon and their Maker's Mark bourbon BBQ sauce.
The bourbon was apparent right away, with the definite taste of alcohol in the BBQ sauce.  The strongest bourbon flavor was in the first bite, and it mellowed as lunch progressed.
The BBQ sauce was very tasty, with a little sweetness and a little alcohol kick.  It went well with the burger and onions, and even better with the bacon.
The burger was cooked to medium, with a little pink in the middle.  The flame-grilled flavor of the burger came through great.  A burger cooked on those flattop grills just can't compete with a flame-grilled burger.
There were two large pieces of bacon on the burger, plus plenty of onions.  The batter came off some of the onions, but it didn't matter because the batter was still on the burger.  Either way I got it.
In my opinion, the provolone cheese was wasted.  It got buried and I didn't really taste it.  I would have preferred a sharp cheddar, but if they want to stick with a southwestern theme, pepper jack cheese would have been a good option too.
Moving on to the bun, it was excellent.  You get a choice of three different types of buns – brioche, potato-onion or sesame seed.  I forgot to specify, but was very happy with the sesame seed bun.  It was soft and eggy, and stood up to all the fixings inside.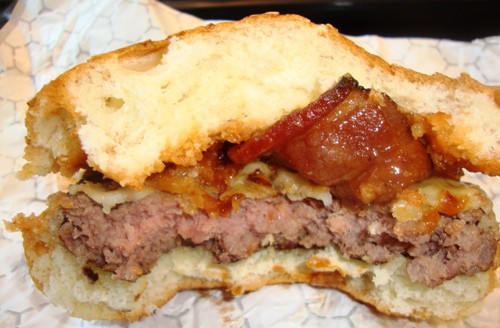 Today's Lunch of The Texan from Frites 'N' Meats was very good.  The bourbon BBQ sauce, bacon and onions are a great combo on top of a nicely grilled burger.  A stronger cheese would have been appreciated, but overall lunch was delicious.  The Texan definitely gets the NYSF seal of approval.