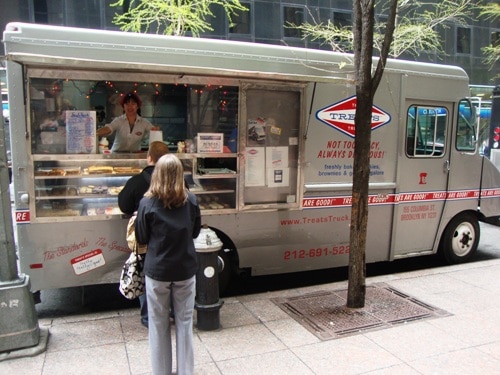 Looks like the rain will hold out until after lunch, so you can still enjoy great New York Street Food from the vendors on the right and the trucks below.
Dont' forget there are a couple of contests going on right now. Mexicue's winter contest ends next week, so send them your best recipe using BACON.  The Frying Dutchmen says whoever posts the most creative picture of their food truck wins free food for life (which may not be that long if you eat burgers and french fries every day).
As always, make sure to check the Mobile Munchies twitter feed before heading out, in case anyone (like Frites 'N' Meats) had to move.
Mexicue Winter contest ends next week: how would you Mexicue Lancaster Farm bacon? Enter for a chance to win $50 gift cert. Lefty is at 47th Between park and lex…Pancho is at water and broad in FIDI. Come get some! Open at 1130 let us help you start stretching out your stomachs in preparation for thanksgiving.
Frying_Dutchmen Dont forget our contest: whoever can post the most creative picture featuring our truck wins food for life. Yes for life!!!!!! Hello flat iron were on 25th and 5th today so come by and let us show you how burgers should taste. Grab some of our famous fries too