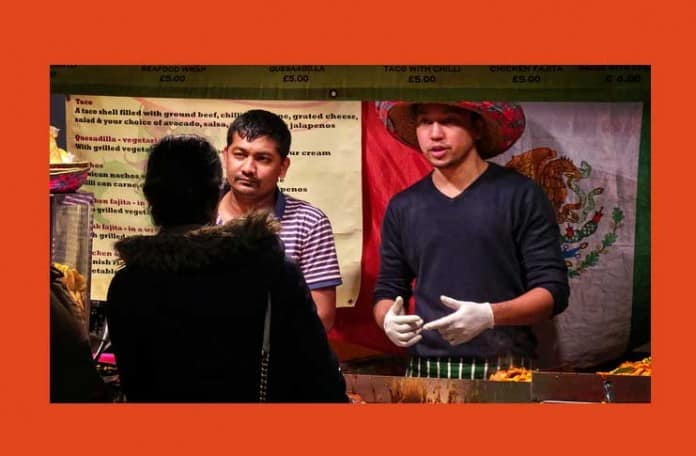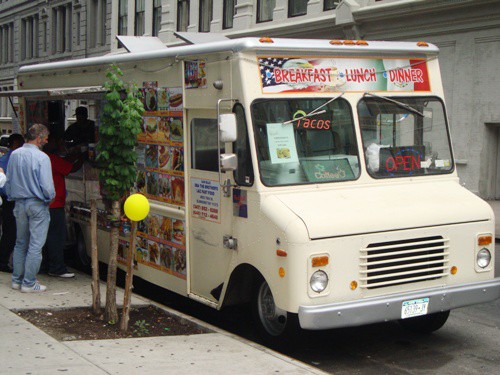 Although we are proud of the comprehensiveness of the New York Street Food directory and map, we are a small operation and can't be everywhere or know everything that goes on in this great, ever-changing city.  Sometimes we have to rely on other sources.  Last week's article in New York Magazine featuring their 25 favorite food trucks had a few food trucks we were not aware of and wanted to try.
Since we love tacos, The Brothers Express on the SW corner of 18th St & 6th Ave was one we particularly wanted to try.  Today's Lunch is an assortment of tacos from The Brothers Express truck, which cost $2 each.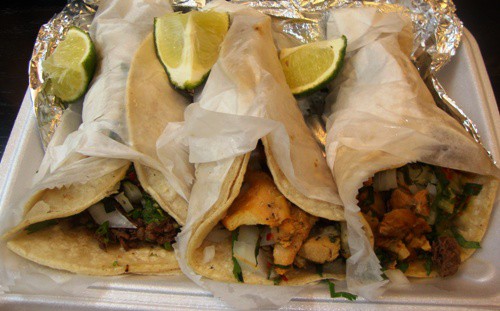 The tacos were basically the same except for the main ingredient.  They all came on 2 tortillas, which we believe should be a requirement for all taco vendors.  They all had fresh cilantro and chopped onions on top, came with a slice of lime, and had salsa caliente (hot sauce) at our request.  I squeezed fresh lime juice on each and went to work.
First up was the beef taco.  This had shredded beef (not chunks) that tasted like it was marinated in a light vinegar-type marinade.  It was pretty good, but I prefer chunks of beef to shredded beef.  To be fair, shredded beef probably helps smooth out any of the tough pieces of beef, but I still prefer chunks.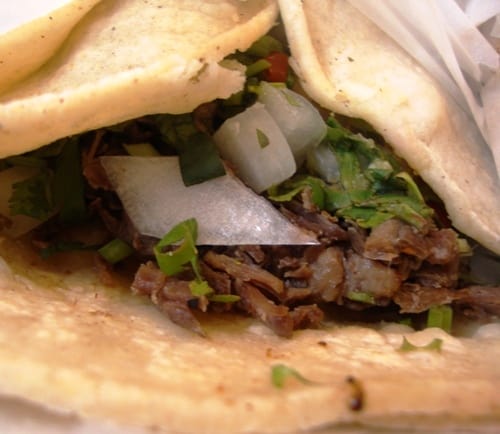 Chunks is what I got in the chicken taco – large ones too.  The chicken was also marinated, but in a milder liquid than the beef.  My guess would be that it was marinated in chicken broth with some additional spices.  It had an almost sweetness to it, but I wouldn't call it sweet.  Hard to describe but easy to enjoy.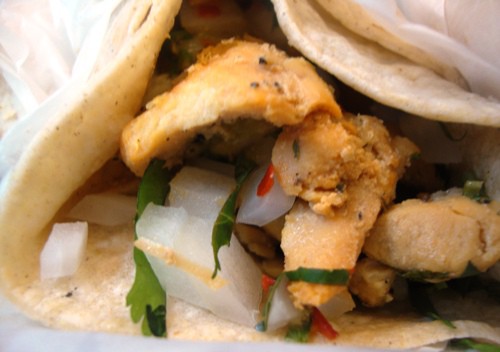 Last up was the pork taco.  Pork is usually my favorite type of taco, but this one was a little different.  Pork is usually one color, but there was dark meat and light meat in this pork taco.  That didn't make it bad – it was just surprising how varied the pork was within the same taco.  The pork was also a little dry, but the lime juice and hot sauce helped.  There also seemed to be a little bit of guacamole in this taco, but there wasn't any in the beef or chicken taco.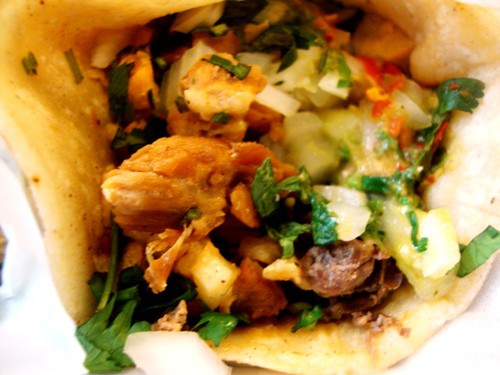 Today's Lunch is an 8 out of 10.  The tacos were all enjoyable, but my preference was the chicken, then beef, then pork – which is the exact opposite of my usual preference in tacos.  The ingredients were all fresh, and the salsa caliente still had my mouth tingling a good 15 minutes after eating.
The value was excellent and helped the final rating.  These tacos were substantial for $2 each.  I got 3 tacos, but 2 would have been plenty.  Can't beat lunch in NYC for $4.  Next time I want to try a chorizo taco.
In addition to tacos, they have tortas (sandwiches), burritos, quesadillas and regular street food like gyros, cheese steaks and burgers.  They also serve breakfast and have daily lunch specials – today's was beef stew (bistec guisado) over rice. I'll definitely be going back to The Brothers Express truck.