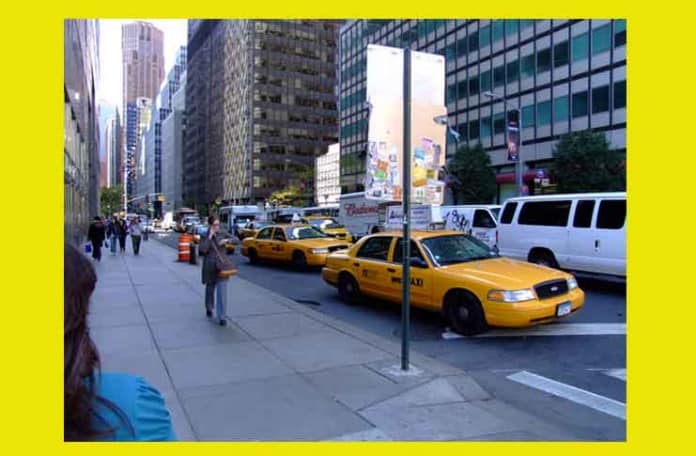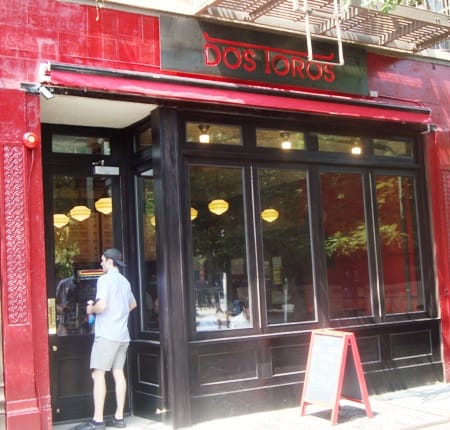 I've been regularly walking past a new taqueria on Carmine St called Dos Toros on my way home from the West 4th St Station.  Dos Toros seats about 20, which is on the larger side for our Honorary Street Food category, but they serve tacos, burritos and quesadillas, which is the right cuisine.  I understand this is the second Dos Toros, with the first one in the East Village having a pretty good reputation.
Today's Lunch is one carnitas taco and one pollo asado taco from Dos Toros, which were $4.50 each after tax.
While $4.50 is on the high side for a taco, you only need two of these for lunch because of their size.  With some other vendors, tacos are $2.50 or $3, but you need 3 of them for lunch.  Their burritos were in the $7-$8 range and their quesadillas were in the $5-$7 range, depending upon the filling.  You can see their full menu here.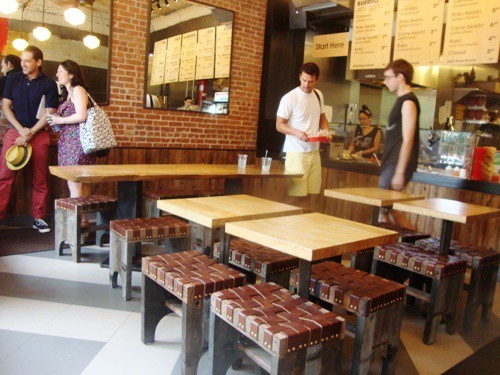 Seating is pretty comfortable, and it's not too hard to get a seat at the big picture window facing Carmine St.  Then you can enjoy New York street theater while having lunch.
Each taco had meat, cheese, guacamole, sour cream, tomato salsa and either hot sauce or regular sauce.  When I asked for hot sauce, the person making my tacos said as long as I like hot sauce, both sauces went well together.  Sure, why not? I got both sauces.
Starting with the pollo asado taco, it was fairly large chunks of chicken, not shredded, and there was the distinct flavor of flame-grilled poultry.  There was plenty of meat, cheese and sauce, which made for a big, filled taco.  There was some liquid dripping out the bottom when I picked it up, which was probably from the tomato salsa and two sauces.  A little less liquid would have been better, but the taco tasted pretty good.
Not all tacos come with guacamole these days, some only have salsa, and the guac was an important part of the dish.  I didn't realize until afterwards that it cost $.50 more per taco for guacamole, but in my opinion, it was worth it.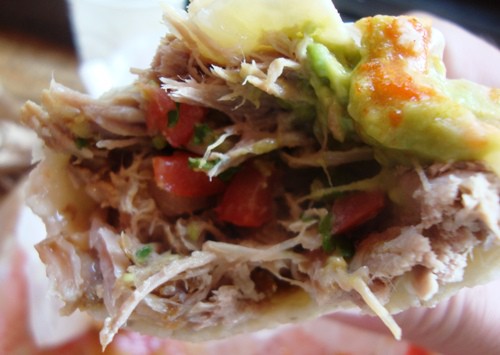 The carnitas taco was next, and it had shredded pork with the same toppings as on the chicken.  The meat had a slight smoky flavor, and the guacamole on the pork taco was chunkier than on the first taco.
For some reason, the carnitas taco was not as liquidy as the pollo asado taco.  I enjoyed the carnitas more, mainly because of the roasted flavor of the meat.
Today's Lunch from Dos Toros was tasty and filling, but after sitting in the place having lunch, I decided it was too big for our Honorary Street Food category.  While you can certainly have an enjoyable meal at Dos Toros for under $10, it's more of a restaurant than a street food substitute.
I can recommend the food at Dos Toros, but am not going to put them in our Honorary Street Food category.  That's meant for smaller storefronts with little or no seating.