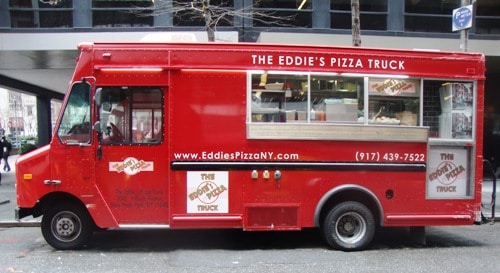 Who doesn't like BACON AND PINEAPPLE PIZZA? We definitely do, so we went for one today. Eddie's Pizza Truck has been on the NYC streets for about a year and a half, but the original Eddie's Pizza has been a fixture in New Hyde Park since the 1930′s.  They serve what came to be known as a "bar pie" due to the fact that it is the perfect size to eat and still have room for a beer!
The truck uses the same bar pie recipe and cooking methods as the restaurant, replicating the thin-crust pies served at the restaurant.
Some people don't consider bacon and pineapple pizza to be true pizza, but I'm more interested in taste than authenticity.  I love traditional New York pizza, but I also love bacon and pineapple, and they go surprisingly well with tomato sauce, mozzarella cheese and pizza crust.  The 10″ personal pizza was $10 and a larger pie I believe was $16.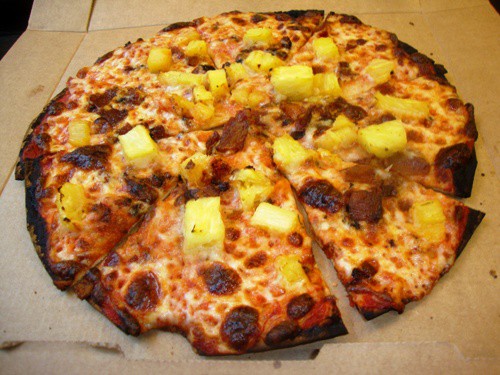 If you like thin crust pizza, Eddie's will be right up your alley.  The thin crust allows more of the flavor of the pineapple and bacon to come through.  An added benefit of Eddie's thin-crust pizza is it only has 270 calories, although bacon and pineapple might add a few more of those.
The oven on the truck does char some of the pizza around the edges, so if you want it less cooked on the outside, just ask for it less done when you order.  As with most pizza places, there are all the usual toppings to choose from (pepperoni, sausage, peppers, mushrooms, etc). All in all, the BACON AND PINEAPPLE PIZZA was great.
Last fall Eddie's beefed up their sandwich menu, and we've enjoyed their spicy chicken sandwich and porchetta sandwich since then.  You can also get cold Italian sandwiches and a few other types of sandwiches.
You can find Eddie's Pizza Truck on twitter here, or on our Mobile Munchies twitter feed.  They will also be at the new World Financial Center Food Truck Court regularly, and when the weather gets a little warmer, they will be bringing back the two Eddie's Pizza Carts.