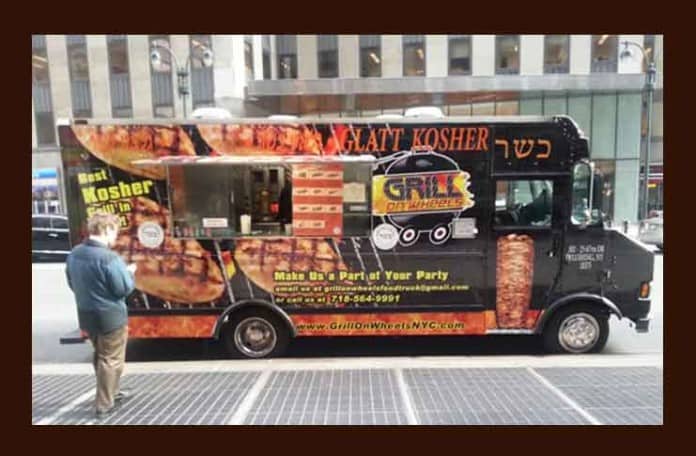 Amazing weather out there today.  Enjoy some street food from the carts to the right and the trucks below.

nyccravings – Just got the truck back…heading out to fidi..may be a bit behind schedule.
fritesnmeats – MIDTOWN, We'll be on 48th & 6th. Taking Pre-orders until 1130am. 917.292.9226. u gotta get urself an Oinker today. its like having sunshine in ur belly!!! Also killer brownies are on way to truck as we speak!!
RickshawTruck – both trucks on their way uptown to 26 bet 11av + 12av and to 57 + 8av woohoo! serving from 11 to 3
fritesnmeats – Hey Hey MIDTOWN!!! We're bringing a super dose of Burger Love today!!!
schnitzeltruck – 26th & park.. You ready for a good Wednesday? We are gonna totally give you a dose of schnitzification!! See you at 11:30!
CupcakeStop – Today we're on 50th Street bet. 6th and 7th (closer to 6th) with 12 flavors of deliciousness, fresh brewed Oren's Daily Roast and more!
waffletruck – Back to our fave downtown spot: Hanover Sq. today, btw Water & Pearl, but with a late start at 11am. Free dinges for a yawn!
StreetSweets – Street Sweets will be on 52st & Lexington Ave. until 3:30p then off to 9Av & 59st at 4p, stop by, we missed you Midtown east guys last week.
2 new tweets.
CalexicoCart – Both carts are out today with pollo verde as the special, enjoy!
JiannettosPizza – Beautiful day in NYC. On the way in with the trucks…See you soon. Buy a full pie get two free sodas. Mention this tweet. 917-287-7241
New Jersey Food Trucks
laspicetruck – hudson & york 11:30 -2:30 gourmet sliders & sandwiches. asian tacos with ginger coriander slaw, choco praline in a cup
TheTacoTruck– Lunch in Hoboken today @ Sinatra Dr & 2nd St. from 11:30-2:30. Call ahead 201.577.4214.
thekrave – 4/14 – Lunch #1: 12:00-2:00, Hudson & Essex, Inside Liberty Towers Gourmet Lunch #2: 12:00-2:15, Hudson &…
As always, check the pink Mobile Munchies twitter feed on our homepage for the most up-to-date information.