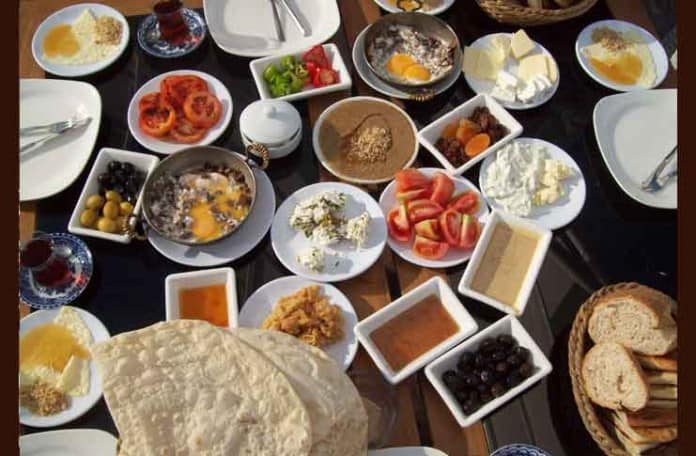 It was pretty messy out there today after yesterday's blizzard, but most of the food trucks and carts were out.  I'm a pretty heavy carnivore, but after writing about 2 delicious-sounding vegan carts last night, I was psyched for Moshe's Falafel today.  Unfortunately, they were one of the carts not out today, so instead I tried something new.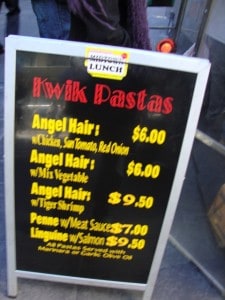 When you think of street food, pasta is not the first thing that comes to mind.  However, Kwik Pasta was created by Mohammed Rahman, founder of Kwik Meal and a 2008 Vendy Award finalist, so I wanted to give it a try.  The choices were angel hair pasta with tiger shrimp ($9.50), chicken, sun-dried tomato and red onion ($6) or mixed vegetables (also $6).  The other choices were linguine with salmon ($9.50) and penne with meat sauce ($7), which was my selection.
They have 3 or 4 burners going at once where they saute the ingredients other than the pasta after you order.  The pasta is par-boiled, then put back into hot water after you order to get it hot again and finish the cooking.  The cart was quite busy.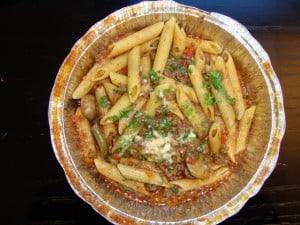 Now for the food.  This is the first  meat sauce I've had that was spicy.  Not overly so, but there certainly was a tang to the sauce, and by the end of the dish, I would definitely call it a spicy tomato sauce.  I liked the sauce, which was plenty meaty, with assorted vegetables such as mushrooms, zucchini, peppers, onions and even a couple of string beans.  I was a bit surprised by the vegies, but it was still primarily a meat sauce.  The pasta was cooked about right, even a little undercooked, but only a tad.  The dish was topped with some parmesan cheese and Italian parsley.
This was definitely better than the pastas in warming trays in most of the salad bars around the city.  The price was fair, the portion was generous, and it was mostly cooked fresh in front of you.  They also included a slice of Italian bread, which I used to eat the rest of the sauce after the pasta was gone.  Tasty finish!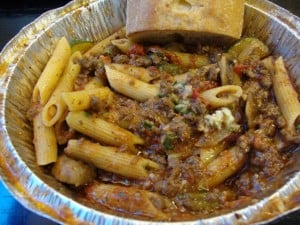 Today's Lunch was very good.  Glad I overcame my initial reluctance in ordering pasta from a food cart.  I will definitely go back there again.