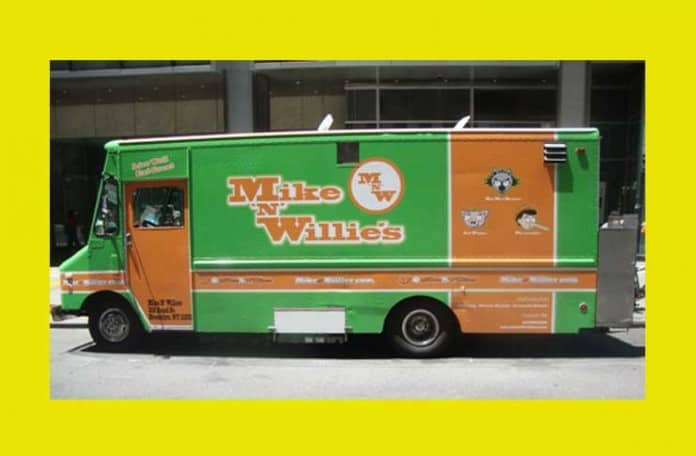 Mixed bag today.  Most food trucks are out, but a few will not be, and things are still pretty messy.  A friend of the family smashed up his face pretty good yesterday because of the snow and ice, so be careful out there! (Yes, that's a Hill Street Blues reference.)
CalexicoCart – Calexico has dug out of the snow. Both carts are out and bringing the heat.
3 new tweets. nyccravings – we'll be heading toward our usual thursday spot (53rd bet Park & Lex). maybe running a bit late. will tweet when ready. http://bit.ly/awivSQ
VLAIC – Kangaroo on 5th &15th til 530.Ricotta cakes with orange curd, cheddar chive scones, pear coconut muffins, black cat espresso, hot chocolate
VLAIC – Panda Bear 23rd &5th til 4pm. Ricotta cakes with orange curd, cheddar chive scones, pear coconut muffins, hot chocolate, blck cat espresso
CupcakeStop – On 5th and 23rd w/ Red Velvet, Triple Chocolate, Oreo Crumb, Vanilla Chocolate and Tye Dye! Gluten Free cupcakes available today also
RickshawTruck – Financial District: Get Ready-yyyyy to Rummmmble! At Hanover Square with hot steamy dumplings from 11 to 3.
waffletruck – Happy Thursday! We're on 46 btwn 5 & 6 til 4:39pm est. Tell us about your ideal snow day(or what you did yesterday) for 1 free dinges.
New Jersey Food Trucks Out Today
TheTacoTruck – Lunch today in Jersey City at Hudson and Sussex from 11:30-2:30. Call ahead 201.577.4214 http://fb.me/5zS6nZe
thekrave – Location 1: Hudson and Essex, Inside Liberty Towers Gourmet, 11:45-2:30 http://tumblr.com/xl16cj9tl
Food Trucks Not Out Today
schnitzeltruck – hey all… we wont be out today as well… hopefully dumbo will get some action tomorrow!
StreetSweets – One more day Street Sweets will not be on the road, we expect to be back tomorrow.
PapaPerrone – We WILL NOT be on 55th street @ Mad and Park today. We are trying to get ready for Friday however please check in our truck is buried.
laspicetruck – sorry guys no lunch today. tonight columbus and marin
steaktruck – SORRY, DUE TO THE DIFICULTY OF THE ROAD AND DRIVING CONDITION, WE WILL NOT OPEN TODAY.