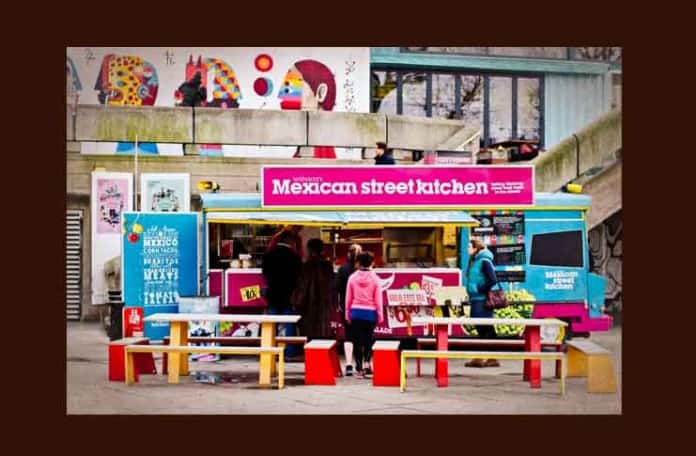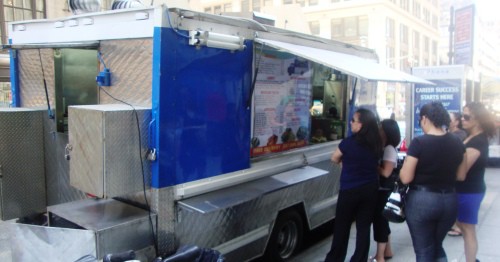 The blue El Camioncito truck was away for a while having renovations done, but it came back to it's old spot last week on the NE corner of 31st St and 7th Ave, across from Madison Square Garden.  The last time I went there, it was decent, but there was definitely room for improvement.  Would the time away make much of a difference?  Click through to find out.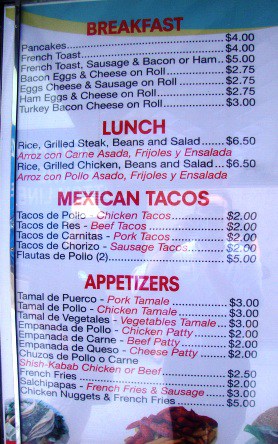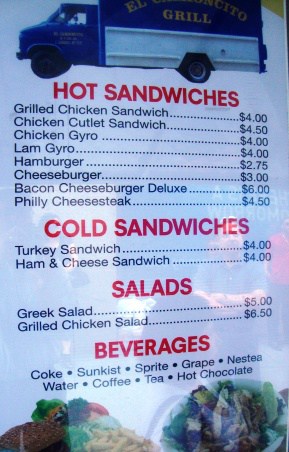 They had some new menu items, such as flautas, tamales and salchipapas, as well an expanded line of hot and cold sandwiches.  Did I mention they also serve breakfast?  Everything is priced well, and several people ordered the cheeseburger while I was waiting.  The deep fryer is one of their new cooking tools.
The scene at the truck was a little crazy – not outside, but inside.  There were only around 6 people who had ordered or were waiting to order, and there were 4 guys working in the truck, but they all seemed to be running around a bit disorganized, trying to assemble everyone's order.  I was a little afraid they wouldn't get my order right, but my order turned out fine.  Not so much for one of the women waiting for lunch.  They had given her cheeseburger to someone else who ordered one after her, so she ended up waiting for a bit.
I wanted to try some new menu items, so I ordered a beef empanada, chicken tamal and chicken flautas.  Unfortunately, their deep fryer wasn't working so great today, and the flautas were not available, so I substituted a chorizo taco.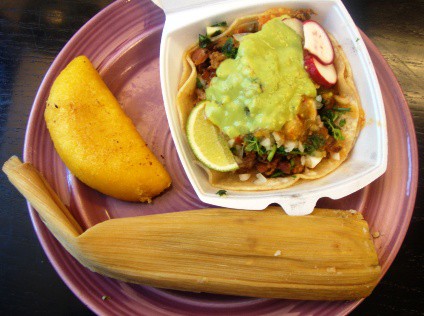 First up was the beef empanada ($2).  This was a thick cornmeal half-moon filled with shredded beef and potatoes, and it was very hot – I mean temperature, not spiciness.  This sucker really retained heat.  This would have been great for a cold winter day.  It warms your hands first, then your insides.  The outer shell was a little salty, and the filling of shredded beef and potato wasn't too memorable, but for $2, it was an inexpensive, filling menu item.  Next time I want to try the empanada de queso, which is filled with cheese.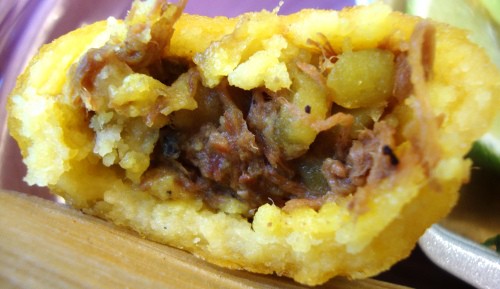 Next up was the chorizo taco ($2).  Last time I was here, the chorizo taco was pretty good, but this was a vast improvement.  The taco used 2 tortillas, and it was piled high with chorizo, onions, cilantro, salsa and guacamole.  They even put 2 radish slices on the side.  This was a pretty authentic taco, very similar to ones I had in Mexico City.  I squeezed fresh lime juice and hot sauce on the taco and struggled to fold it closed.  They did include a fork, but I'm stubborn, and wanted to eat it folded over.
This was a great taco.  I'm generally more interested in quality than quantity, but this chorizo taco had both – it was huge and really tasty.  There was a lot of chorizo in this taco, the hot sauce added a nice kick, and the guacamole cooled it down.  And even though this taco was overstuffed, the tortillas held up and did not break.  There was a little grease at the bottom of the taco, but not much.  This was a great menu item for only $2.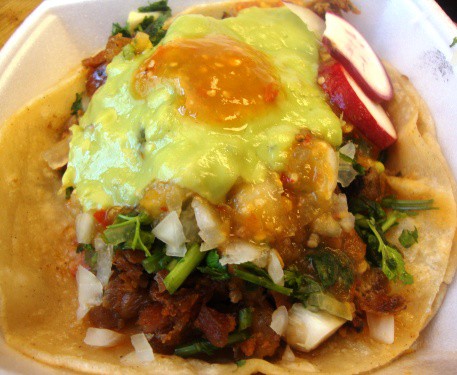 Last up was the chicken tamal ($3).  Once I unwrapped the corn husk, there was a large corn-shaped tamal with chicken and green chili sauce encased in cornmeal.  The chicken was large pieces of tender white meat chicken and the green chili sauce was very spicy.  This was the spiciest part of lunch by far, and very enjoyable, although the cornmeal can get a little dry without chicken and chili sauce in the bite.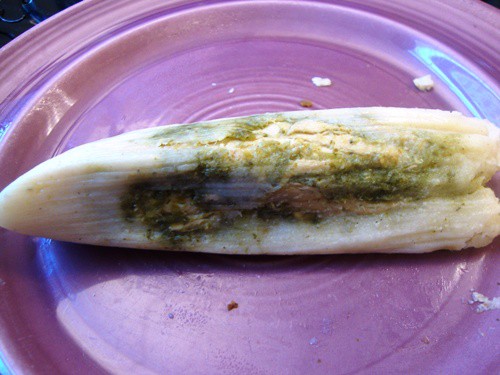 Today's Lunch gets a 9 out of 10.  They lose a little for the service, which needs to improve.  More coordination is needed among the guys in the truck.  My order was right, but I wasn't sure that would happen from the scene inside the truck.  With increased business, their coordination should get better.
Where they gain points is the value and the food.  All three of these items totaled only $7, and I could have easily done without one of them and still had a very satisfying lunch.
The food was good too. The beef empanada wasn't anything to write home about, but I do want to try the cheese empanada.  If they spiced up the beef filling, it would definitely help.  The chicken tamal was very good, and the chorizo taco was awesome.  The taco and tamal make a great lunch for only $5.  With such an improvement in the chorizo taco, I'll have to try their other tacos again soon.  Stay tuned.