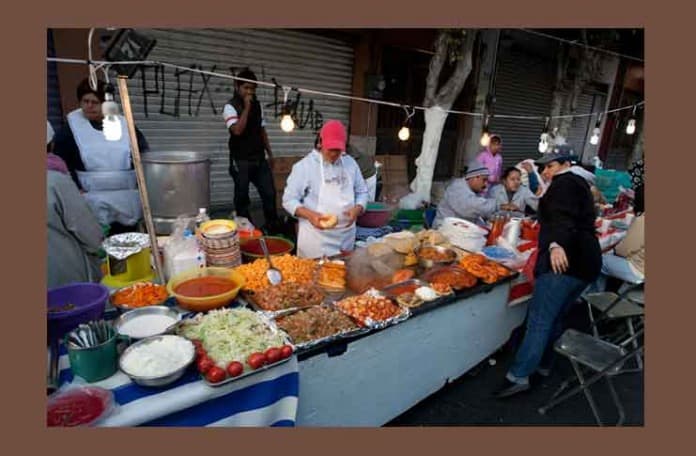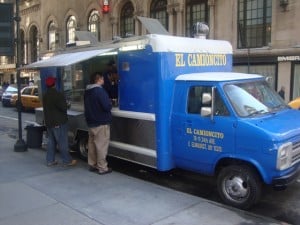 There's a new taco truck in town, and it's called El Camioncito ("The Little Truck").  It's been on the NE corner of 31st St and 7th Ave for the past 2 weeks, right across from Madison Square Garden.  The truck used to be in Queens, but they are now trying out the more populated environs of the Penn Station area.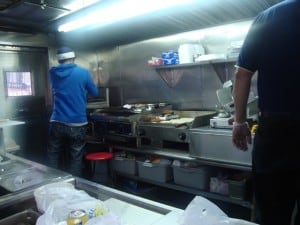 They had 4 types of tacos, which were $2 each.  I chose 3 tacos for Today's Lunch, chicken, carnitas (pork) and chorizo.  I'll try the beef another day, and they also had fish tacos for Good Friday.  I asked for everything on it, which meant onions, cilantro, guacamole and salsa picante.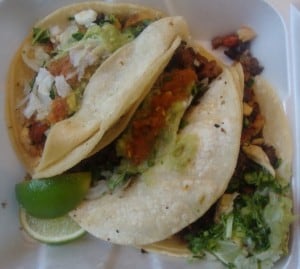 After I ordered 3 tacos, they put 6 tortillas on the grill to warm up.  The grill man then put the meat on the tacos and someone else put on the toppings, wrapped it up and handed me lunch.
The first thing I did after opening the container (in addition to inhaling deeply) was to squeeze fresh lime on each taco.  Then I tried the chicken first.
The chicken was cut up into small pieces, and the first bite was a combination of chicken, guacamole and fresh lime juice.  The second bite brought the cilantro and onions into the mix.  It was a great combination, but the chicken was a bit overcooked.  I would have preferred the chicken pieces a little larger and certainly less cooked.  This taco was good, but not great.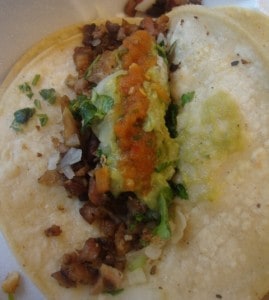 Next up was the taco de carnitas.  It was pretty similar to the chicken, with the exception of the meat, which was darker in color and taste.  It was a little better than the chicken, but the pork was also cooked a little too long.  It was tasty with the guac, lime juice, cilantro and onions, but the meat did not add as much as I expected.  In addition, the salsa picante was not picante at all.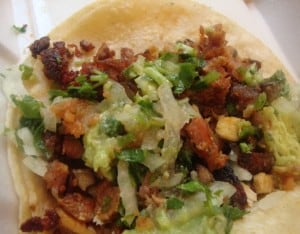 Last up was the chorizo.  The chorizo really added something to the rest of the fillings in the taco.  It was a little spicy, but not greasy, which can be a problem with some chorizo.  Now this was what I was hoping for.
Today's Lunch was an 8 out of 10.  The chicken and pork were somewhat overcooked, and the salsa picante was not spicy.  But the chorizo, cilantro and fresh-squeezed lime juice made it a decent lunch.
El Camioncito is a welcome addition to the New York Street Food scene.  Once it gets a regular following and is busier at lunchtime, the meat shouldn't be overcooked.