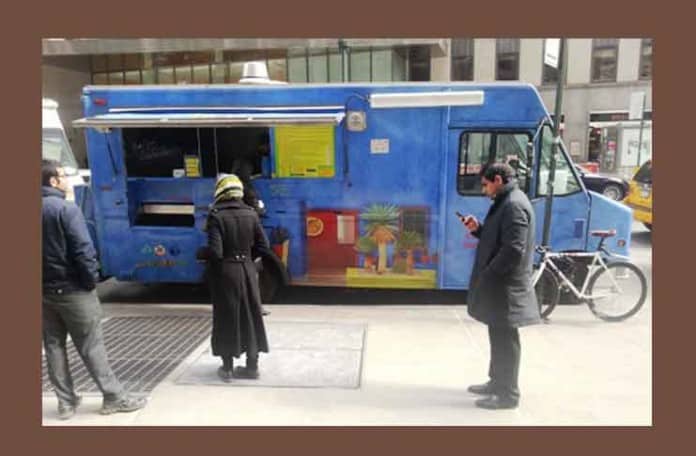 Not the greatest day out weather-wise, but hopefully it will stay dry.  I'm going to enjoy lunch today from one of the vendors on the right or the trucks below, and so should you.  The quality and variety of New York Street Food is amazing!
The City Council hearing about the anti-food truck bill is currently going on, but the trucks below will be out today.  The Bloomberg administration opposes this bill, so that's a good sign.  Thanks to everyone who called or wrote in opposition to this ludicrous and discriminatory bill.
fritesnmeats – Were on Water & Broad today.  Show your support in our time of need & grab some Burger Love! Taking preorders til noon. 917.292.9226.
BistroTruck – Today's World cup special is inspired by Spain game: Spanish Paella
EddiesPizzaNY – We are on 48th and 6th today. Avoid line and call in pre orders. 9174397522. Chicken cutlet and hot cherry peppers. Yummm.
waffletruck – Happy day in FiDi downtown. Truck on Hanover Sq, cart+soccer at the Seaport. Free dinges if u're against Lappin bill. http://bit.ly/aPhnFX
CupcakeStop – New truck on the Seaport & shoppe inside the Limelight: Red Velvet,Nutella,Oreo,Choc PB Cup,Marble,Strawberry Lemonade,Vanilla Latte & more!
schnitzeltruck – Looks like it's gonna rain. Please support your food trucks today. We'll be @ park ave b/w 26th & 27th. No preorder minimum if it rains:)
StreetSweets – Street Sweets will b on 52st & Lex AV from 8a -3:30p, then off to 9 Av & 59St. WE NEVER IDEL OUR ENGINE, NEVER! WE R POWERED BE A GENERATOR
RickshawTruck – Lunch is on today at 57th & 8th and also 26th & 11th 11-3
CalexicoCart – Both carts are on the street. Today's special is Pork rib & Pork belly in a chili de arbol & coconut sauce. Enjoy!
ESPNWCTruckNYC – We're back downtown today at Bowling Green Plaza. #ESP vs. #SUI at 9:30am and #RSA vs. #URU at 2:30pm.
PapaPerrone – We will NOT be on 55th today. We will be back on Thursday.
Hoboken/Jersey City
TheKrave – 6/16 – 12:00-2:00, Hudson & Essex, Inside Liberty Towers Gourmet 12:00-2:00, Hudson & Grand St. 5:30-9:30,… http://tumblr.com/xl1bnex7x
laspicetruck – hudson &York 11:45-2:00 NEWS LSTand LPT will be in Brooklyn june 26 for the film festival come sample the awesome desserts for the event!!!!