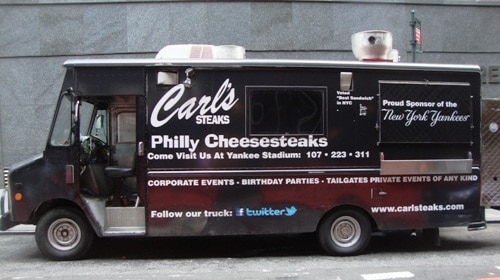 The Philly cheesesteak market is starting to get crowded on the NYC streets, and a new (but not so new) vendor hit the street a few days ago.
If you're a regular at Yankee Stadium or used to work downtown, you may be familiar with Carl's Steaks. They've been around for about 10 years, with 3 stands at Yankee Stadium (Sections 107, 223 and 311), although their store downtown closed a while back.
We haven't been to Yankee Stadium in many years, but we caught Carl's Steaks yesterday during their first week in business on their new truck.
With Shorty's, Steak & Crepes and last year's Vendy Awards Rookie of the Year, Phil's Steaks (who just added a 2nd truck), Carl has his work cut out for him.
There are several options on the menu, including beef, chicken and pizza steaks, as well as several choices for fries.
For our First Look, we went for a classic 10″ cheesesteak with provolone and onions for $9.50. They also have a 6″ option available for $6.50
Cheese fries were also ordered, which cost $3.75.
This was not a huge sandwich for $9.50, but there was a nice amount of shaved beef inside. The meat had a good consistency and taste, although the flourescent light photo gave it more of a yellowish tint than in reality.
One thing we noticed a little different were the onions. If you like your cheesesteaks "wit", the onions were cut wider than we've seen before. This definitely enhanced the onion flavor.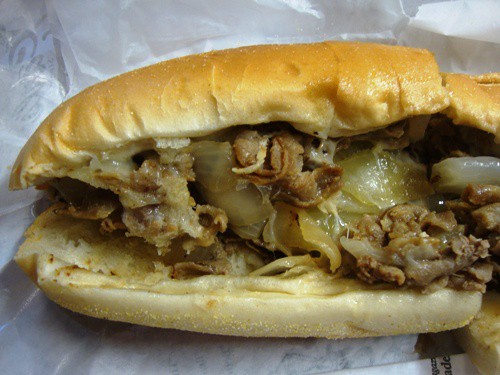 The bread was from Santos Bakery in Newark, NJ, and it was soft, but held everything together well. No problems with breakage of the bread, even towards the end of the meal.
We would have like a little more provolone taste coming through, but that's a constant refrain on NYSF. We always want more cheese. 🙂
The cheese fries had plenty of cheese on them. We think it was Cheez Wiz, but we're far from expert on the subject of "food product" like Cheez Whiz.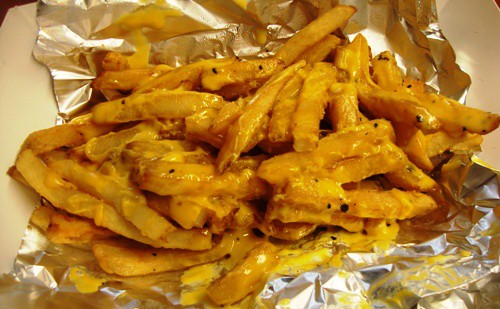 The other thing the cheese fries had were bits of char from the grill. Not sure why there would be char from the grill on cheese fries. Maybe it was to add some charcoal grilled flavor to the dish.
It's also their first week of business. The char on the fries could have been a mistake. Perhaps they used a spatula that had some char on it for the fries without realizing it.
Carl was working the truck, and obviously knows what he's doing. This was a tasty, satisfying lunch, although it does get pricey if you start adding hot peppers, mushrooms, etc, and fries.
A cheesesteak with the works and bacon cheese fries will set you back $16.50. We don't usually spend that much for lunch, although at a ballpark, where you're essentially held hostage, it's more of the norm.
Carl's Steaks can be found on twitter here and on our Mobile Munchies twitter feed. Their website is here and facebook is here.
Next time we might try a chicken cheesesteak to see how it stacks up.