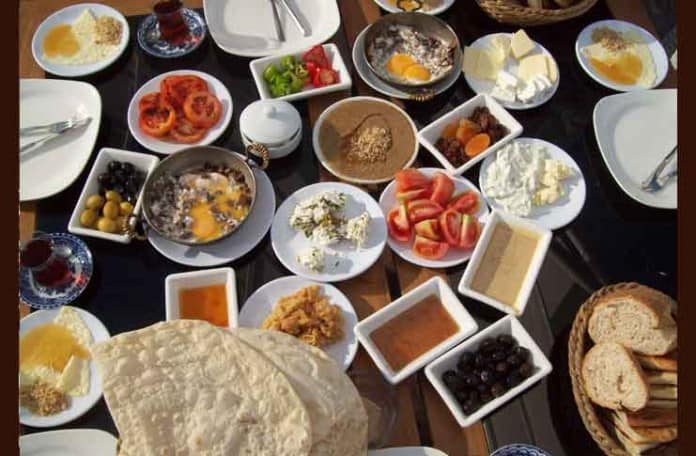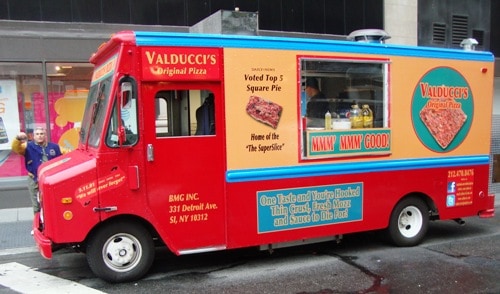 We first ran across Valducci's Original Pizza a couple of days after they opened last May.  At the time, they were still working out the kinks in the oven, and didn't have any toppings on the pizza.
What a difference six months make.  For Today's Lunch, I got a slice of meatball & ricotta pizza and a slice of sausage, peppers & onions pizza ($5 each) from Valducci's.
As you can see from the photo, Valducci's pizza is rectangular.  What you can't tell is that each slice was close to 8″ long.
It might look like Sicilian pizza, but the crust is not nearly as thick.  The crust is actually light and airy.  In fact, the crust wasn't helpful at all in picking up either slice because it came off when I tried.  This made it a little tough to eat, but I had to give it the old college try.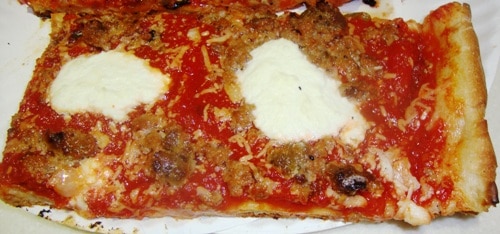 First I tried the meatball and ricotta slice.  It had broken-up pieces of meatballs scattered around the slice, plus 2 big globs of creamy ricotta cheese.  Very tasty.  Some of the meatballs had a little of the char thing going on, which added flavor.
The tomato sauce at Valduoucci's is of the sweet variety, which is how I like it.  It didn't seem like the tomato sauce was sweetened with sugar though.  It tasted like a naturally sweet tomato sauce.  There was also some grated parmesan on top of the slice.
After polishing off the meatball & ricotta slice, I moved on to the sausage, peppers and onions pizza.  This one was a little trickier to eat.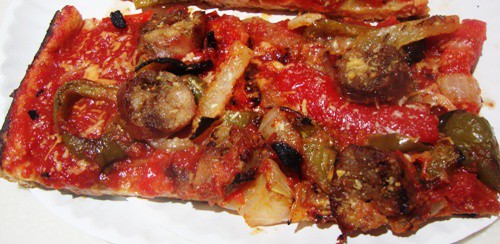 When I didn't hold the slice perfectly flat while taking a bite, either sausage, peppers or onions fell off.  Good thing I was eating at a table, or I would have lost half the toppings.  On the plus side, that meant there were a lot of toppings on the slice.
And the toppings were good too.  The sausage, peppers and onions had all been run under a broiler or some other type of flame, with some blackening around the edges.  Combined with the sweet tomato sauce and light crust, this was a good slice too, and even more filling than the first one.
Today's Lunch from Valducci's was really tasty, if a little messy.  While the slices were large with plenty of toppings, $10 for 2 slices of pizza is a bit much.
They also sell whole pies, and the prices on the pies seemed high too.  A whole meatball & ricotta pie is $32, a plain pie with no toppings is $24, and a white pie is $29.  Am I crazy, or is that a lot for a pizza?
Brick and mortar restaurants complain they can't compete with food trucks because they don't have to pay rent.  If that's the case, shouldn't food truck prices be lower than brick and mortar?  That doesn't seem to be the case here.