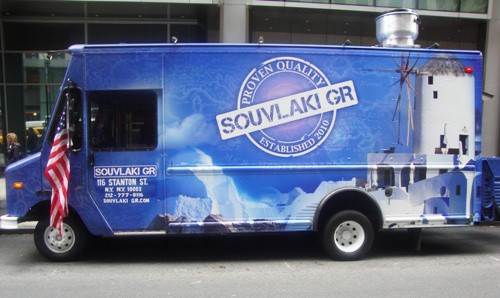 Wow! It really has been over 2 years since we last went to the Souvlaki GR truck. We've been to their restaurant since then, and saw Kostas at the Vendy Awards in Sept, but us and the truck have just been in different zip codes most of the time.
Souvlaki GR spends most of their time downtown, but on Friday, they came up to 55th & Broadway for the first time.
The menu is pretty much the same (which is another reason we haven't been there in a while), although prices have increased $1-$1.50 per item.
Even though they added Greek and Green salad options, we went with the classic Chicken Pita for $5, and a new item called the SGR Pita for $6.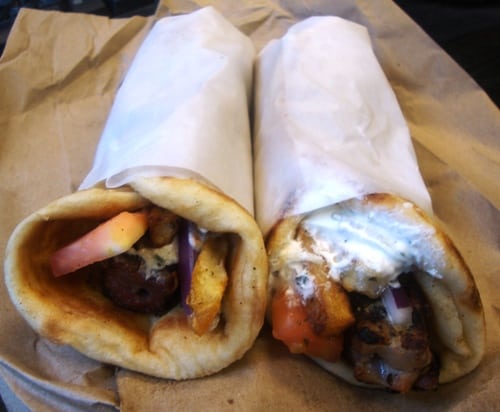 Way back in 2010, we raved about Souvlaki GR in our First Look, and must have been on to something. They went on to win the Vendy Award Rookie of the Year in 2010, and captured the Vendy's People's Choice Award in 2011.
Let's see if they are still playing at the same level.
We started with the Chicken Pita. It came with tomato, red onions, tzaziki sauce, and they add a couple of french fries too.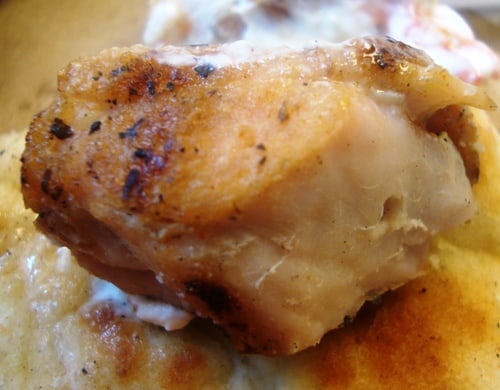 Before biting into the whole thing, we took a small bite of just the grilled chicken. Man, that was good! Charcoal grilled on the outside, but still tender and juicy on the inside.
Add all the other top-notch ingredients we named, and you have the makings of a really good sandwich.
The SGR Pita was pretty similar, but we went with pork, since the other pita was chicken.
Pork souvlaki is a little "meatier" tasting than chicken, and there was a nice amount of oregano and thyme on the meat.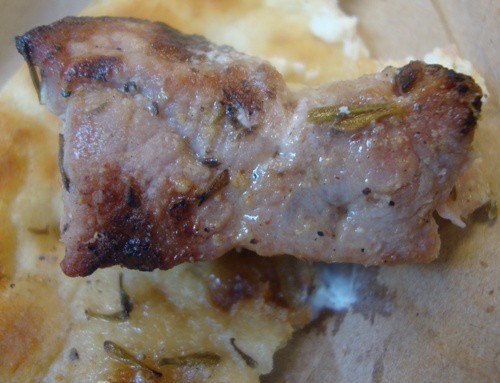 The "spicy" part of the spicy feta wasn't readily apparent, but it was a delicious pita nonetheless.
Souvlaki GR still has it. We can't think of too many things tastier than grilled marinated meat on skewers, so we hope their trip uptown is a sign of more to come. They certainly had a good crowd for lunch today.
You can find Souvlaki GR on twitter here or on our Mobile Munchies twitter feed.
While we didn't get them today, the Greek fries at Souvlaki GR are excellent too.