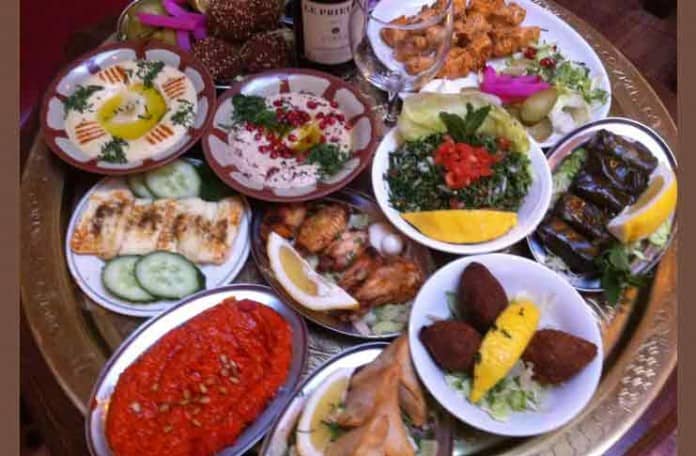 We wanted to remind everyone that Madison Square Park Eats (24th & Broadway) closes this Friday, June 3rd.  If you haven't been down there yet, we highly recommend it.  Most of the crowds are gone, and the only vendor with a significant line was Calexico Carne Asada, who always have a line.
There are some great food vendors at Madison Square Park Eats, and we've enjoyed some great lunches over the past few weeks from Asia Dog, Roberta's Pizza and Calexico Carne Asada.
Today's Lunch is a mango salad with lemongrass chicken ($7) and a Beijing ya bun ($4) from the Kong Kong Street Cart stand.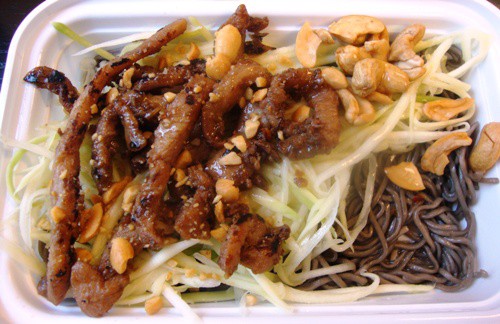 We spoke with the guy at the stand, and while they do not have a street cart, they are associated with the Home on 8th restaurant at 391 8th Ave (bet 29-30 St).
The mango salad had strips of nicely grilled chicken, shredded mango, crushed peanuts and cashews, and it was served over thin buckwheat soba noodles with citrus sauce.
This was a cool, refreshing dish on a hot day that wasn't too heavy.  The warm chicken contrasted with the cold noodles and mango, and the citrus sauce, which was slightly sweet and slightly vinegary, really picked things up.
If you're a vegetarian, this dish was also available with vegetarian soymeat.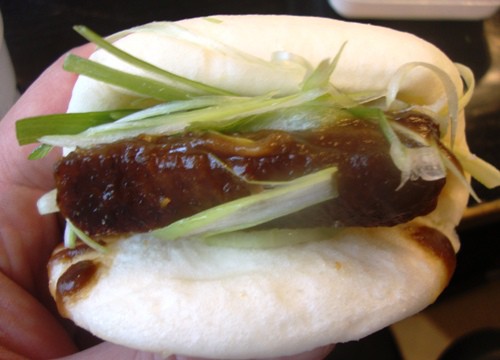 The Beijing ya bun was even tastier than the mango salad.  It had roast duck in a hoisin barbecue sauce with shredded scallions on top and thin slices of cucumber on the bottom.  The duck was a little fatty, but duck is often like that.  The bun was soft, and overall, this dish was delicious.
Today's Lunch was definitely tasty.  After trying this lunch, I would be willing to try their restaurant, Home on 8th at 391 8th Ave (29-30 St), which was likely their intention in setting up the stand.  Guess it worked.